Here's How Much Kate Middleton's Family Is Really Worth
Kate Middleton married Prince William on April 29, 2011, in a monumental ceremony that established her as a fixture of the royal family. Even her jewelry on the big day signified her official entry into royal life: she wore the Cartier Halo tiara, on loan from Queen Elizabeth II. Now, three children later and over a decade in tabloids and the spotlight, it's tough to remember that Kate was once an ordinary British citizen who came from an ordinary British family… or did she?
Much of the tabloid stories around her and William's wedding called her "the commoner who would be queen," per British Heritage. But what's the real story of the Middleton family? 
Long story short, Kate comes from a very well-off family. Their financial capital has meant major access for the Middleton family, and it even facilitated Kate's chances of meeting William. So here's the whole scoop on how the Middleton family made their money, how much they have, and how they spend it today.
Kate Middleton's grandparents: Where did she come from?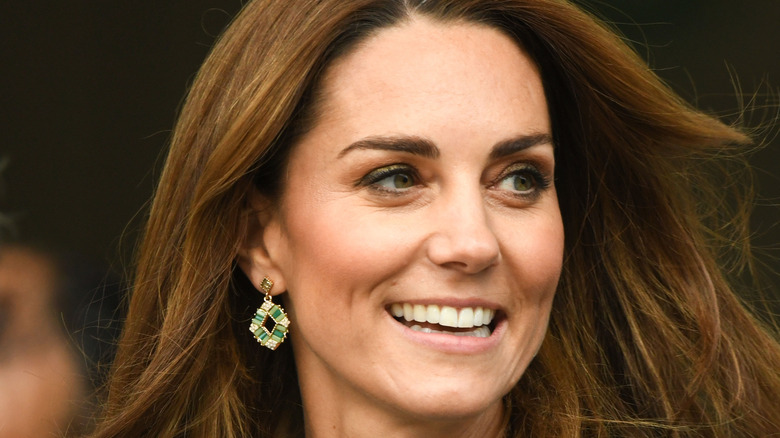 Kate Middleton's grandparents, like many people in England at the time, were involved in the war efforts. According to Hello!, her paternal grandfather, Captain Peter Middleton, served in the Royal Air Force during WWII, while her grandmother, Valerie Glassborow, worked at the Government Code and Cypher School. In a return to her roots, as Hello! noted, Kate visited Bletchley Park in 2019 to meet with kids involved in a code breaking workshop, telling them that her grandmother "was so sworn to secrecy" that she never opened up about her time at the GCCS. 
Interestingly, Kate's grandfather actually met the late Prince Philip once, thanks to his role in the air force. According to Peter Middleton's obituary in The Times of London, Middleton was photographed with Philip at the Heathrow Airport in 1962 when they returned from a two-month tour of South America, where Middleton served as a co-pilot. Kate's grandfather actually got to meet Prince William too, at his 90th birthday party, though he died shortly before the couple announced their engagement in 2010. 
Aviation has played a big role in the Middleton family's history — and we're not only talking about Captain Peter Middleton's time in the air force.
Who are Kate Middleton's parents?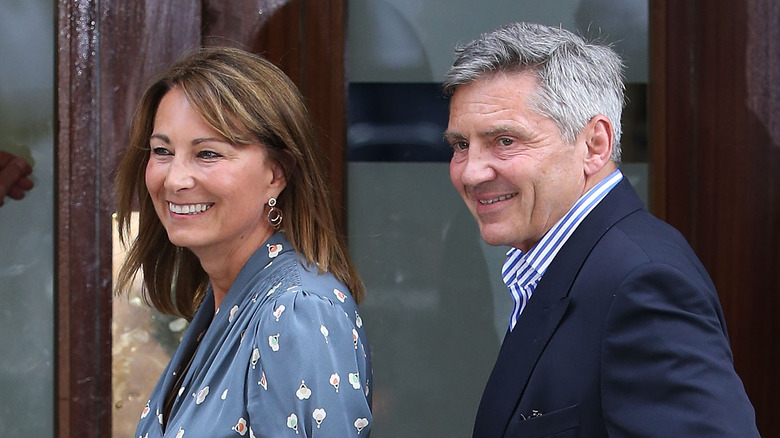 Kate Middleton's parents, Michael and Carole Middleton, have climbed considerably in the British social ladder thanks to their daughter. Carole was born to a middle class family in London, according to The Sun. As the AP reported (via Toronto Star), Carole is a descendent of miners, a detail that came up time and time again when the news broke that her daughter would be marrying into the royal family. Ahead of Kate and Prince William's wedding, one of her cousins told the AP, "We'll still be working class, but it's a nice feeling to know there's something there in the family, that we're going to be related to royalty."
Carole met Michael when she was working as a flight attendant for British Airways while Michael worked as a flight dispatcher, per The Sun. Michael hailed from a more prestigious family with distant ties to the aristocracy and one that handed down trust funds to him. The couple married in 1980 and they had three children: Kate, Pippa, and James. Interestingly, Michael moved his family to Jordan from 1984-1986 because of his job (per Daily Mail). After they settled back in England, Carole founded her company Party Pieces in 1987. That decision was a huge turning point for the Middletons' financial status. 
How the Middletons' party business changed their lives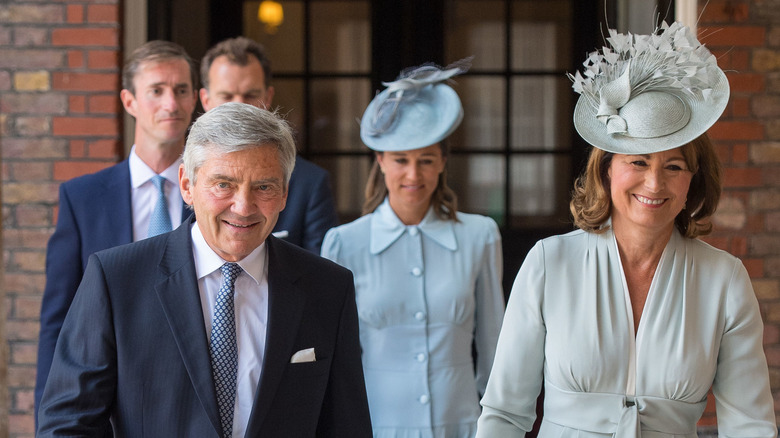 So, how did Party Pieces come to be? According to the official website, Carole Middleton launched the company after she'd been planning her daughter's birthday party (without specifying if it was for Kate or Pippa Middleton) and saw "a gap in the market for time-pressed parents." It also offered a creative way for her to earn income while home with her children. "I decided to take myself off to the Spring Fair in Birmingham where I found a good selection of suppliers," she said on her website. "From there the idea evolved. I produced a little flyer which I circulated in local playgroups and very soon I was using our garden shed as a picking/packing room and office."
The company prides itself on quick orders, last-minute planning, and festive decor for any event worth celebrating. Party Pieces blew up, and in 2013, Hello! reported it was estimated to be worth $40 million. As the company grew, Carole and Michael Middleton invested in real estate, even buying an apartment in Chelsea, London, that their adult children lived in, according to The Telegraph. So where does this leave Carole and Michael? Well, according to Town & Country, their net worth reportedly sits at $67 million.
Business acumen clearly runs in the family. According to the Daily Mail, Carole's brother, Gary Goldsmith, is also a multi-millionaire thanks to his own business, an IT recruitment firm. So clearly, there's money around. But how did Carole and Michael use their fortune to get Kate close to Prince William?
How Carole and Michael Middleton got Kate close to the royal family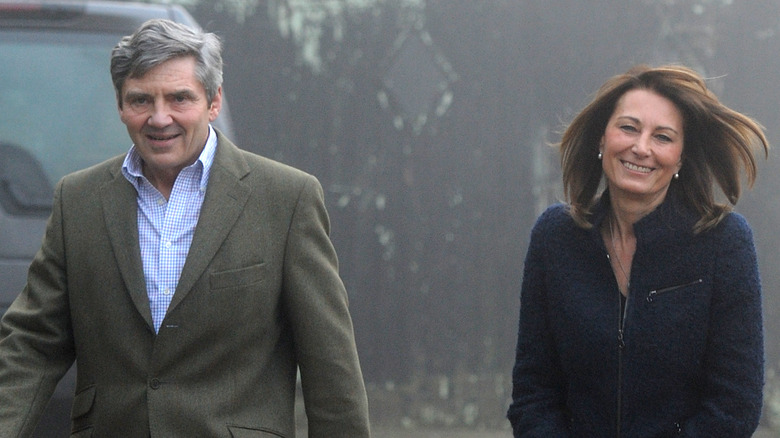 After Carole and Michael Middleton were well established with Party Pieces, they decided to relocate their family to Bucklebury in 1995, according to The Sun. In addition to putting their feet up in a luxurious neighborhood, Carole and Michael were able to send their children to prestigious schools. According to Express, Kate Middleton went to St Andrew's Preparatory School, Downe House School, and then the top-tier Marlborough College. Top-tier and pricey, that is. In 2021, Express reported the annual tuition was at approximately $53,000 U.S. dollars.
"What they did is what good parents have always done, they've invested in education, it cost them a lot of money," journalist Michael Cole said of Kate's parents in the documentary "Kate Middleton: Working Class to Windsor" (via Express). "They sent all of their three children to good schools, and in the case of Kate to Marlborough, which is one of the top public schools… where she did quite well."
This education laid the foundation for Kate's acceptance to the University of St. Andrew's in Scotland — yes, the very place where Kate would end up connecting with Prince William in 2001. But this wasn't the end of the Middleton parents contributing financially to the story of Kate and Prince Charles and Princess Diana's firstborn son. 
How much Carole and Michael Middleton contributed to Kate's wedding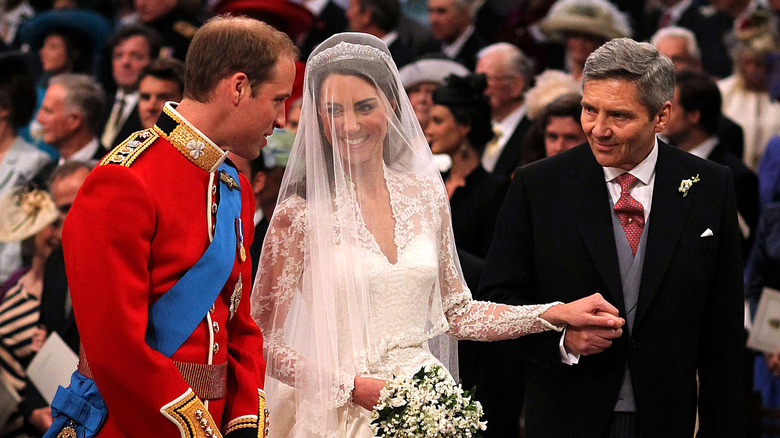 Even though Kate Middleton's wedding to Prince William was a royal affair, commoners Carole and Michael Middleton were still very much involved, both as parents and as financial providers. According to The Sun (via ABC News), the parents spent $41,000 on a pre-wedding barbecue for ceremony guests who didn't make the official reception guest list; apparently, the Buckingham Palace event didn't have enough space for all of the 1,900 people who went to the Westminster Abbey event.
That wasn't the end of their expenses, though. According to the Daily Mail, Queen Elizabeth II and Prince Charles covered most of the costs of the wedding but Carole and Michael offered to pitch in. This meant that they might have covered part of the cost of the "service, music, flowers, decorations, receptions and honeymoon." While this would be a hefty split, the outlet surmises that the Middletons likely were only asked to contribute to something more specific, like Kate's dress or the wedding cake. For reference, Kate's dress cost roughly $55,000 U.S. dollars, and the cake could've also set them back around that same amount. What the Middletons actually paid for Kate's wedding remains private but no doubt they shelled out some major cash for the happy day.
How Carole and Michael Middleton spend their money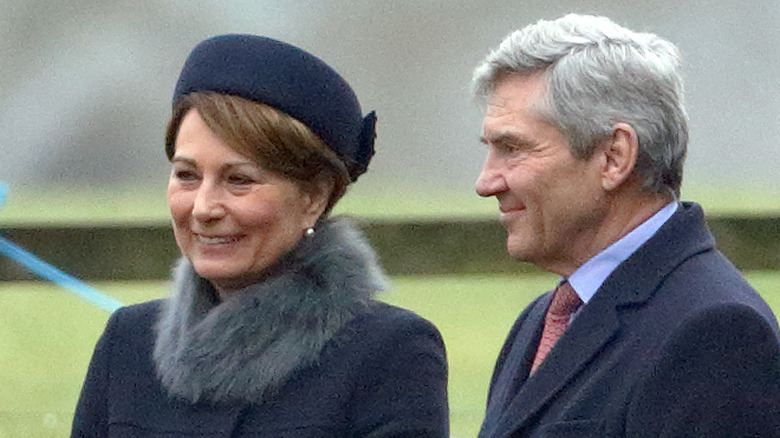 With Kate Middleton happily married to Prince William and an official member of the royal family, Carole and Michael Middleton might not feel as much pressure to foot big bills related to royal events anymore. In fact, much of their fortune today goes to their lavish lifestyle. Their home in the Berkshire village of Bucklebury is the epitome of living the good life: According to the Daily Mail, the abode that reportedly set them back $6.5 million U.S. dollars is a seven-bedroom manse that happens to boast a swimming pool and a tennis court. There's a lot going on across the 18-acre property, including a barn that was turned into a chic home office. It seems safe to assume the Middletons are very comfortable there.
The Middletons' lavish lifestyle extends beyond their home. In fact, many of Carole's interests line up with her in-law Queen Elizabeth II. Now, we may not know if she has a horse of her very own, but according to Hello!, Carole has shares in a racehorse. It's not surprising then that she and Michael frequent the Royal Ascot, the horse racing event that Harper's Bazaar calls "a British high-society must." They also attend tennis matches at Wimbledon and take frequent ski vacations. All in all, it sounds awesome.
Kate Middleton's net worth before marriage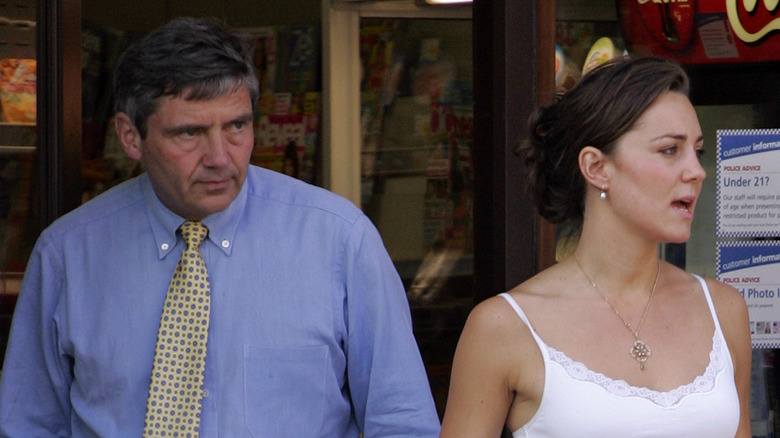 With Kate Middleton's parents so well established, what was her net worth before marrying Prince William? Thanks to her involvement in her parents' company, Party Pieces, Kate had a net worth of at least $7 million of her own, according to Wealth-X (via CNN). After graduating from the University of St. Andrews, she worked for a fashion retailer called Jigsaw, where she was a jewelry buyer. All of this happened while she lived with her siblings, Pippa and James Middleton, in the Chelsea apartment in London that was purchased for them by Carole and James Middleton.
How did Kate's pre-marriage fortune measure up to that of sister-in-law Meghan Markle? Well, it looks like Mrs. Prince William entered the royal family with a hefty bank account. According to Forbes, Meghan had a net worth of $2 million, thanks to her acting work in movies and TV, particularly "Suits." It was this legal drama that earned Meghan the most, bringing her approximately $57,500 per episode, as noted in Harper's Bazaar. While this is nothing to sniff at, Kate married with more wealth to her name. But how did her marriage to William change her financial situation?
How a royal marriage impacted Kate Middleton's wealth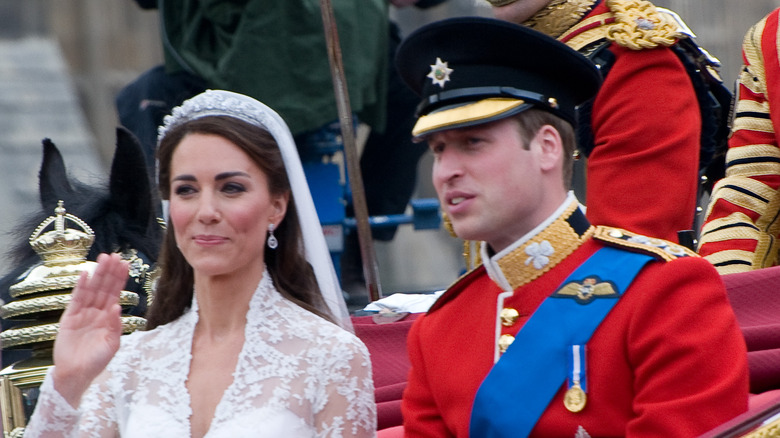 While Kate Middleton entered married life as a millionaire, her alliance with Prince William brought not only love but also a considerable bump in fortune. Prince William has an estimated net worth of $30 million, according to Celebrity Net Worth that came in part from a trust that he received when his mother, Princess Diana, died. The trust is estimated to be worth $20 million. William also received an inheritance from his great-grandmother, the Queen Mother, when she died in 2002.
While William and Kate have a considerable fortune of their own, Prince Charles pays for much of their expenses through the Duchy of Cornwall fund. As the Evening Standard points out, this fund covers William and Kate's necessities. Interestingly, the royals cannot accept free items from designers per royal protocol, so anything that they wear is paid for in full, thanks to this fund, the outlet notes. 
The Duchy of Cornwall will fall to William when Prince Charles becomes King, the Standard points out, and this means a huge financial increase for William and Kate. What is the Duchy of Cornwall worth? In 2021, Forbes listed its value at $1.3 billion. On top of that, in 2017, Brand Finance estimated the whole royal family's net worth at a cool £67 billion. Not too shabby.
How Kate Middleton keeps her children grounded through charity work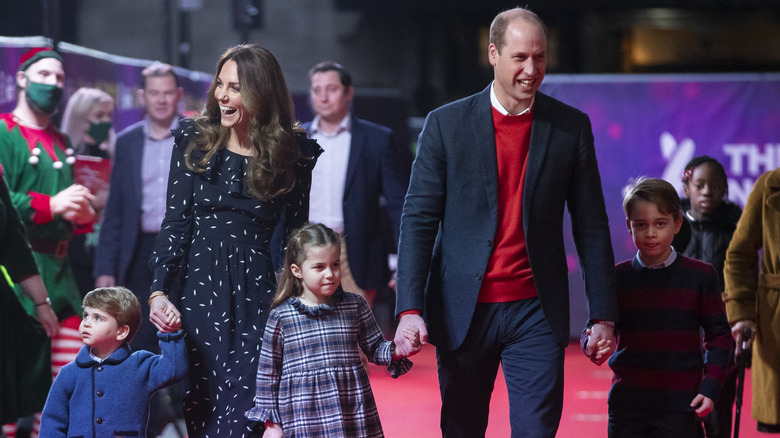 With such access and privilege, Kate Middleton and Prince William appear to be very dedicated to keeping their children grounded. How do they do this? The couple is devoted to charity and they use the Royal Foundation as "the primary philanthropic and charitable vehicle" for their ventures, the website states. William and Kate have put their weight behind mental health support through Heads Together, and Kate especially focuses on supporting families and children through the charity Early Years. 
They've made a point to teach their kids about philanthropy and gratitude. During the height of the coronavirus pandemic, Kate and Will taught children George, Charlotte, and Louis about gratitude for frontline workers. "William and Kate have made them aware of the amount of effort the doctors and nurses are making during the pandemic, the importance of their jobs and that they're risking their lives to help others," a source told Us Weekly.
The children are clearly learning from their parents. "George and Charlotte want to get involved in their parents' charity work," the source added. "Right now, William and Kate prefer to keep the kids out of the spotlight for the most part, but they do listen to their little opinions about helping others and are teaching them to express themselves openly." In addition to charity, Kate and William keep their everyday lives simple and comfortable. 
How Kate Middleton keeps parenting simple in spite of a life of wealth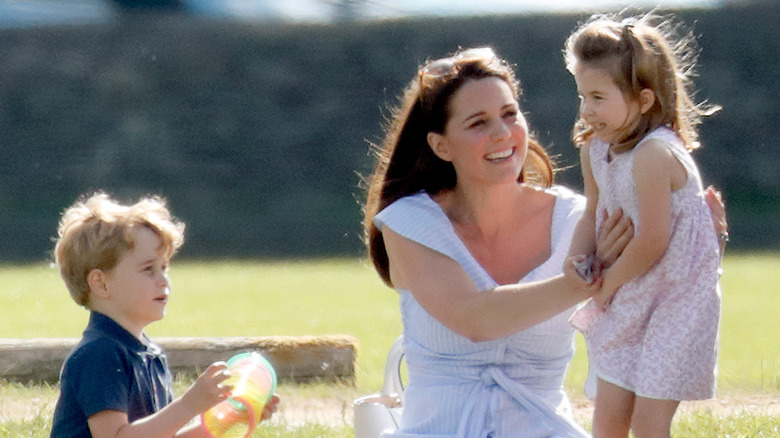 While Kate Middleton and Prince William inspire their children through their charitable endeavors, they also keep their home life as normal as possible. Offering an inside scoop on Kate's parenting style, a source told People that she's "very chilled at home," adding, "It's a normal, busy family home with kids running around and knocking things over. There's no airs and graces." The source added that Kate is "no pushover" and isn't shy to keep Princess George, Princess Charlotte, and Prince Louis in line. "The children get told off if they act up."
Kate's look is also geared towards ease and comfort. She opts for ponytails and comfy-casual clothes to run errands and drop her kids off at school, People's tipster said. "It's the life of a working mom with three young children — just a different sort of day job to most."
In fact, comfort over luxury seems to be her top priority as a parent. According to Hello!, when she visited Scotland in the summer of 2021, Kate stopped to speak to some parents about their baby's stroller. She shared that the company, Silver Cross, is her favorite because it's so "comfortable" for babies. While Kate seems to have mastered a balance between normalcy and wealth, what's the story with her siblings? Keep reading.
What is Pippa Middleton's net worth?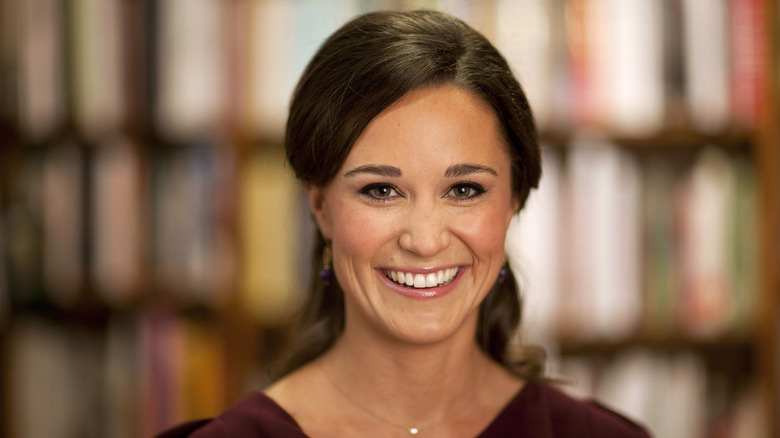 Kate Middleton's younger sister, Pippa Middleton, became an international sensation at her sister's royal wedding, where she took on the role of maid of honor. Since that fateful day, which essentially launched the entire Middleton family into the global spotlight, Pippa has been a huge source of interest for fans of the royals.
Like her sister, Pippa also worked for the family's company, Party Pieces, as well as working as an event manager for Table Talk, according to Celebrity Net Worth. Pippa, clearly taking on the entrepreneurial spirit like the rest of her family, published the book "Celebrate" in 2012, according to The Telegraph, for which she received an advance of $550,000 U.S. dollars. According to The Sun, Pippa's net reportedly sat at approximately $1.3 million in 2020.
Pippa followed up her first book with a cookbook in 2016 called "Heartfelt," but this book had a more charitable bent. As The Sun reports, she wrote it to fundraise money for the British Heart Foundation. It seems like both of the Middleton women have a heart for doing good for others. While Pippa was clearly on strong financial footing, her marriage to James Matthews considerably increased her fortune.
How Pippa Middleton's marriage made her quite rich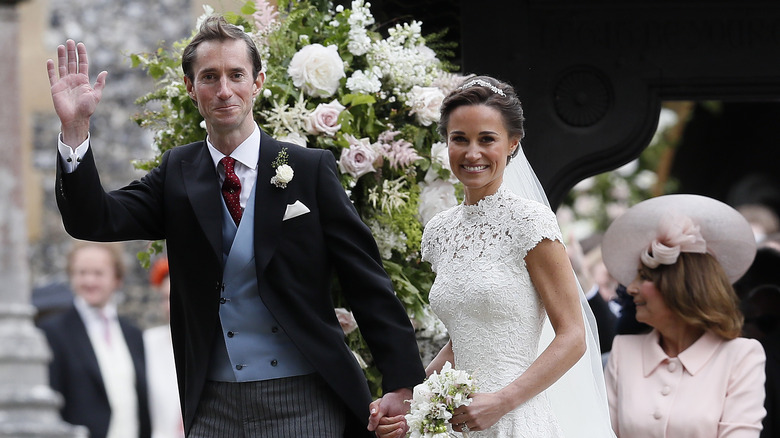 Pippa Middleton married hedge fund manager James Matthews in 2017, with sister Kate Middleton taking a turn as maid of honor. The ceremony was followed by a decadent celebration at the Middleton's home in Bucklebury. James comes from a powerful financial force in England: As the Evening Standard noted, the Matthews family owns the hotel Eden Rock St. Barths, and James himself is worth billions. Suffice to say, he and Pippa are doing quite well for themselves. 
Pippa and James live in a $22 million dollar home in West London and her engagement ring is worth over $300,000, per the Standard. In other words, chump change for James. But it's not just fortune that James has to offer: As the outlet pointed out, his father, David Matthews, is the Scottish Laird of Glen Affric, and he could eventually inherit that title. Apparently the designation is less of a royal title and more of a label regarding land ownership. As royal expert Marlene Koenig told Harper's Bazaar, "The lairdship of Glen Affric is a Scottish feudal barony, not a peerage." Koenig also pointed out that it isn't a given that Pippa will receive the title of Lady.
And where does their brother, James Middleton, fit in all of this?
How James Middleton made his fortune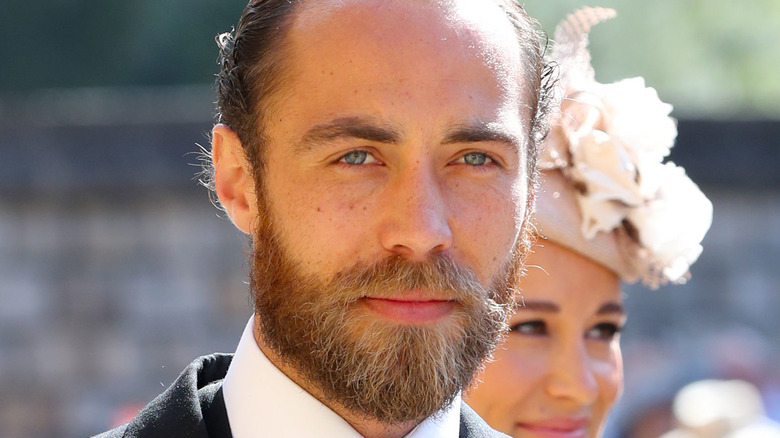 Of any of the Middletons, the youngest, James Middleton has been the most open about struggles on the path to unexpected fame and the weight that comes with success. He spoke with Tatler in 2019 about unexpected pressures: "Suddenly, and very publicly, I was being judged about whether I was a success of a failure. That does put pressure on you. Because in my mind I'm doing this irrespective of my family and events that have happened."
James has also been honest about his struggles with mental health in relation to his family's privilege. "I thought 'What do I have to be depressed about?'" he said in Tatler. "I've been so lucky with my upbringing, I had all the things I wanted. It's not that I wanted more, but there was something that wasn't always there." His candid attitude towards mental health mirrors that of Kate's interest in mental health as part of her charitable endeavors, especially Heads Together.
In August 2021, the Daily Mail reported his gift company, Boomf, racked up over $1.3 million in profits. That same month, James purchased a mansion in Berkshire village, where his parents live, for over $2 million U.S. dollars, according to the Daily Mail. Clearly, the Middleton family likes to stick together.
If you or someone you know is struggling with mental health, please contact the Crisis Text Line by texting HOME to 741741, call the National Alliance on Mental Illness helpline at 1-800-950-NAMI (6264), or visit the National Institute of Mental Health website.
How the Middleton family has prospered by Kate's marriage into royalty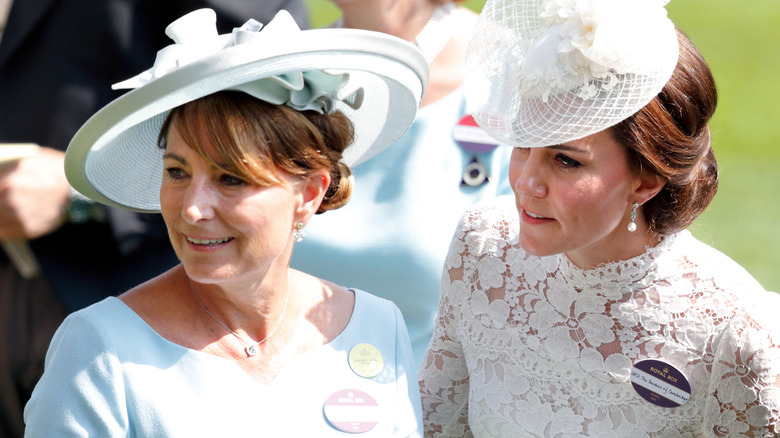 While the Middleton family had the gumption and luck to become successful on their own, Kate Middleton's marriage to Prince William brought them to a whole new level. And they are set to reach more new levels: Their son-in-law is in line for the throne, and their grandchildren are close behind. However, as royal expert Christopher Wilson pointed out to The Telegraph, Michael and Carole Middleton do not have titles of their own, and as it stands, they are the only people in the country's history to be without titles and have a future king for a grandkid.
Of course, this could be changed by Queen Elizabeth II. As Wilson said, "All it takes is for the monarch to indicate to her Prime Minister that she would be pleased to hear his recommendation that Mr. Middleton be elevated to the Lords." Sounds simple enough. 
The Duchess of Cambridge has certainly lifted up her family in the British ranking system but it is the stability and love from her parents that has made Kate such a successful working royal and mother. A later publication by Express quotes the documentary "How 2021 Shaped The New Royal Family": "It's absolutely the case that Kate's upbringing has shaped the way she is." While money can certainly bring access and ease, it was really the Middleton family bond that led Kate to where she is today.
Source: Read Full Article