Inside Dog The Bounty Hunter's Wedding To Francie Frane
Dog the Bounty Hunter found love once again. The reality TV star, whose real name is Duane Chapman, announced in March 2020 that he was romantically involved with Francie Frane, per People. He was previously married to Beth Chapman, who was diagnosed with throat cancer in 2017 and died in 2019. The "Dog the Bounty Hunter" star originally had trepidations about settling down with a new wife. "Francie's husband passed away over three years ago, Beth passed away over two years ago, and I felt very bad about even wanting to have someone else after Beth," he said on the "Two Guys from Hollywood" podcast in May (via People). The television star revealed that he found solace in a Bible quote and was positive that his late wife would have approved of him marrying Francie.
After their wedding was delayed due to the COVID-19 pandemic, Dog announced in May while on the "Two Guys" podcast that he and Francie would be tying the knot in September. Leading up to the nuptials, Dog made a touching Instagram post. "My Francie Francie I Love You !!!! And soon be proving that beyond a Shadow of a doubt!!!" he wrote on Aug. 1.
Besides the delays, several other obstacles were presented on the way to Dog and Francie saying "I do." His brother-in-law wound up in the hospital with COVID-19 complications, and the reality star endured immense family turmoil, but he insisted that the wedding would continue, Us Magazine reported.
Dog the Bounty Hunter and Francie Frane married despite family drama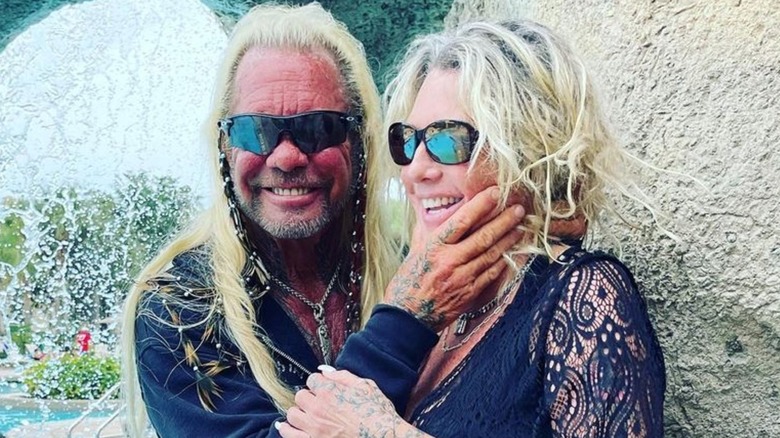 On Sept. 2, Duane "Dog the Bounty Hunter" Chapman and Francie Frane were married. The ceremony took place at The Pinery at the Hill in Colorado Springs with friends and family present for an "emotional and intimate" day, as described by a source close to Us Magazine. "It was a very emotional and very happy day for both of them," the source told the outlet. "Francie looked incredible in her dress," they added. According to TMZ, Dog was spotted stepping outside for a smoke while he drank wine, and he even stopped to pose for a photo with a fan on the joyous day.
Shortly before the wedding, the reality star encountered familial stress as it was reported by TMZ on Aug. 23 that he did not invite his daughters Bonnie Chapman and Cecily Chapman to the ceremony, although the two daughters told the outlet that they approved of their father marrying another woman after their mother's death. A day after TMZ's news dropped, Bonnie wrote an incendiary post about her father on Facebook. Bonnie claimed she and her sister were not invited because their father disapproved of them supporting the Black Lives Matter movement. 
Dog, meanwhile, told Us Magazine at the time that his daughters were being influenced. "They've fallen in with a bad crowd and are working with the wrong people," he said.
Source: Read Full Article