Meghan Markle Wears Neutrals Around the Queen for a Clever Reason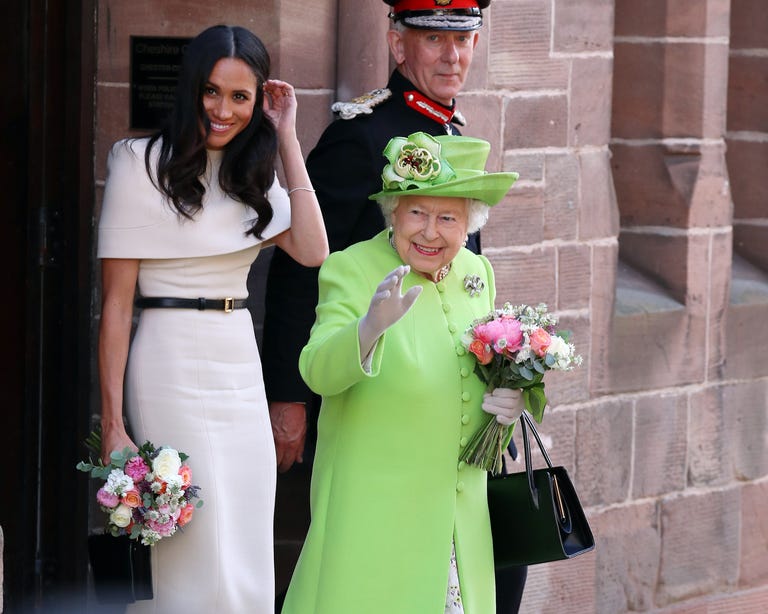 Have you noticed that Meghan Markle has embraced neutrals in her royal wardrobe? In her official engagements since becoming the Duchess of Sussex, she's worn a pale pink Goat dress at a Buckingham Palace garden party, a blush off-the-shoulder Carolina Herrera dress at Trooping the Colour, and, most recently, a cream Givenchy cape dress for her first solo engagements with the Queen.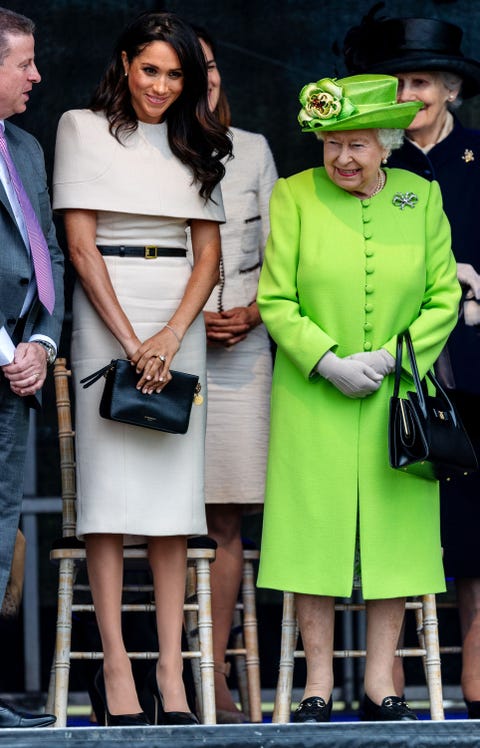 Sure, the hushed color palette may just be a coincidence, but there's a chance it's all choreographed for an important reason—as a "show of respect" for Her Majesty.
"Meghan has opted for a neutral color once again. I feel this is a clever styling tactic as it will always work with the Queen's look; she is known and applauded for her use of bright fun colors," fashion consultant Lucas Armitage told Daily Mail.
As fans of the Queen are well aware, Her Majesty boasts for a colorful wardrobe. She's worn nearly every shade in the rainbow in her several decades as sovereign. It turns out her bright style is a clever hack to ensure her well-wishers can spot her from yards away.
"She needs to stand out for people to be able to say 'I saw the Queen,'" Sophie, the Countess of Wessex (Her Majesty's daughter-in-law), said in the documentary The Queen at 90, HelloGiggles points out.
It makes sense that Markle wouldn't want to avoid clashing with the Queen. Especially as a new royal, she's probably trying to stay on her grandmother-in-law's good side. "The use of neutral color on Meghan's part is also a show of respect to the Queen so she never looks like she is trying to outshine her," Armitage added to the Mail. "I would be shocked if Meghan ever opted for a bold color, although it's interesting to note in her previous life she was a fan of bright hues."
'I think the Queen and Meghan's relationship at this point is one built on respect, and Meghan has shifted her own personal style to adopt a more demure regal look—something I think the Queen will be thankful for," he added.
While Markle wore the a Claire Waight Keller design for Givenchy (like she did on her wedding day), the Queen went for a lime Stewart Parvin coat and Rachel Trevor-Morgan hat. The green look did more than stand out in the crowd, it was also a sartorial tribute to the Grenfell Tower fire victims, a year after the tragedy.
Source: Read Full Article