Miley Cyrus among celebrities to lose homes in California wildfires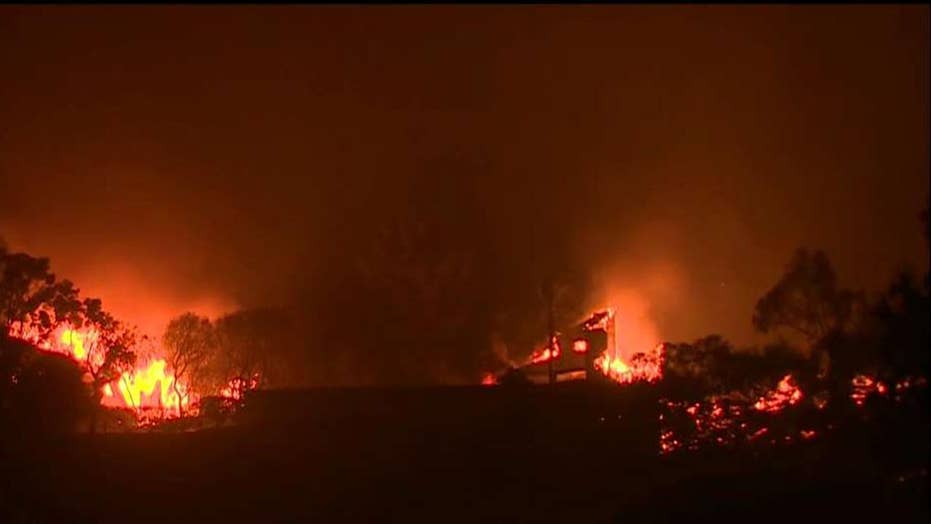 California experiencing most destructive wildfire in history
Claudia Cowan reports.
Miley Cyrus said Sunday her house burned down due to the devastating California wildfire ravaging southern California — joining a growing list of celebrities and thousands of residents to evacuate or lose their residences due to the blaze.
Cyrus tweeted that she, her animals and "love of my life," most likely referring to fiancé Liam Hemsworth, made it out safely before the flames engulfed her Malibu home. Two wildfires — Woolsey Fire in southern California and Camp Fire in the northern part of the state — have destroyed thousands of structures.
"Completely devestated [sic] by the fires affecting my community. I am one of the lucky ones. My animals and LOVE OF MY LIFE made it out safely & that's all that matters right now. My house no longer stands but the memories shared with family & friends stand strong," she tweeted. "I am grateful for all I have left. Sending so much love and gratitude to the firefighters and LA country [sic] Sheriff's department!"
The singer urged fans to donate money, time and supplies to help during the wildfires.
Cyrus is among the celebrities who announced their house burned down in the Woolsey fire, which has destroyed 177 structures and threatened 57,000 more in southern California as of Sunday night. The fire, which began last Thursday, scorched 85,000 acres and is 15 percent contained.
On Sunday, actor Gerard Butler posted shocking photos from his Malibu home showing only charred remains left on the property.
Robin Thicke and pregnant girlfriend April Love Geary also shared on Instagram that their house his gone. They previously posted an image showing a dark plume of smoke filling the sky.
Camille Grammer posted on social media: "Sadly my house couldn't be saved. The courageous firefighters were able to save my cars and personal items recovered from my home. I thanked the fire chief and his team of firemen for all of their hard work."
Neil Young announced on his website that he's lost his home in the wildfire. He also criticized President Trump, who pointed at California's "gross mismanagement" for the cause of the fire.
"Firefighters have never seen anything like this in their lives," Young wrote. "I have heard that said countless times in the past two days, and I have lost my home before to a California fire, now another."
Two people have died in the Woolsey fire.
As that wildfire rages on, the Camp Fire continues to destroy more than 6,000 structures in northern California. The inferno has killed 29 people as of Sunday, becoming the deadliest blaze in California history. At least 228 people remain unaccounted for since the inferno began on Thursday.
Source: Read Full Article