Niecy Nash came out with her marriage to musician Jessica Betts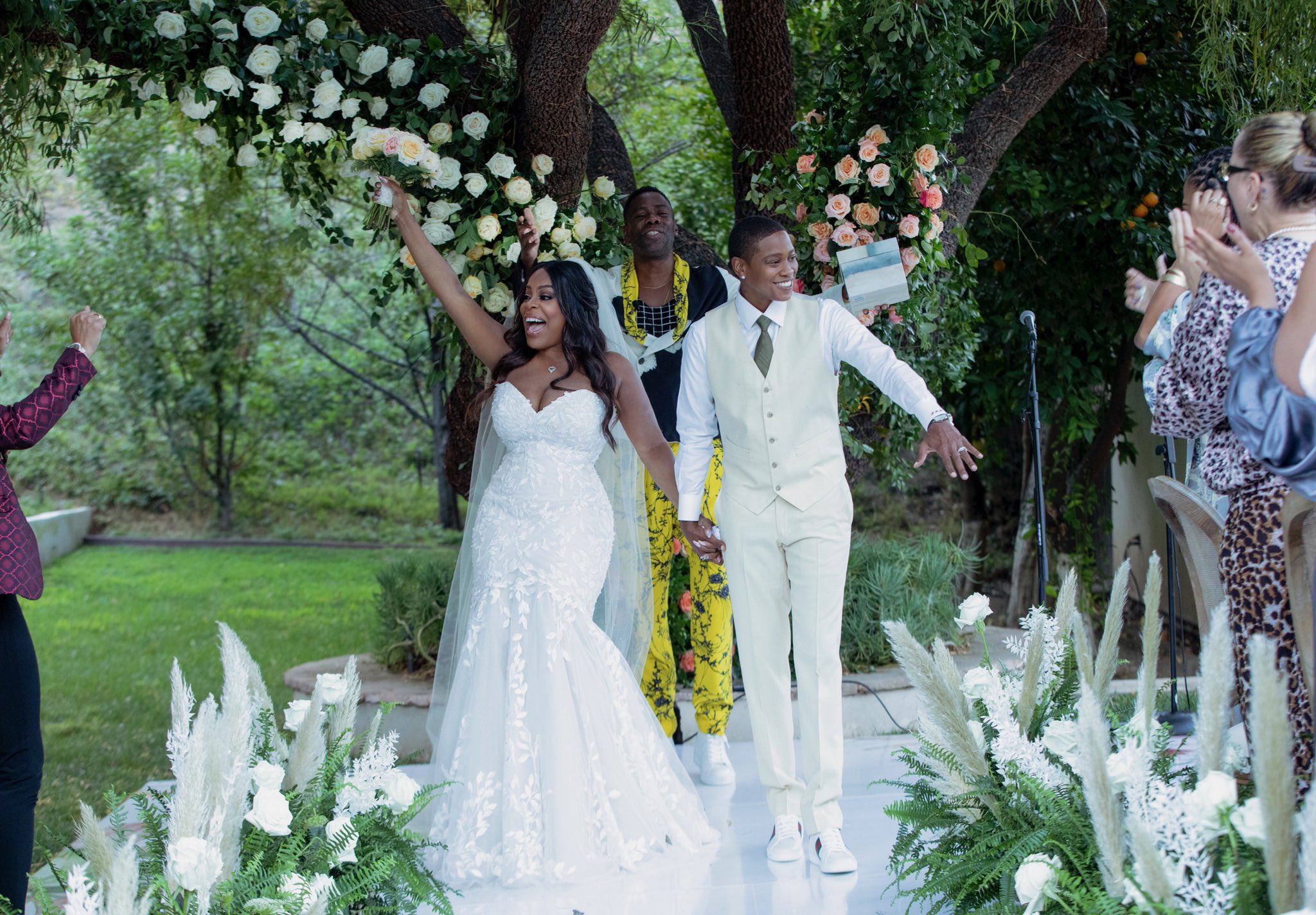 It's nice to get some good news in this tough week. Niecy Nash recently came out when she announced her marriage to her long-time friend and now wife, musician Jessica Betts.
Niecy, who brought in her 50th earlier this year with a semi-nude photo shoot, announced tying the knot via Instagram on Monday. She stated, "Love Wins All," and added the hashtag #PlotTwist with a rainbow emoji at the top of the pic. The couple had their wedding outside under a large tree with several guests, including Ava Duvernay, attending. Actor Colman Domingo of Fear The Walking Dead officiated. It would also seem that Niecy took her wife's surname announcing that she was now Mrs. Carol Denise (her birth name) Betts. Niecy's filed for divorce in December from her second husband, Tucker, whom she was married to for eight years. Fans and celebrity friends sent messages congratulating the couple via social media. People covers the story:
"Mrs. Carol Denise Betts ? @jessicabettsmusic #LoveWins? ? @robertector," Nash, 50, captioned a photo of herself and Betts walking hand-in-hand down the aisle. (Carol Denise is Nash's given name.)

Betts also celebrated the union, writing, "I got a whole Wife ?? @niecynash1 #Bettsofbothworlds #LoveWins."

The pair wed in an outdoor ceremony, saying "I do" underneath a tree that was adorned with flowers.

Nash additionally shared Betts' "Catch Me" song on her Instagram Story, which she followed with a photo of the pair standing side-by-side.

"#PlotTwist," Nash wrote atop the photo with a rainbow emoji.
[From People]
Some of the messages from the queer community on Twitter were hilarious. Many of Niecy's queer fans were tweeting how, if they would have known that they had a chance, they would have risked it all. I also love how many came out in support of the marriage and how wonderful most people were being about the news.
I was definitely shooketh when I saw the announcement on my Twitter feed. It was a ray of happiness after grieving the loss of Chadwick all weekend. I love the fact that Niecy was open to whatever form or package love came to her and went for it. To me that is inspiration and the epitome of a love story. Love truly does win in this scenario and I am wishing her and Jessica much happiness.
Here are some of the tweets from fans and friends congratulating the couple:
Tonight we celebrate @MonicaDenise & @4everBrandy.
Tomorrow we keep this energy going and continue to uplift our black queens. ?
— Jackée Harry (@JackeeHarry) August 31, 2020
— Ava DuVernay (@ava) September 1, 2020
— bomani (@bomani_jones) August 31, 2020
— Toni Braxton (@tonibraxton) September 1, 2020
— damian (@tender__woman) August 31, 2020
H A P P I N E S S ….. is minding my own business ❤️✨?
This video below is from 2008!
I want to give a special shout to @niecynash1 ? This woman of God, I'm honored and blessed in her presence. She's anointed and appointed. She singin my tune, ? #CatchMe Link in bio ? Thanks Cora! This is for YOU❤️?? #ClawsTNT #bettsofbothworlds #seasonfinale #waitforit?
Know • Thigh • Self???
Source: Read Full Article