Where Prince Harry & Meghan Markle Will Honeymoon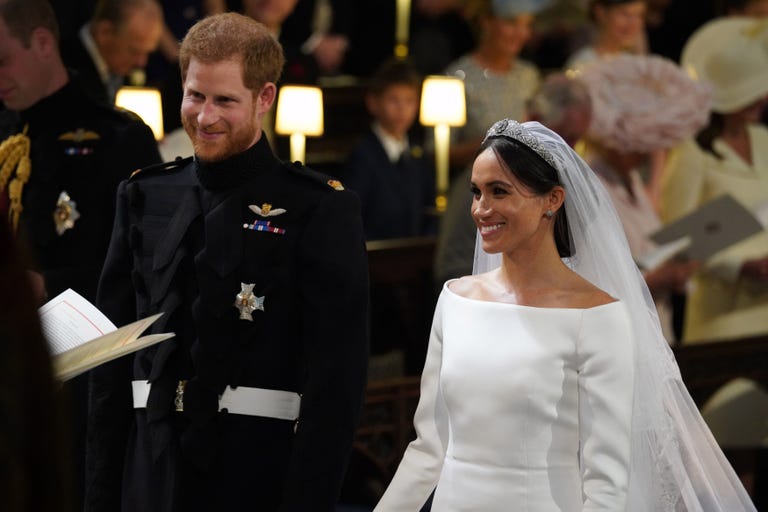 Now that Prince Harry and Meghan Markle are officially husband and wife, you're bound to be wondering where they're headed on their honeymoon. But as was announced earlier this month, the couple will delay their honeymoon for a while, because their first official engagement as a married couple is scheduled for this coming Tuesday, May 22; they will attend Prince Charles's 70th birthday patronage celebration at Buckingham Palace.
As such, the honeymoon will take place at an unconfirmed later date. Where are they going? Also unconfirmed, but per a Travel and Leisure source Namibia is the most likely destination. The south African country is renowned as a quiet, off-the-grid destination – it's one of the least densely populated areas in the world – and offers desert camping, animal safaris and "once-in-a-lifetime experiences".
According to The Sun, Prince Harry and Markle are likely to stay at Hoanib Valley Camp in Kaokoland, north-western Namibia, which is "the world's only Africa-wide giraffe conservation organization," and is "surrounded by mountains, sand dunes, and huge expanses of desert."
Per The Telegraph, another rumored destination is Botswana, which is where Harry and Meghan went for a low-key one-year anniversary getaway in 2017. The Irish Independent also reported in March that the couple is planning a 'mini-moon' in Dublin in the weeks after their wedding, with arrangements already put in place for a series of official engagements in the Irish capital.
Hours before the wedding, Queen Elizabeth II conferred new royal titles on Harry and Meghan, and now that they're married they have formally become the Duke and Duchess of Sussex.
Source: Read Full Article