Sissy Spacek has been married 50 years: 'sometimes you want to bop them on the head'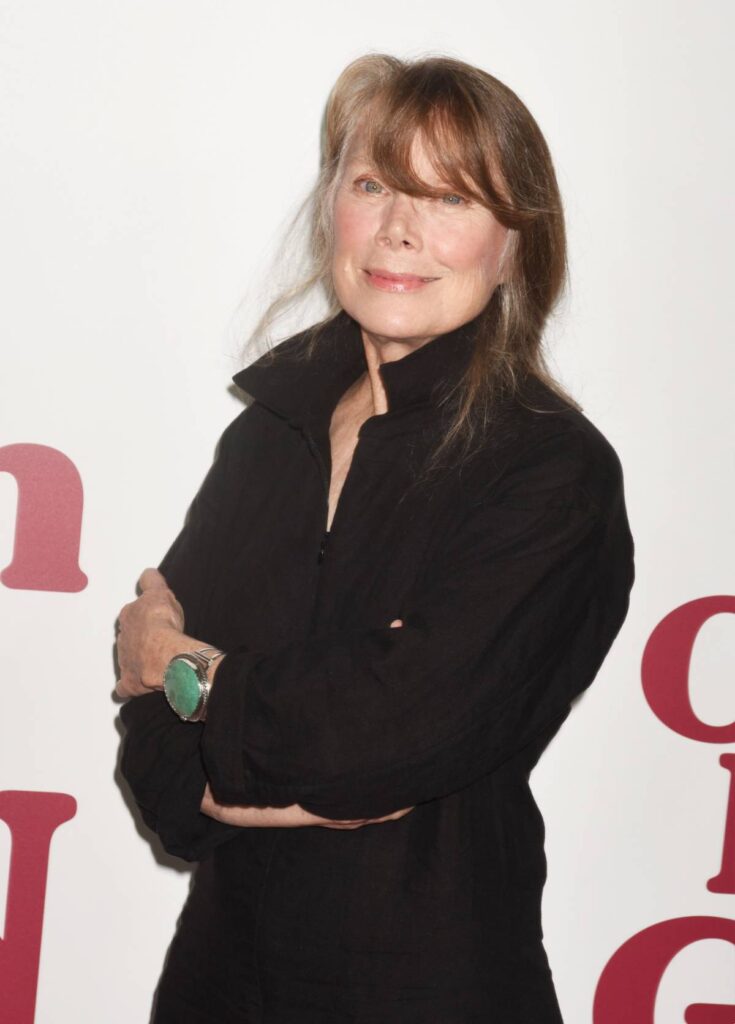 Sissy Spacek and J.K. Simmons star in a new Amazon Prime series called Night Sky. She plays Irene and he plays Franklin. The premise of the series, which is not a spoiler because most of Sissy's Esquire interview discusses it, is about a couple who are grieving their son who died by suicide. They also have a portal to space in their barn. If you watch the trailer that I posted below, there's no mention of the son or his death. I'm utterly confused. But, it sounds like the whole series balances on the relationship between Irene and Franklin, which is smart because even in the two minute trailer I am convinced they've been happily married forever. Sissy said that's because both she and J.K. have their own long-term relationships to pull from, it made it easy to bring that to the screen. Sissy has been married to director/production designer Jack Fisk for 48 years, although she rounds it up to 50 so we will too. (They've known each other for 49, it counts.) She said so many wonderful things about Jack and their relationship, you'd think it perfect. But Sissy said no relationship is perfect, that "sometimes you want to bop them on the head." But for better or worse is all just part of what makes a relationship stronger.
The characters' relationship attracted her: It was the relationship between Franklin and Irene that really pulled me in. One of the things I recognized in her was she had this long term relationship with her husband. I've had that with my husband. 50 years. It's crazy. It goes so fast.

On long-term relationships: My husband is such a wonderful artist. He's phenomenal, and I learned so much from him about the artist's life, and about work, and what it involves, and how much you have to give. You have to give everything up and be focused when you're working. We've shared that.

I recognized in Irene that when you've been married that long, sometimes you want to bop them on the head. You want to strangle them. That's just part of the long term relationship. You go through so many things that it just deepens and deepens and deepens.

How the characters processed their grief: I think she could probably be better. For the last 20 years she's been orbiting around herself. She's been consumed by her search for what this thing in her backyard means. Franklin, he watches the ball games, he's got his friends, he plays pool, he's a contented guy. Irene is searching out in the sky, and I'm thinking "Irene, maybe it's not out there, maybe it's in your heart. Maybe you've been fooled. Maybe you're going in the wrong direction. Maybe you need to look inside yourself." It's a natural thing to want to know what's going on in the universe and what it all means. That's where she's at, but she evolves.

Why her and J.K.'s character's have such chemistry: We've both been in long-term relationships, still are, and that's what we drew from. We adore our spouses. He's been in a 30-year relationship. I've been in a 50-year relationship. J.K. is the bee's knees. He's always deep. He's close to his children, he adores his wife, he loves his career. He's just a happy guy.
[From Esquire]
I encourage you all to read the whole article, it's like a serotonin drip for the day. Sissy exudes contentment, which she admits in the interview she prefers because she finds happiness "overrated." She's got a point, happiness is a hard goal to reach, let alone maintain. Contentment is undervalued. I truly love how Sissy speaks of her husband and their relationship. She obviously adores him and admires who he is. I'd wager that grows richer with time. And yes, there are times the loves of our lives are the single greatest annoyance in our reality. As long as you don't actually bop them on the head and find a way to, as Sissy counsels, pick your battles, all the ups and downs do deepen your bond over time.
The interview keeps touching on the grief in Night Sky. There's a point where they compare how Sissy's Irene deals with her grief in this series vs. how her character Ruth dealt with her son's loss in In the Bedroom. I didn't see that, so I didn't cover it, but I find grief's effect on relationships interesting. My first recollection of seeing it dealt with on film was The Accidental Tourist. Melissa McCarthy's The Starling was a great portrayal of a couple struggling entirely differently with grief. Night Sky sounds interesting because it has this bizarre sci fi element to it. But at the core, Irene is reeling, as Sissy said, and J.K.'s Franklin went on with his regular life. I'm curious to see how that affects each of them. I wonder who will want to do the bopping and who is in danger of being bopped. I have my theories.
Here's the trailer. See if you can make more sense of it than I could:

Embed from Getty Images
Embed from Getty Images
Embed from Getty Images
Photo credit: Avalon Red and Getty Images
Source: Read Full Article