Tia & Chris' 'Bachelor In Paradise' Date Was Actually Pretty Cute
If you were expecting Tia to go right on a date with Colton in Mexico, you're (somewhat) mistaken. The Bachelor alum nabbed the first date card upon landing in Paradise and Chris Randone — another Becca season cast-off — got the honor of taking her out. To be fair, Colton was nowhere to be found as of yet. Despite the surprise and Tia's tears surrounding Colton's absence, Tia and Chris' Bachelor In Paradise date actually ended up being pretty cute. In fact, they hit it off, chatted, and smooched their way to the next level.
Going into Paradise, it's clear to all of Bachelor Nation that Tia's got Colton on the brain. The controversial couple had a brief fling prior to Colton's time on The Bachelorette and her unresolved feelings for him had a big hand in Becca sending him home after hometowns. The pair apparently had spent a weekend together in LA back in January before Colton was officially cast on Season 14 and decided to end things so they could both fully explore their options. But Tia had unfinished business to take care of and she let it out all on national TV. She told Becca there were still feelings there, even if she and Colton had both previously said the situation was behind them. Colton was blindsided. Now they're both on Bachelor in Paradise — a gig Tia admitted she signed on for to get closer to Colton.
"I'm disappointed. I was hoping that Colton would be here. Am I ready to just move on?" she lamented when he didn't show up immediately. She even brought up Colton while chatting up Joe (probably not the smoothest move) and got upset when she found out she had the date card (also, not really in the spirit of the show).
"The biggest thing I'm thinking about right now is someone who's not here," Tia cried.
Wherefore art thou, Colton? With Tia's former flame out of the picture, Chris got the coveted date card.
"I felt good energy from him so I'm actually really looking forward to it," Tia explained, even though he was "shocked" she choose him.
Chris and Tia shared a candid conversation where Tia clarified the Colton situation and assured Chris she was focused on "the right now." He admitted his type was a "good girl" not from a "fast-paced life" and Tia said he was describing her. Good start, guys! They both also admitted they were ready to settle down.
"I just continue to be pleasantly surprised by Chris," Tia confessed about their connection before they kissed. Well, this is quite the twist.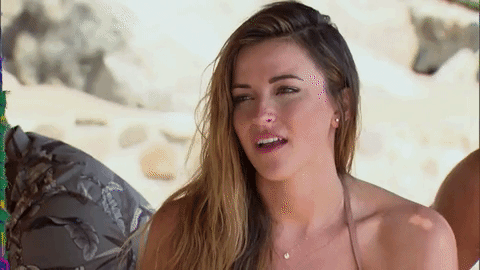 Chris Randone competed on the most recent season of The Bachelorette and was eliminated in week 6 after a rocky road. His unsavory behavior escalated throughout his time on the show. He lashed out over his lack of time with Becca, continued to clash with the other men in the house, and went as far as going to Becca's hotel room to confront her. Fed up with his actions, Becca sent him packing right then and there. Following his exit, Chris made it known that he was ready to take accountability for his actions. He took to Instagram on July 2 to apologize and recognize the error of his televised ways. A portion of his lengthy caption read:
Perhaps Bachelor Nation will continue to see another side of Chris as his Paradise journey unfolds. And who knows? Maybe he and Tia will go the distance… that is, unless Colton gets in their way.
Source: Read Full Article