[UPDATED] Kanye West's Tweetstorm Is Such a Clusterf*ck RN That Kim Kardashian Had To Intervene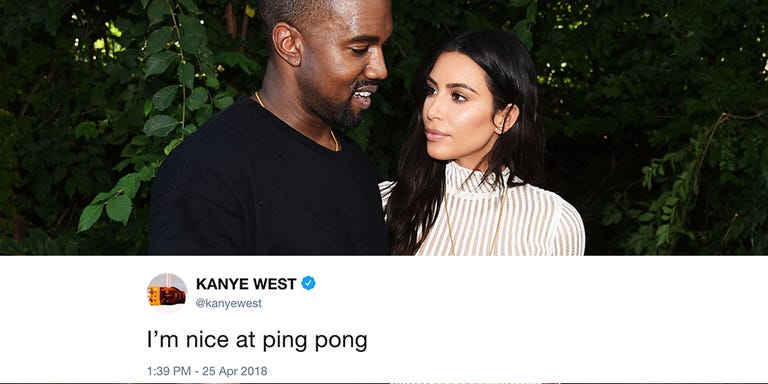 OK, so Kanye West is having a moment right now! There's a lot going on! Over the weekend, reports began to brew — like the best tea does — about West's wellbeing: that he had fired all his management (this has since been confirmed), that he'd been exhibiting "erratic behavior" concerning to his friends (this has since been denied), and that he'd even been feuding with HBIC Kris Jenner (this has since also been denied, by Kris herself).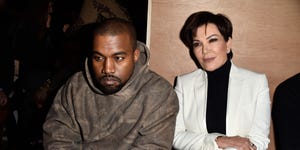 A quick music break, please:
Since reactivating his Twitter account last week, West has tweeted 190 times (and counting), in the stream of consciousness-style that is Twitter at its purest, by which I mostly mean bad. After promoting new Yeezy merch and teasing new music, he segued into praising alt-right and conservative figures over the weekend, to the consternation of his fans (and the bemused giddiness of right-wing pundits). But actually, before we get there, let's just take a moment for this shoe?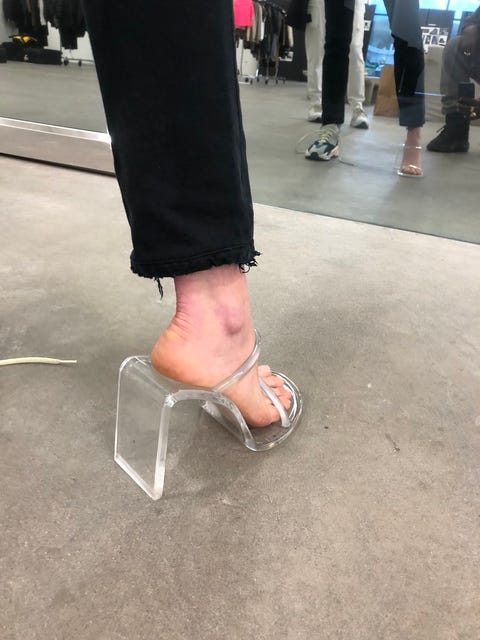 West shouted-out the conservative YouTuber Candace Owens in particular; Owens is the director of urban engagement at Turning Point USA, an organization which describes its mission as "to educate students about the importance of fiscal responsibility, free markets, and limited government," but through a conservative lens. (Turning Point USA technically describes itself as non-partisan, but then sometimes I've called myself as "toned" in dating app profiles so, really, mmkay.)
West later followed this up with a series of videos featuring clips from a livestream of Scott Adams, the creator of the Dilbert cartoons and an outspoken conservative provocateur, purportedly explaining "how Kanye showed the way to The Golden Age." Oh, and a series of tweets bemoaning what he described as a "thought police" mentality. We're not even at the really good stuff yet, FYI:
People respect people for following the general trend and consensus
People demonize people and then they demonize anybody who sees anything positive in someone whose been demonized
we have freedom of speech but not freedom of thought
The thought police want to suppress freedom of thought
Constantly bringing up the past keeps you stuck there
We live in a time where people don't respect people for being themselves
People respect people for following the general trend and consensus
there was a time when slavery was the trend and apparently that time is still upon us. But now it's a mentality.
self victimization is a disease
On Monday, Ebro Darden, radio host at Hot 97, claimed West had called him and reconfirmed his "love" for President Trump. During a 2016 concert, West had said he didn't vote in that year's presidential election — but that if he had, it would have been for Trump. He later visited the then President-elect at Trump Tower in New York, and tweeted a bunch about how he enjoyed their conversation. West later deleted those tweets, but as Darden's co-host tweeted after their show on Monday, "if you're waiting for [West] to say "my bad" about his Trump statements — don't hold your breath."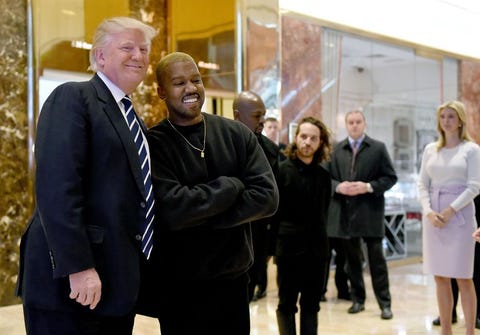 Darden also alleged that West spoke about a previous addiction to opioids, which had left him hospitalized. (It's not clear if this relates to the widely-reported psychiatric evaluation West underwent in 2016.) West then called into Darden's show on Tuesday, but only to repeat "I love you" over and over, interspersed with awk pauses:
Now we're NEARLY at the point where West's wife Kim Kardashian was forced to intervene. But a little more context is needed first, because this is a long and twisted tale as I'm sure you can all tell already — Kim had responded, teasingly to a few of her husband's faux-motivational tweets in recent days. Tweets like these, for example:
Wait…EVERYTHING?!?!?! ??‍♀️ https://t.co/0wrL1c0shB
Ummm babe. We had a rule to not show our home on social media! Soooo can we now allow KUWTK filming in the home? ?? https://t.co/bUMAn29K5K
But she'd also RT'd some of West's messages as-is; presumably, these affirmations resonated with her in particular:


And she also shared a "party of 5" photo of the Kardashian-West fam all smiling widely, OK!? It's all good!
"Please know my tweets are a joke," she wrote in another message, "and I will die laughing if I see blogs and media really think I am being serious."
In the same vein, she called out The Daily Mail specifically for running with them as a legit squabble. (So, you know, it's bordering on a 'lady doth protest too much' situation.)
But she wasn't joking around when Kanye circled back to politics again on Wednesday afternoon, with these tweets — messages that, again, spoke of a rapport with his fellow "dragon energy" dude Trump, and his support thereof (though he couched this by also throwing Hillary Clinton love too):
Free thinkers don't fear retaliation for your thoughts. The traditional thinkers are only using thoughts and words but they are in a mental prison. You are free. You've already won. Feel energized. Move in love not fear. Be afraid of nothing.
You don't have to agree with trump but the mob can't make me not love him. We are both dragon energy. He is my brother. I love everyone. I don't agree with everything anyone does. That's what makes us individuals. And we have the right to independent thought.
If your friend jumps off the bridge you don't have to do the same. Ye being Ye is a fight for you to be you. For people In my life the idea of Trump is pretty much a 50 50 split but I don't tell a Hillary supporter not to support Hillary
I love Hillary too.
I love when people have their own ideas. You don't have to be allowed anymore. Just be.
Love who you want to love. That's free thought. I'm not even political. I'm not a democrat or a republican
At this point Kim, who had voted for Hillary Clinton in 2016, and is an increasingly-vocal supporter of gun control, immigrant rights, and other "liberal" causes, stepped in. A seemingly-chastened West added later that she had called him — and, wow, to be a fly-on-the-wall for that convo — and made him add a disclaimer to his positions. She's not here for them, basically!
my wife just called me and she wanted me to make this clear to everyone. I don't agree with everything Trump does. I don't agree 100% with anyone but myself.
And that would be that — in the hours since, there's been no more politics on West's Twitter. Instead, he's complimented his table tennis skills. Except actually let's end 0n a different tweet that maybe/probably says it all?
truth is my goal. Controversy is my gym. I'll do a hundred reps of controversy for a 6 pack of truth
Literally, this post has been a workout.
Update 4/25 3:30 p.m.: Well, West is back on his bullshit. Here he is wearing the iconic "Make America Great Again" baseball cap, in a tweet captioned "we got love."
we got love pic.twitter.com/Edk0WGscp6
A signed "MAGA" hat, too!
my MAGA hat is signed ?????????????????????????????? pic.twitter.com/DrDHJybS8V
Kim, meanwhile, is on Twitter herself (just a thought, maybe y'all could talk about this IRL?) arguing that the media is "demonizing" her husband, who is "years ahead of his time," and also that West has "never said he agrees with [Trump's] politics:
To the media trying to demonize my husband let me just say this… your commentary on Kanye being erratic & his tweets being disturbing is actually scary. So quick to label him as having mental health issues for just being himself when he has always been expressive is not fair
Yesterday it was announced that Kanye had parted ways with some business people and media outlets made this about Kanye's mental health. Rather than just a simple business decision. So I'm glad he tweeted about the state of his company and all of the exciting things happening
He's a free thinker, is that not allowed in America? Because some of his ideas differ from yours you have to throw in the mental health card? That's just not fair. He's actually out of the sunken place when he's being himself which is very expressive
Again though, that MAGA hat.
Source: Read Full Article