15 Actresses Who Didn't Have To Pretend To Be Pregnant On Screen (And 5 Who Hid It)
We have seen a lot of our favorite actresses over the years portray pregnant women while on screen. But you may be surprised to find out that some of these women weren't faking it. If you are a fan of The Office, you may have asked yourself why Pam and Jim got pregnant so early into their relationship. Well, that was because the actress who played Pam was really pregnant in real life, so they had to write it into the show. It was hard to tell at first because she was relatively slim throughout the pregnancy and seemed to bounce right back after. She was pregnant for the second time on the show as well and it was a lot more noticeable. It wasn't just part of the storyline, it was all real.
She definitely wasn't the only one that pulled it off over the years. Many actresses have made it possible to work while pregnant and totally rock at it while doing so. Can you guess what other actresses were carrying their bundles of joy in real life? Check out these 20 actresses who didn't have to pretend to be pregnant on screen.
Click the button below to start this article in quick view
20

Emily Deschanel sped things up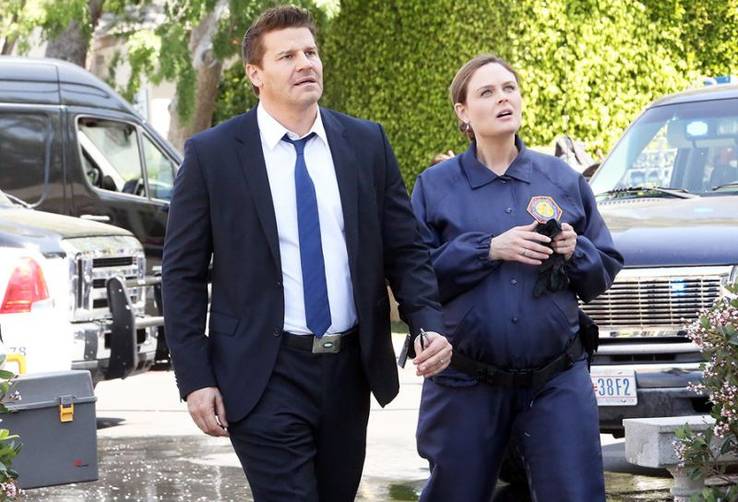 When actresses decide to start a family in real life, it can affect the production of the TV show or movie they are starring in. When Emily Deschanel got pregnant, it pushed her character, Temperance Brennan, and her partner Seeley Booth together sooner than people expected. The characters got married after the birth and then proceeded to have another child. It was easier to write the second pregnancy into the show than the first. Some would say that the two may have not had children on the show if it wasn't for Deschanel.
19

Julia Roberts was carrying twins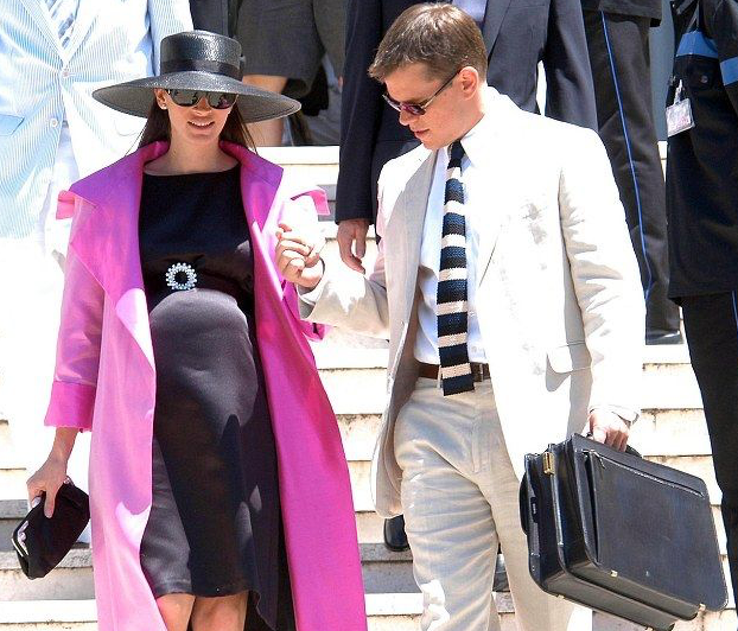 Julia Roberts was very pregnant when they started filming Ocean's Twelve, in fact, she was carrying twins at the time. The producers embraced it, however, and came up with a clever way of making Robert's character pregnant even though she wasn't supposed to be. In Ocean's Twelve, Roberts had the opportunity of playing herself when her character Tess had to disguise herself as Julia Roberts to help with the team's current heist. Roberts got to flaunt her baby bump in a fun way in the movie and now her twins have their very first film credits.
18

Chelsea Peretti surprised everyone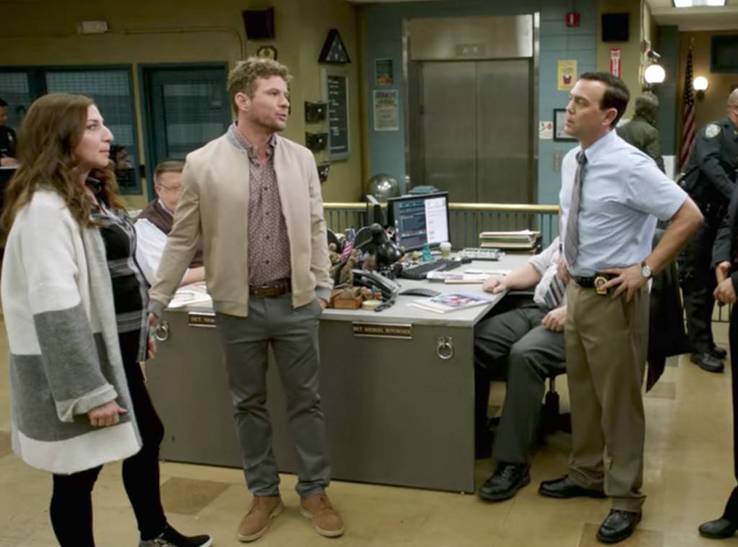 We're not really sure why they decided to have Peretti's real-life pregnancy written into the show. When her co-star Melissa Fumero got pregnant, she chose to hide in behind large bags for an entire season. The show used her pregnancy as a reveal to put her character together with Boyle, which shocked everyone. It all worked out, though, but we couldn't believe that the show decided that the wackiest character on it was going to be the one to start making babies. It all worked out in the end though and that's all that matters.
17

Jenna Fischer's storyline got Angela in on it too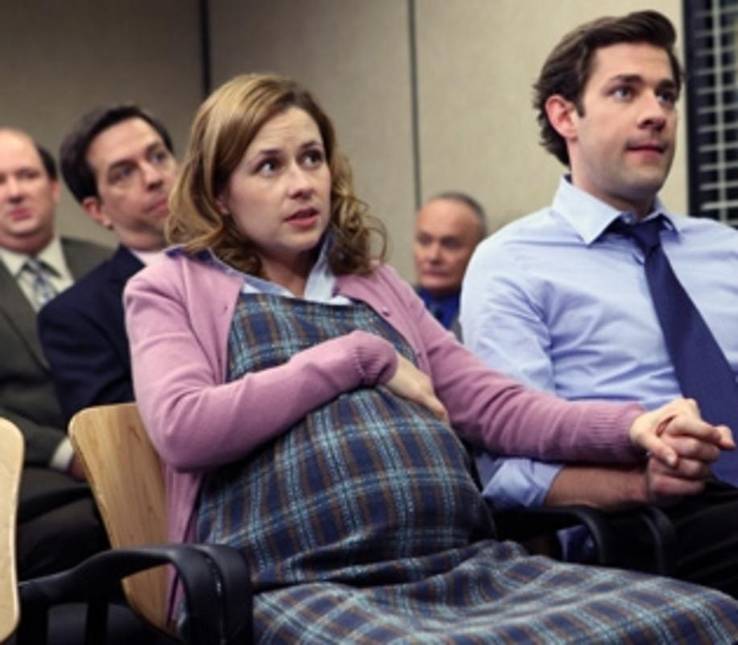 When Pam became pregnant on the show, it was because Jenna Fischer was ready to start a family. They decided to write it into the show because we couldn't have the show without Pam. The writers of The Office decided to make it even more fun by writing in another pregnancy with Angela. It offered the show a fun new arc to explore all the while Fischer was really carrying around a bundle of joy. Angela Kinsey wasn't pregnant in real life, it was just Fischer.
16

Katey Sagal had an unfortunate experience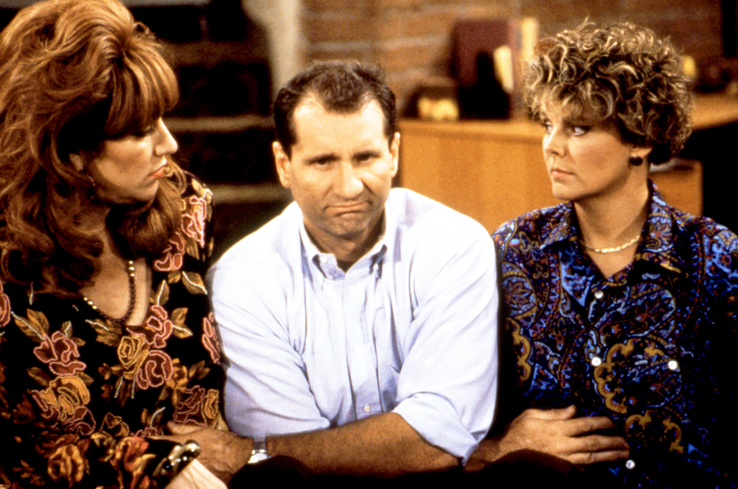 Remember when Peg Bundy got pregnant at the same time as neighbor Marcy during season six of the show? Sagal's pregnancy was real in the show and they decided to write the pregnancy into it. The show had planned on Peggy giving birth and for the family to have a new child running around. But instead, tragedy struck and they had to make some changes. Sagal gave birth six weeks early but the baby unfortunately didn't survive. Instead of the show carrying on with the idea, they decided to make the pregnancy storyline a "bad dream" that Al had been having.
15

Alyson Hannigan's pregnancy fit in well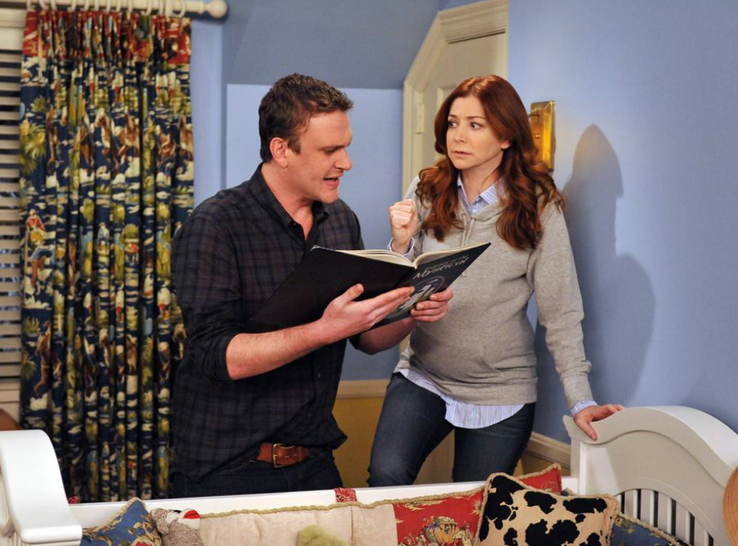 Alyson Hannigan was actually pregnant twice while on the show, but they hid the first pregnancy. The only time she was allowed to show her pregnancy was as part of the funny skit that had her winning a hot dog eating contest. She cheered while showing her belly as the aftereffects of the contest. Her second pregnancy fit right in with the show, so she was allowed to show it off. The show won't write in a pregnancy unless it makes sense. Cobie Smulders was another costar that had to hide her pregnancy during the show.
14

Candice King changed things for vampires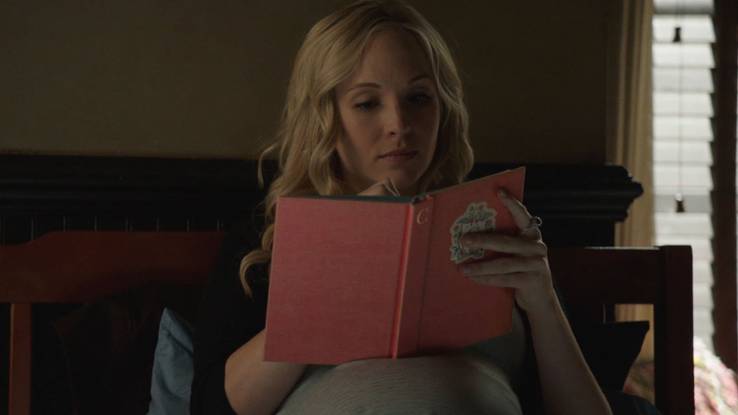 Just when we thought vampires couldn't get pregnant, in walks Candice King from The Vampire Diaries to prove us wrong. King got pregnant in real life and it was written into the storyline for the character of Caroline. King got married and they wanted to start a family right away. So how does a teenage vampire get pregnant? Instead of hiding the pregnancy, the writers worked really hard to write it into the story. She ended up being the surrogate for her former teacher Alaric and his girlfriend Jo. Talk about a weird storyline.
Featured Today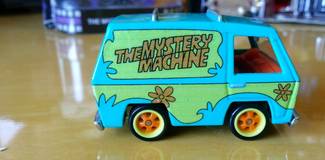 20 Hot Wheels Toy Cars That Are Worth A Small Fortune In 2018

29 Rare Barbie Dolls That Many People Might Still Own (That Are Worth A Ton)

The 25 Most Expensive Things Found In The Batcave

13

Kristen Bell got to embrace her pregnancy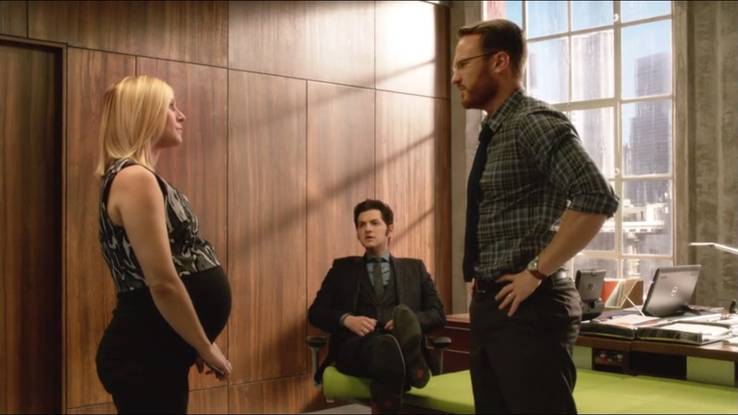 While filming House of Lies, Kristen Bell was actually pregnant twice, but only one of those pregnancies was written into the show. For the first pregnancy, it was all about hiding behind objects, but when season four came around, the writers saw an opportunity to write Bell's second pregnancy into the storyline for her character. At that point, the show could make her character pregnant and Bell wouldn't have to worry about hiding it. During interviews, Bell often jokes that she "was really just being very 'method.'"
12

Lisa Kudrow added to Phoebe's quirkiness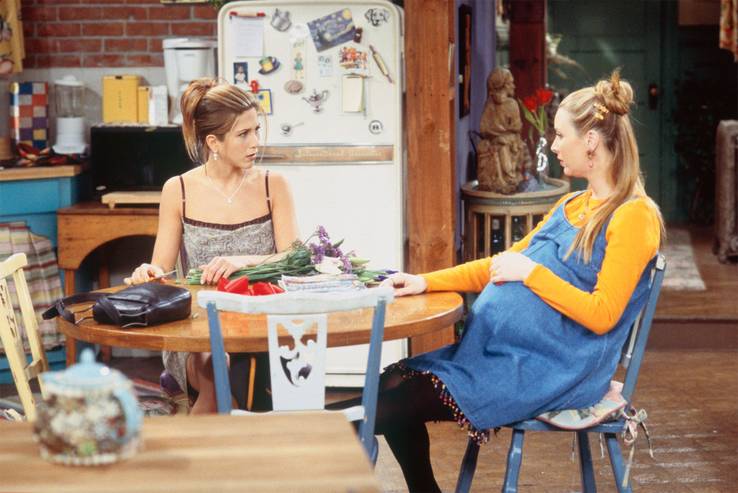 We were all surprised when Phoebe got pregnant in Friends, but it was because she was pregnant in real life. She gained a lot of weight in her pregnancy which fit right into how they wrote the pregnancy into the show. They decided it would be too hard to hide the pregnancy, so instead, they made her the surrogate of her brother's children. Being pregnant didn't really affect Phoebe's life after the pregnancy because she gave the children to her brother. It worked out for Lisa Kudrow and it fit in so well with Pheobe's quirky personality.
11

Molly Ringwald changed the storyline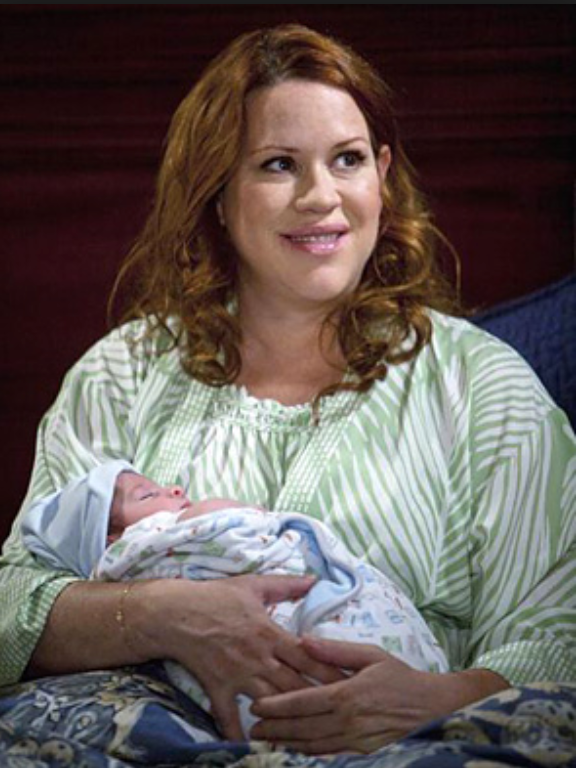 Molly Ringwald played Anne, the mother of a teenager who gets pregnant after her first time. So, if it wasn't for the fact that Ringwald got pregnant in real life, the show probably would have never had Anne get pregnant as well. It seemed to work well in the insane and unrealistic episodes of the show, so the writers ran with it. Ringwald's character found herself pregnant just months after her teenage daughter gave birth. It was a situation that altered the course of the show. It all worked out in the end, though.
10

Ginnifer Goodwin hid her pregnancy 50% of the time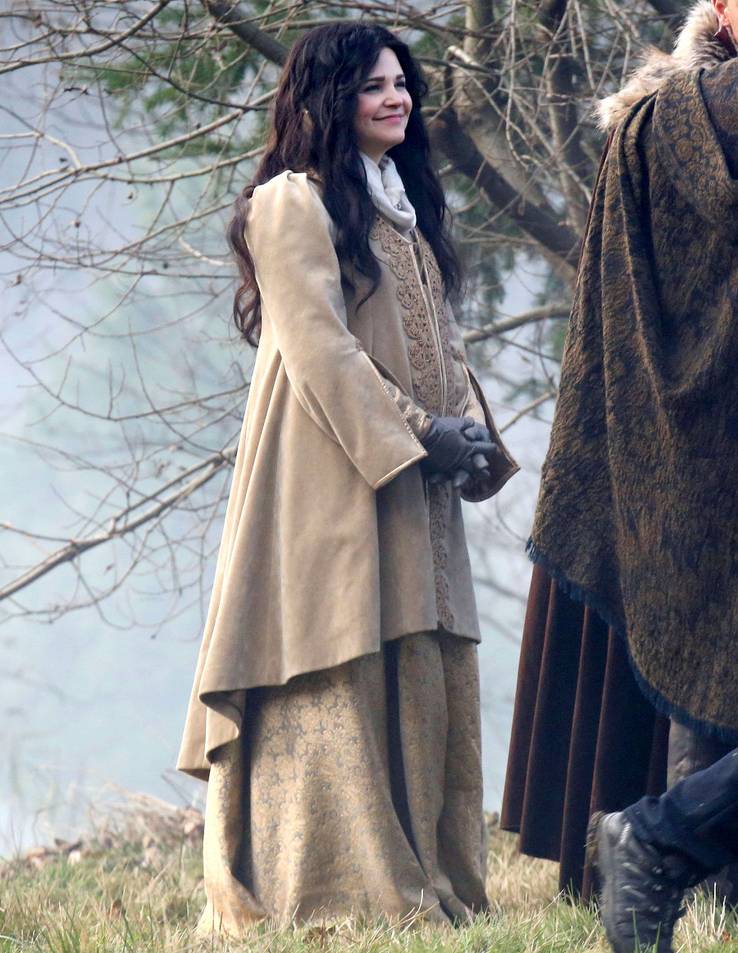 The cool thing about the TV show Once Upon A Time is that Goodwin got to play two characters. She plays Snow White as well as Mary Margaret. It did prove to be difficult, however, to play two characters when Goodwin became pregnant. The writers decided to make Snow White pregnant at the same time, but they couldn't make Mary Margaret pregnant as well. If you've seen the show, then you will understand why. So she got to show off her baby bump only 50 percent of the time and the show had to find creative ways to hide it the other 50 percent.
9

Gillian Anderson had to pretend to have alien babies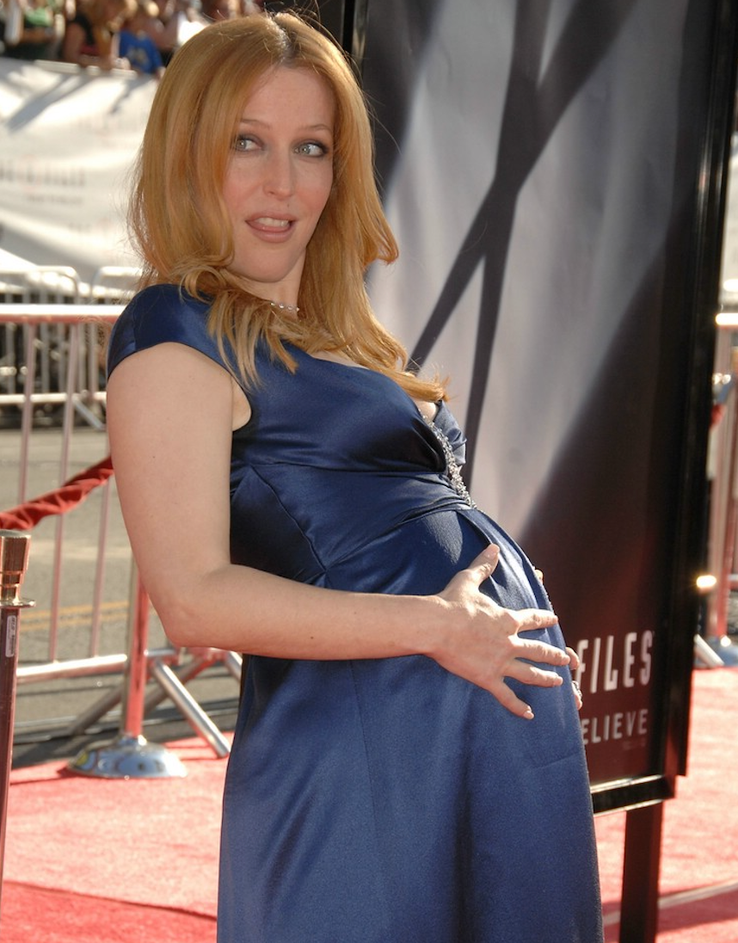 Gillian Anderson became pregnant during the first season of the show which was not ideal. They actually considered recasting her which would have been a terrible idea. We couldn't imagine anyone else playing her role. They decided to write it it, but not until the end of her pregnancy. They didn't want her to actually be pregnant, so they hid her pregnancy until the end of season one until late in season one through disturbing twist when they had her impregnated by aliens. They were definitely creative about the whole thing, but it was also pretty disturbing.
8

Cynthia Nixon changed it up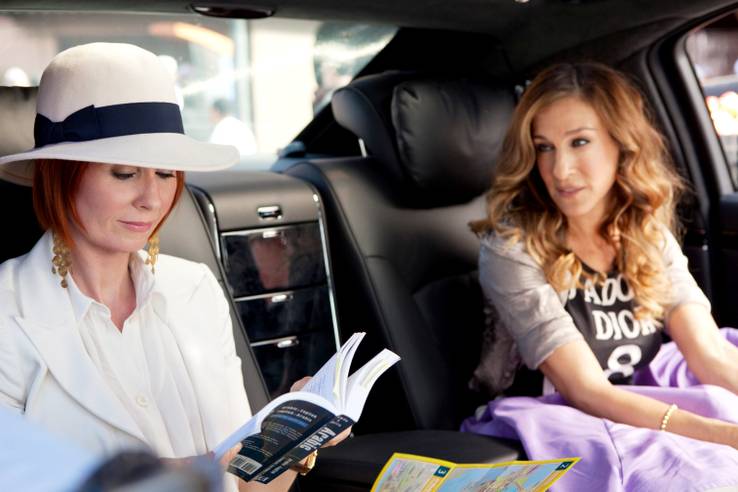 They wrote in Cynthia Nixon's pregnancy into the show so she didn't need to hide it. The character of Miranda had a baby with her on-again, off-again boyfriend, Steve. It was that pregnancy that convinced the two that they should probably get married and settle down. Sarah Jessica Parker was also pregnant during filming, but it was not the time to make her a mother on the show. At the time, she would have been single and that was not the direction the show wanted to take with her character. So Parker had to hide her pregnancy.
7

Marcia Cross covered up for character's daughter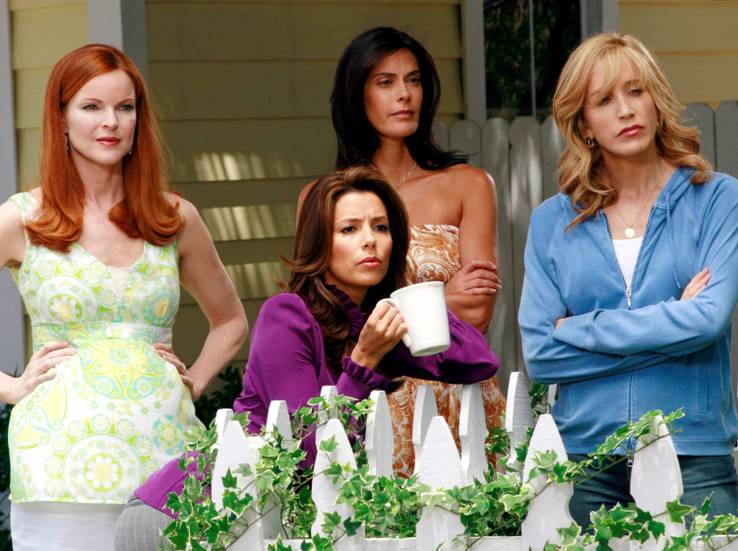 Sometimes, shows get pretty crazy when it comes to adding a pregnancy into the storyline. Marcia Cross got pregnant with twins during season three of the show. They couldn't just write in that she was pregnant, they had to create a huge scandal around it. In the show, they wrote that Bree was faking a pregnancy to hide the fact that her teenage daughter was pregnant. She wanted to protect her daughter's image and just raise the child as her own. Oh, the lengths mothers will go to protect their daughters.
6

Charisma Carpenter got a confusing storyline 
This was definitely one of the craziest storylines invented to explain a pregnancy. In season four, Carpenter's character, Cordelia, has a baby with Angel's son, Connor. Which is weird because she was Angel's love interest at the time. The show had an evil god possess Cordelia's body by impregnating her. The god wanted to be born into a human body and this was its way of doing so. The god gave birth to itself and Cordelia went into a coma because of it. But at least Carpenter got to rock out her pregnancy while on the show.
5

Courtney Cox had bad timing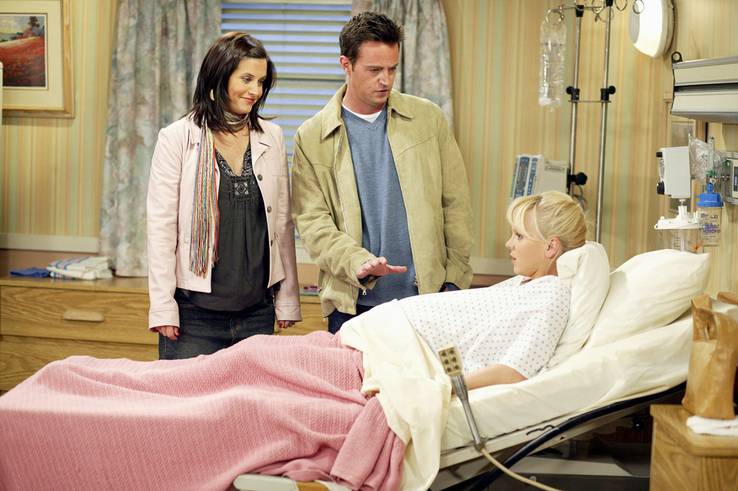 Not all storylines can accept a pregnancy and when Courtney Cox became pregnant, it had to be hidden because they had stated earlier that Monica and Chandler were not able to have children. It was pretty obvious to everyone that Courtney Cox was pregnant in the final season. To be honest, we don't think they cared that much about hiding it. They had Cox wearing loose sweaters and jackets to cover her bump. The show didn't address her weight gain at all, it was just as if Monica was just changing up her style.
4

Kerry Washington wore oversized coats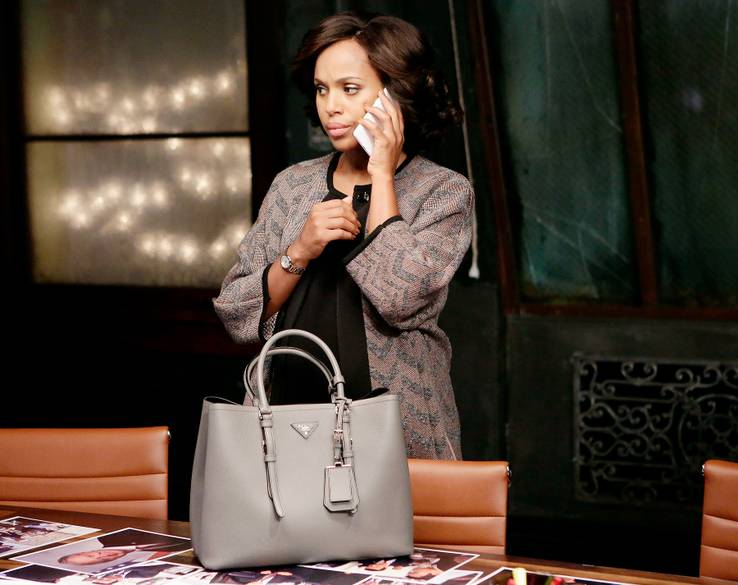 It was probably the style of character Olivia Pope that made it so easy for Kerry Washington to hide her pregnancy on set. After all, she had that style that included fashionable coats that hid her pregnancy perfectly. She looked amazing during her pregnancy but it wasn't always easy hiding her burgeoning belly. For the most part, they had her hide behind purses or folders and creative clothing choices were always added. It was funny how right after her pregnancy was over, all those oversized coats were gone. She was suddenly back to wearing form-fitting suits.
3

January Jones had to go all the way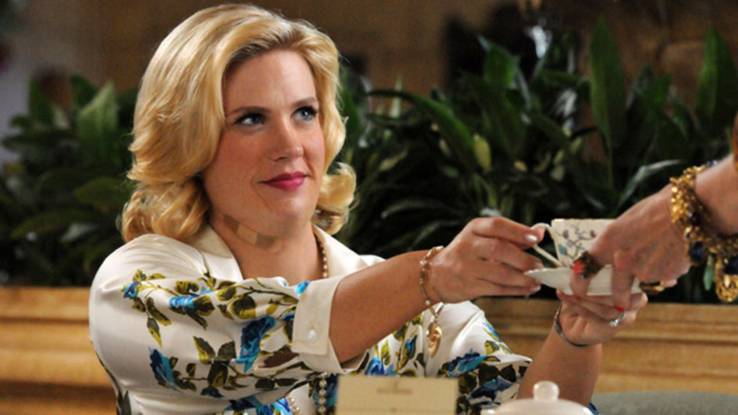 Sometimes, writers don't get very creative at all when it comes time to hiding a pregnancy. January Jones gained a lot of weight during her pregnancy and instead of trying to hide it, the show wrote in that the character Betty draper was so unhappy with her marriage that she just emotionally ate. To keep the theme going until the storyline was corrected, Draper had to wear a fat suit during season five to show just how unhappy she was with her husband, Henry.
2

Jaime King felt safe on set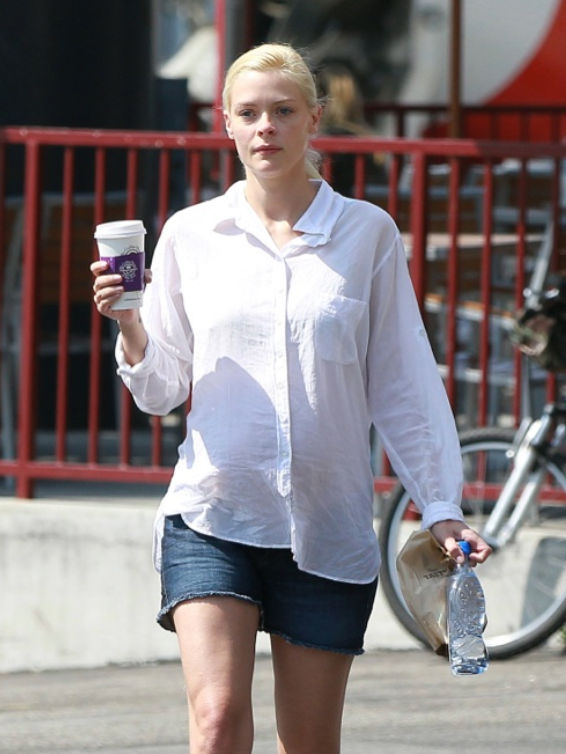 Jaime King's pregnancy was another one that was pretty obvious from the beginning. They hid it as best as they could during the show, but she ended up having to leave the show a few episodes early. They wrote it off as her character Lemon Breeland went to go stay with her grandmother for a while so that King could go on maternity leave. "I shot until the day before I gave birth, literally, then went back six weeks later, it was gnarly!" she told US Weekly. "I felt safer being on set because I knew if anything were to happen, my crew and cast would take care of me."
1

Blake Lively wasn't far along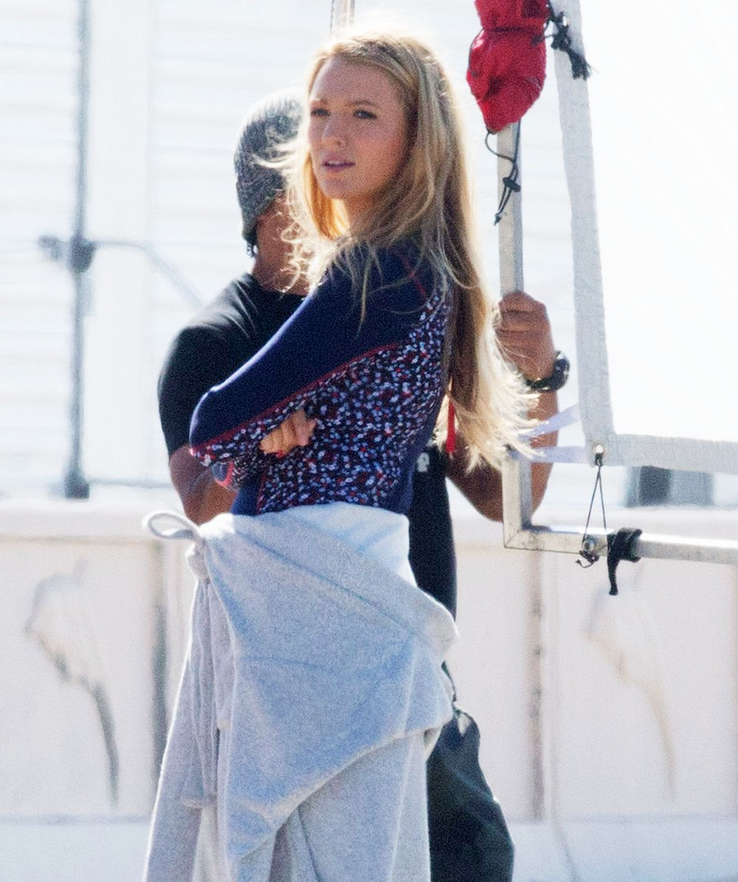 If you've watched The Shallows, you would probably be shocked to find out that Blake Lively was pregnant during filming. She was newly pregnant of course, which explains why in some of the scenes she is looking trim in a bikini. But it wasn't long before she started showing and they had to start getting creative with CGI and using different angles. "Everything is different," Lively previously said of becoming a mom on Live! With Kelly and Michael. "You see a balcony and you're like, 'Oh God, the hotel needs to demolish this balcony because my child can't go anywhere near it.' So, everything is just like, so much more heightened. We're crying all the time for no reason."
References: popcrush.com, businessinsider.com, usmagazine.com, usmagazine.com
Source: Read Full Article