15 Ways Dwayne Johnson Raises His Daughters That Make Him A Big Softie
Dwayne Johnson has been hugely inspiring over the years. He has shown us that you can literally have seven dollars in your bank account and yet completely change your life and become rich and famous. He's definitely made some mistakes in his life, but these days it seems that he just wants to inspire people to be their best selves.
He already has a 16-year-old from a previous marriage and a 2-year-old with his longtime girlfriend, Lauren Hashian. Now he can add another daughter who is just a few days old. He is a proud father of girls and he is determined to raise strong women in his family. He has involved his daughters in his work and has also tried to teach his oldest about the mistakes that he made in the past. He uses his social media presence to encourage men out there to respect and care for the women that they have in their lives and to rise up to be good dads as well.
His goal with the newest addition to his family is to show her the importance of working hard just like he has. He also wants to teach her how to fish and to learn their culture. It sounds like very important things. There are lots of reasons to love Dwayne Johnson these days but his proud father moments may be one of the best aspects of the actor. Check out these 15 times Dwayne Johnson proved he was the best dad ever.
15

He Believes In Skin-To-Skin Contact
When it came to the birth of his newest daughter, he wanted to be involved as much as possible. He was there for his wife and learned why it's so important to respect the role that women have in giving birth. He posted an Instagram picture of his newest addition who was resting comfortably on his chest. It's the cutest thing ever and something that is so important to the development and bonding of the child. Skin-to-skin contact has been proven to even heal children when they are sick. He took the opportunity to shout out to his wife as well as tell other men to respect the incredible role women have in birthing their children.
"I was raised and surrounded by strong, loving women all my life, but after participating in baby Tia's delivery, it's hard to express the new level of love, respect and admiration I have for @laurenhashianofficial and all mamas and women out there.
Word to the wise gentlemen, it's critical to be by your lady's head when she's delivering, being as supportive as you can — holding hands, holding legs, whatever you can do." He's so awesome and he added, "But, if you really want to understand the single most powerful and primal moment life will ever offer — watch your child being born. It's a life changer and the respect and admiration you have for a woman, will forever be boundless."
14

He Believes Being A Dad Is The Most Important Job He Has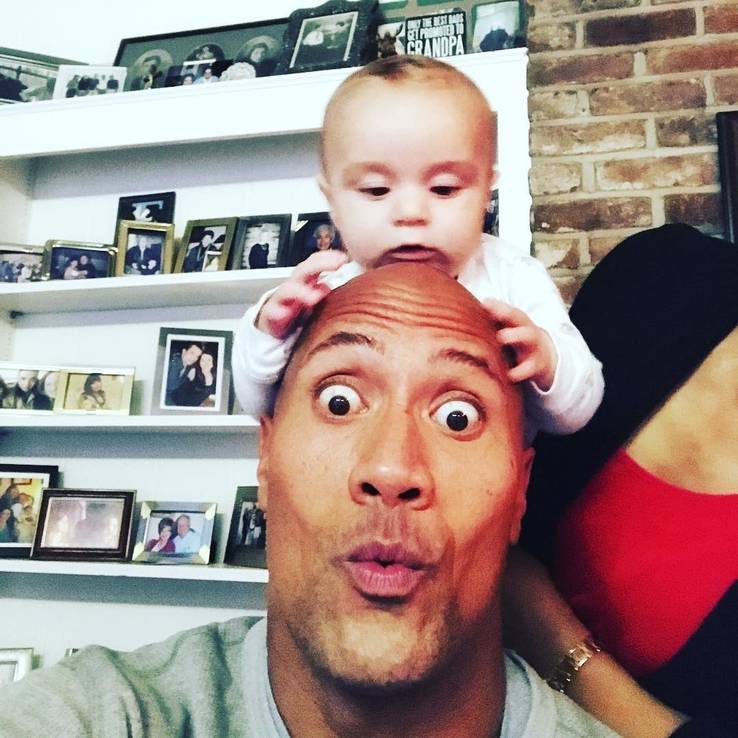 Well, he definitely has his hands full when it comes to raising three girls, but he wants to be the best father that he can be. "I realized being a father is the greatest job I have ever had and the greatest job I will ever have," he said on Oprah's Master Class before his second daughter was born.
"Throughout the years, throughout the ups and downs, I've realized that the most important thing that I could do with my daughter is lead our life with love. Not success, not fame, not anything else but, 'I'm always here for you. I love you.'"
His first daughter was born when he was married to Dany Garcia who he was married to for ten years. He is so super cute with his kids and if you follow his Instagram page, you will see just how much he loves his kids. He celebrated his daughter being four months with this post. "I'm always asked, 'What inspires you ?' My answer's easy and honest. What inspires me the most is always waiting for me to walk through my front door when I come home. Happy 4-month birthday Jasmine! One day you'll know just how happy, proud, lucky and blessed you, your sister and your mama make me. You'll also thank me one day for your toughness and your mama's everything else."
13

He Makes Sure That He's There For Important Events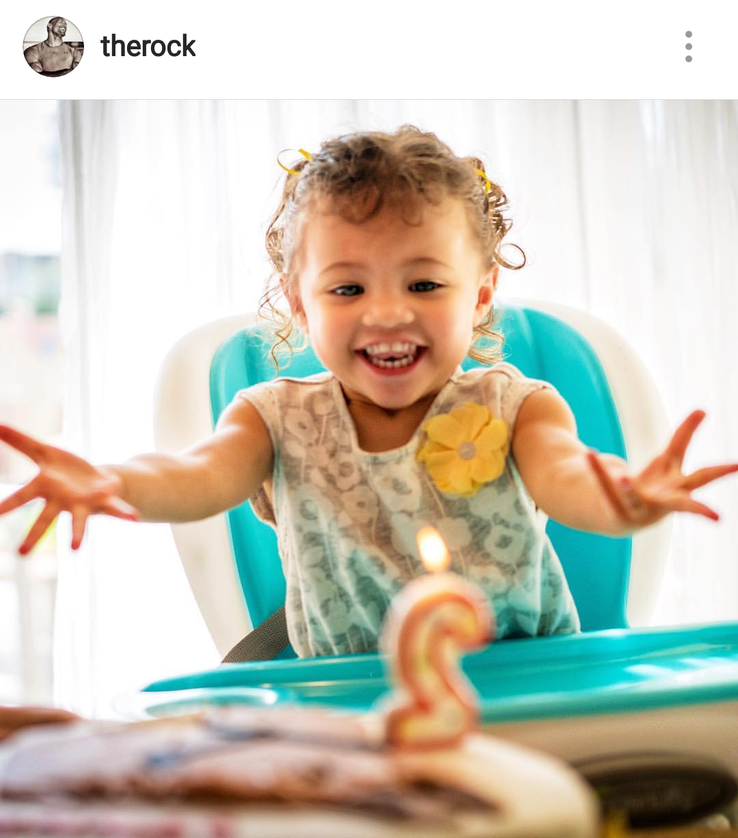 When his daughter was about to turn two, he knew that he had to be there for her birthday. He stated that he worked really hard that year but knew it was important for him to be there during the milestones. We think that's pretty cool. When it came time to blow out the candles, he was front and center. "Happy Birthday to our little piece of sugar Jasmine Lia. Timing was perfect as I've worked all year with no time off until now and bringing my ohana home to Florida was just the anchor I needed for the holidays. Just like your big sister Simone and your baby sis on the way —
as your daddy, you have my word I'll always love, protect and guide you the rest of my life. Just promise me I get one hour of 'special alone time' with any boy you decide to bring home in the far, far future.
And thank you to everyone for all the birthday love and wishes you sent our way." He's a pretty inspirational person and when you think about what he does for his kids, you know that he's a great dad.
12

He Gets Teary-Eyed When He Talks About His Oldest Daughter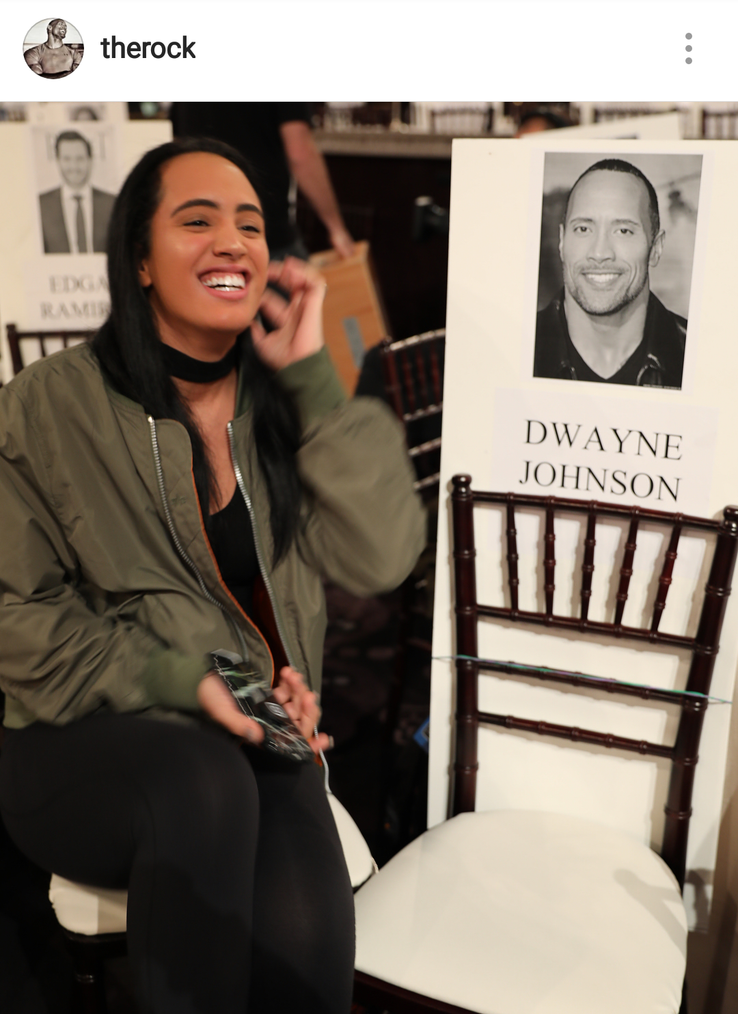 Having a teenager can't be the easiest for anyone, but it's pretty obvious that The Rock is close to his oldest daughter Simone. He often takes her to award events and walks the red carpet with her. During Oprah's Master Class, he was talking about a time that he was talking with his daughter. He asked her, "What is the thing that you love most about our relationship?" He teared up when he recalled her answer. "She said, 'Well, that I trust you.'" For anyone that has a teenager you know that's huge and Dwayne Johnson recognized that.
"For a 13-year-old girl to say that to her dad — she said, 'I trust you, and we have a very special bond.' And that moved me. At 13, she's saying that and, you know, I couldn't ask for anything else. I love that girl."
It's great to see fathers who have such strong bonds with their children because it's so important for the growth of who that child is and where she will go in her life. He is also a man that feels no shame in crying. "Ain't nothing like a good cry." Seriously, we love this guy, he's so great.
11

He Takes His Daddy Duties Seriously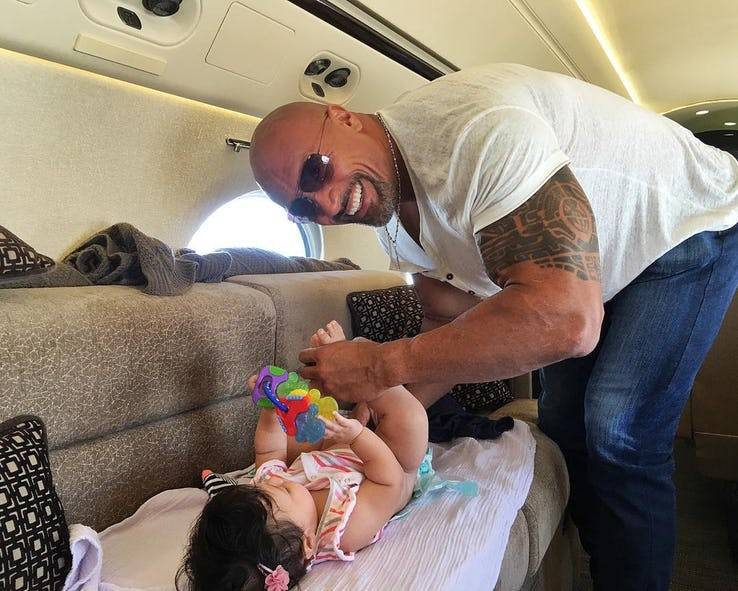 Every guy should help his lady out and change diapers. It shouldn't just be the role of the woman. Real men get that. Dwayne Johnson had no problem showing the world that he is up for changing diapers at any time. As if we needed even more reason to love him. He posted the photo on Instagram and stated, "Regardless of where we're at, when #2 happens with my baby girl. I'm the #1 man for the job." It was a hilarious post even more so that it was on a private jet. If you want to be part of the #daddygoals life, then you must be up for daddy duty and that includes diapers." He plans on being there for more than just diapers.
"And to my third and youngest daughter, Tiana Gia, like I did when your two older sisters Simone Alexandra and Jasmine Lia were born, you have my word, I'll love, protect, guide and make you laugh for the rest of my life. Your crazy dad has many responsibilities and wears many hats in this big old world, but being your dad will always be the one I'm most proud to wear. Oh and one more thing. you're gonna love rollin' in daddy's pick up truck."
10

He Loves How Close He Is With His Oldest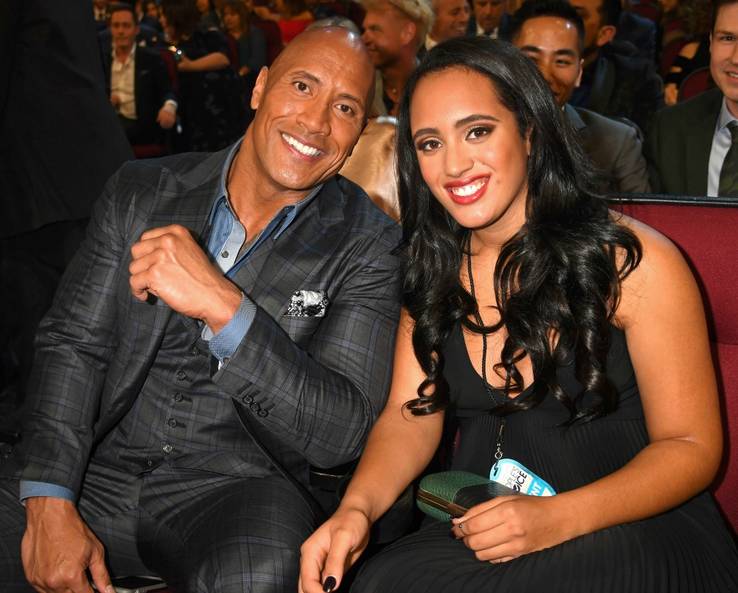 His relationship with Simone is very important to him and the two are obviously very close. We love seeing these bonds because it's not as common as you would think. We hear plenty of stories of teen girls who are screaming at their parents and the parents are struggling to understand what's going on in the mind of their teen daughters. Dwayne Johnson doesn't have to worry about that however because he is really close to his daughter and even if they go through tough times, they will do it together.
"It's the most unique, powerful, loving, irreplaceable, one-of-a-kind bond on Earth. The bond between a father and his daughter,"
Johnson wrote on Instagram. "So proud [of] you [Simone] for the young woman you've become and so grateful for the bond we have. I take complete credit for your wit and charm. All that brains and beauty you got go to your mama." We have to wonder if she is going to follow in her father's footsteps and go into acting herself. She is certainly at the right age for it. "Success isn't always about greatness. It's about consistency. Consistent hard work leads to success. Greatness will come." The Rock has the right idea.
9

He Loves All The Women in His Life
Imagine being the girlfriend of The Rock when he's this attentive to his children's needs. He has a houseful of girls to take care of and that includes long-time love, Lauren. Taking care of his partner is just as important as taking care of his kids. A healthy relationship is the best thing that he can do for his kids. He has stated in the past that he came from a family of strong women and it's his goal to raise strong women as well. We love it! In an Instagram post, he gushed all about his feelings for the women in his life.
"Not a day goes by where I don't think about the women in my life, shake my head and consider myself the luckiest man on Earth. I come from a family of beautiful, strong, diverse, and intelligent women."
When it comes to thinking about his daughters dating, the bar is going to be set really high for the men that come into their lives. Could you imagine having to meet The Rock when you go to pick up your date? We feel more than a little sorry for those guys. "They inspire and challenge me daily to become a better man, father, and role model. My love and respect for them is boundless. The world's a better place because of you and I'm a very grateful man to be by your sides."
Featured Today
10 Celebs Who Rely On Their Nannies For Parenting (And 10 Who Raise Kids On Their Own)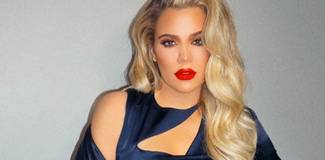 Khloé Kardashian Drops Big Money On Her Baby's Travel Gear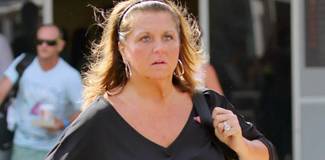 'Dance Moms' Star Abby Lee Miller Diagnosed With Non-Hodgkin's Lymphoma

8

Dwayne Johnson Works And Plays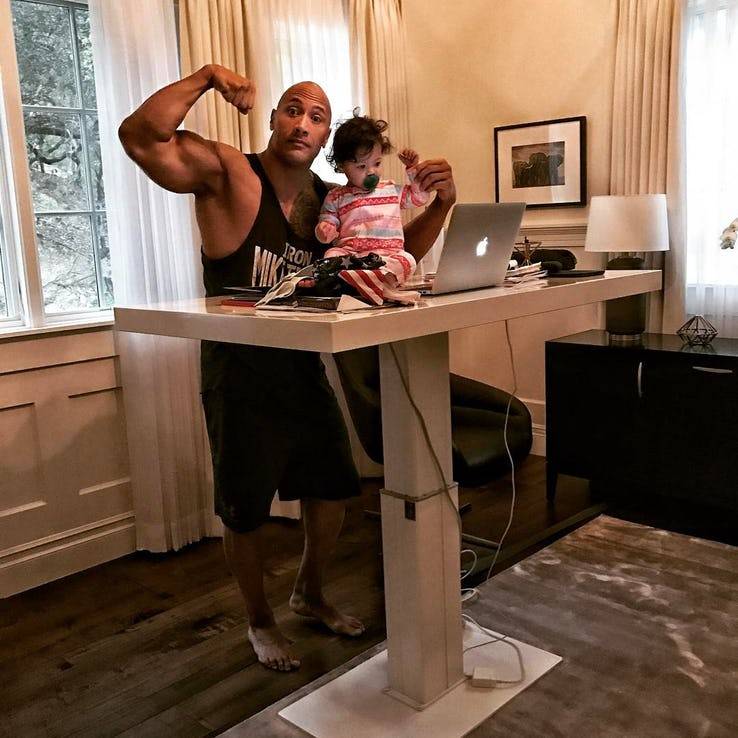 If you are a parent and you work from home, you definitely know that the best time to get some work done is either very early in the morning or very late at night while the little ones sleep. But sometimes even that doesn't work as well as we plan. Dwayne Johnson looks adorable in this photo as he tried to get some work done with his little one in tow. At the time he was trying to get some work done on Moana and his daughter Jasmine wanted to spend some time with him. Instead of getting upset and frustrated, he decided to take the moment to spend time with her. He explained that "this litthe tiger wakes up, wanders in and wants to watch "Mo"— her way of saying Moana. And all daddy's work comes to a screeching halt." We all know just how much he loves having his ladies around him.
"The crazy thing is, I was raised by women, and still to this day, I'm totally and completely, 100 percent surrounded by only women!"
Johnson said on The Ellen DeGeneres Show. "And I love it." He is an awesome guy and he just seems to be getting even better by the day.
7

He Gave Good Advice To His Daughter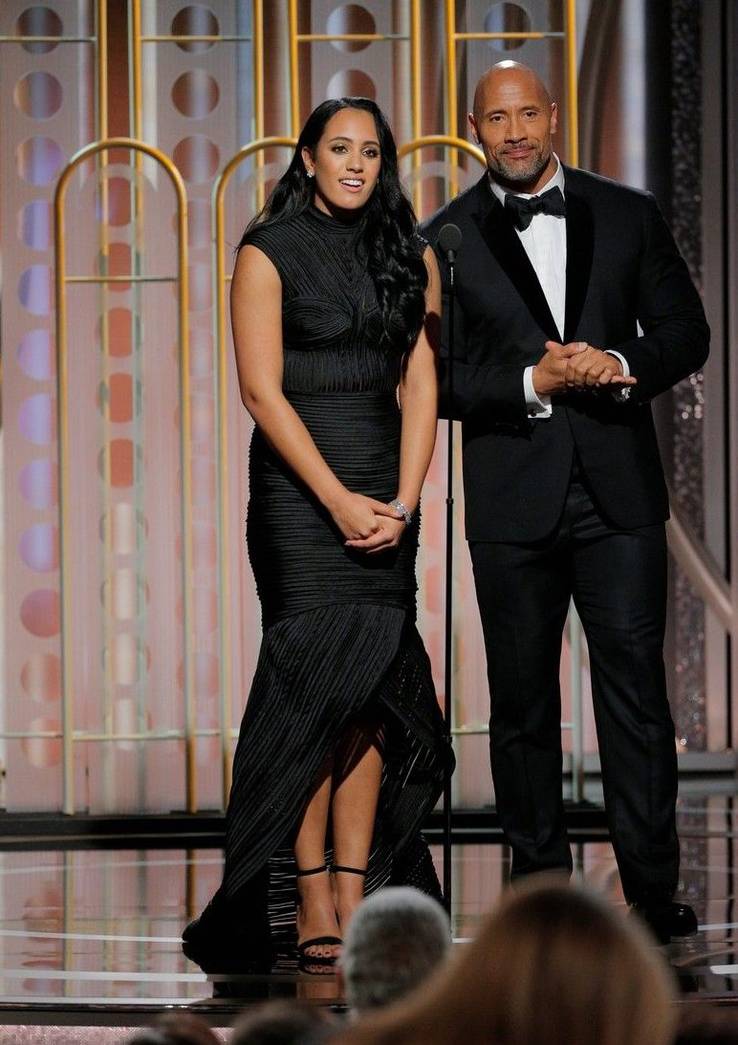 It such a huge thing that he is so close to his daughter. She might actually listen to him now when it comes to imparting words of wisdom. His daughter Simone had the opportunity to be a Golden Globe Ambassador at the 2018 Golden Globes. It must have been awesome for her to get up on stage with her dad and be there in the moment. Johnson gave some good advice to his daughter at the time.
"Just be present in the moment, have fun, and also know you are carrying the torch for our industry that we are making our living in and you are also carrying the torch for our family,"
he told her and E! News. That must have been so exciting for a teen to get to be part of her dad's career. It's not the first time that Johnson has taken his daughter to an awards show, she has often been his date to events and that's pretty cool. "With drive and a bit of talent, you can move mountains. I know. I've done it." He has the opportunity to be a true inspiration to his family and he lives that in everything that he does. He came from nothing and has gone so far in his career.
6

He Hates Leaving His Kids To Go To Work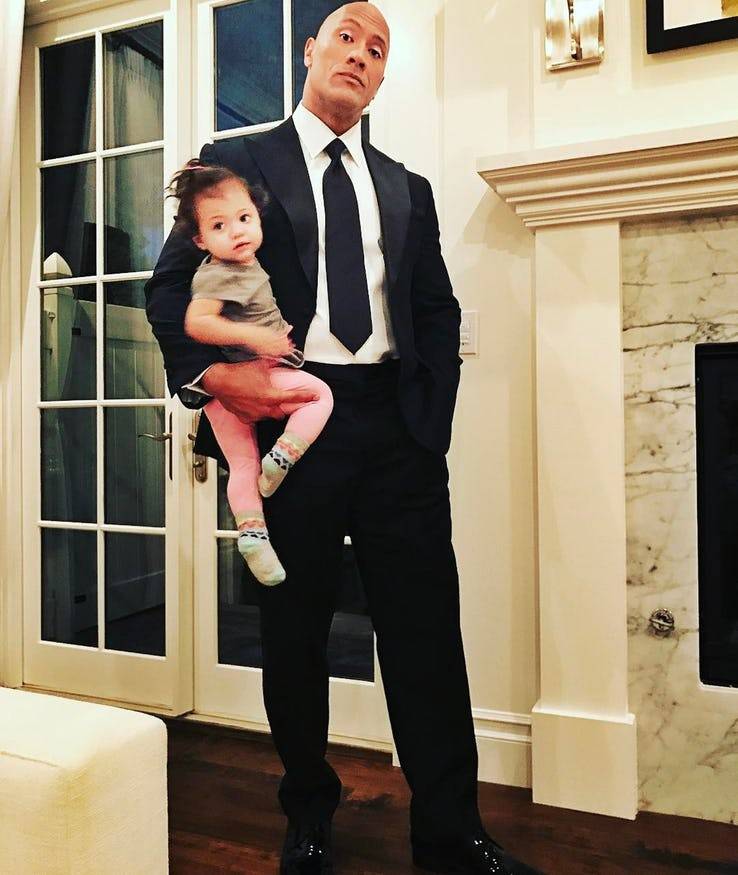 He can't help but love his career and what he does for a living, but he also wishes that she could be at home again. When he was getting ready for the NAACP Awards, he found that his little girl Jasmine wasn't going to let him get away that easily. He posted this photo with the caption,
"Dressed like a 'G' and daddy's gotta go to work, but someone ain't letting go. Me, not her."
He's so cute because he's claiming that it's him that doesn't want to go anywhere. We as parents all understand that it's not easy to have to leave our children to go to work but unfortunately, it's a necessary evil. But a lot of us also have a passion for our work and it's something we want to do. Juggling different passions in our life can't be easy especially when we just want to cuddle with our kids. He could have easily pawned his daughter off on someone else as he got ready for the evening but he didn't want to and that's what makes him such a great dad. It's important to him to be a good dad and to be there for his children when they need him.
5

He Has Deep Conversations With His Daughters From A Young Age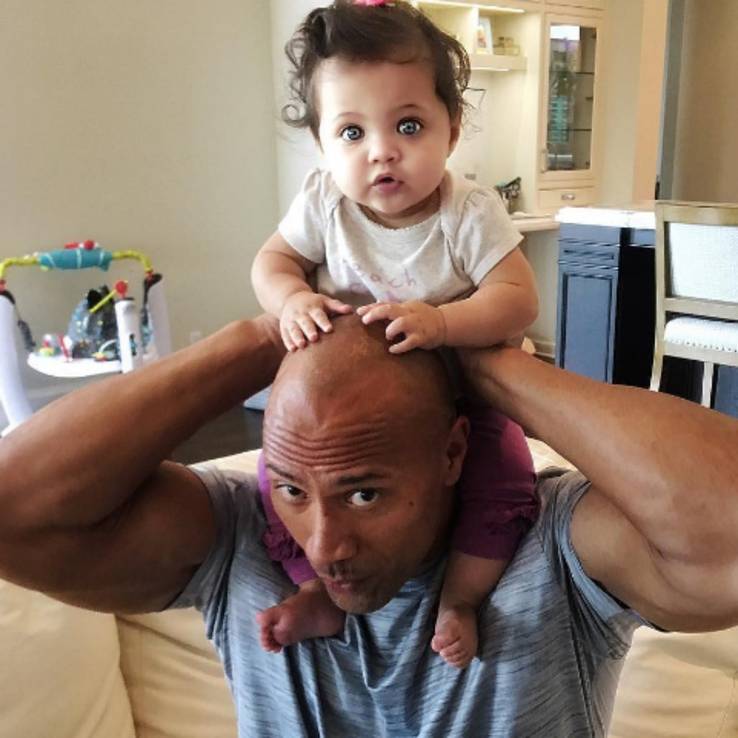 Parenting has its ups and it's down and one thing is for sure you're are bound to get pooped on at some point during parenthood. If you haven't then you got away lucky. One time when he was giving his daughter Jasmine, who is now two, some sound advice on life, she decided then was a good time to poop on him. He posted this photo on Instagram with this caption,
"I had an amazing philosophical conversation with my baby girl about the value of hard work and how respect is given when it's earned. I told her, 'Baby girl when you grow up, you get out there and dent the universe through hard work and sweat.
And always make sure you do it in a positive way with class, dignity and respect.' She responded by pooping on me in this moment as she plays her favourite game, 'Drum time on daddy's big head.' It was a good talk." It was bound to happy, but at least he has a good sense of humor about the whole thing. It can always be worse, at least she had a diaper on at the time. Otherwise, it could have gotten really ugly.
4

He Likes To Goof Around With His Daughter
Having a fun dad can be the best part of being a teenager, but you always got to look out for those moments when they try to embarrass you as well. This photo was taken after he appeared in a bodybuilding competition and he was returning home with his daughter Simone. She is 16 years old now and it's important for her dad to show that he's not just her parent but that he can have fun at times as well. He also knows when to embarrass her and joke around. She might as well get used to it now, just wait until she starts dating. It can be hard to make time for his daughter when he's traveling for work all the time, so sometimes he takes Simone with him. She's older and probably is pretty good company to have around.
He won an Icon Award when he participated in Joe Weider's Olympia Body Building Contest. He could be enjoying some alone time away from family, but instead, he takes his daughter with him. He has also taken her to the MTV Movie Awards, People's Choice Awards and the Golden Globes. He's a cool dad who really does care about his role as a father.
3

He Looks Forward To Daddy-Daughter Time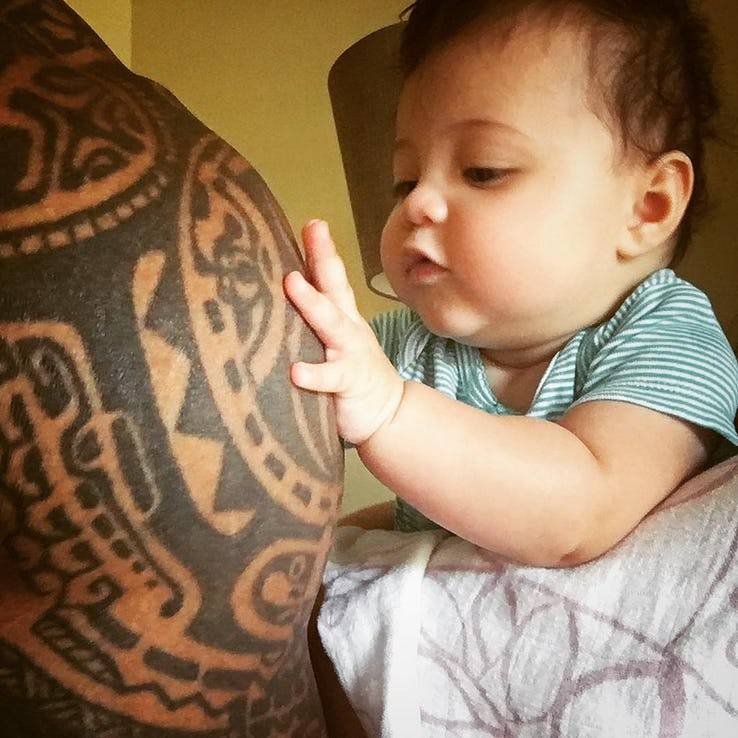 He certainly has had a lot of experience at it. He has raised Simone and now his daughter Jasmine who is featured in the photo. Tiana is going to be next in line to get some father-daughter time. The great thing about Dwayne Johnson is that he looks forward to these talks with his daughter because he wants to lead her in the right direction. In the photo, his daughter is checking out his tattoos. Part of his lessons for his daughters includes teaching them about their culture. He watches her as she checks out his tattoos and reflects,
"Can't wait to one day explain to her what all this means."
It's not just a tattoo to him because it also represents ancient ideas that are all part of his culture. He is looking forward to teaching his children about his African American and Italian heritage, not to mention Simone's Samoan, Armenian culture. He posted on Instagram, captioning this photo with, "Yup, we're going have some good daddy-daughter chats. Until then, she'll continue to use daddy's tattoos as a place to scratch, drool, and spit up." It's things like this that remind us just how important family is to us and what that means for everyone.
2

There Is Always Time To Snuggle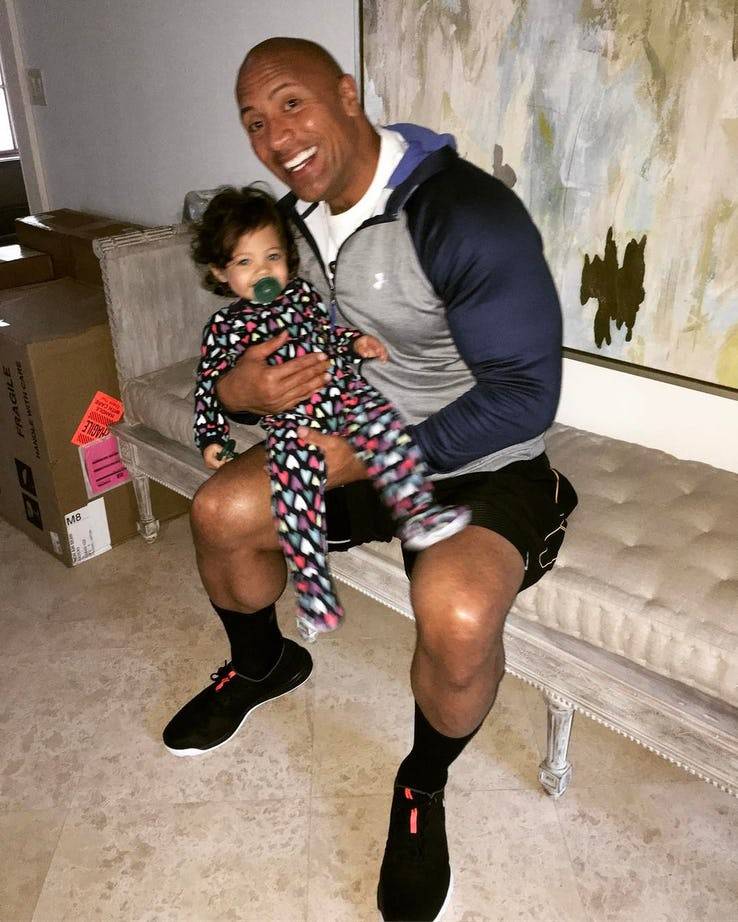 For a guy like The Rock, gym time is very important, there's no way around it. It's his lifestyle and something that he takes very seriously. But nothing is more important than snuggle time and that means that going to the gym will just have to wait a few more minutes. There is just something heartwarming about having your child in your arms. It's good for both the child and the parent. This photo was taken on Dwayne Johnson's birthday just before he was ready to hit the gym. "This little mama surprised me by running into my arms and yelling 'Daaaahdeeeeee.'"
Yup, we have to agree that's pretty awesome. Children look at their parents as if they are the sun and the moon all rolled into one, so it's a great feeling when you are one of the favorite people in your child's life. Johnson knows this better than anyone and that's why he takes the time to snuggle before he heads to the gym. He told fans on Instagram that he knew what his daughter was really trying to tell him. "Happy birthday daddy! You're the coolest daddy on the planet and the foxiest man alive, now go crush your workout and keep staying woke." Well, we're not sure about that, but it's still pretty funny.
1

He Shares The Lessons He Learned From His Mistakes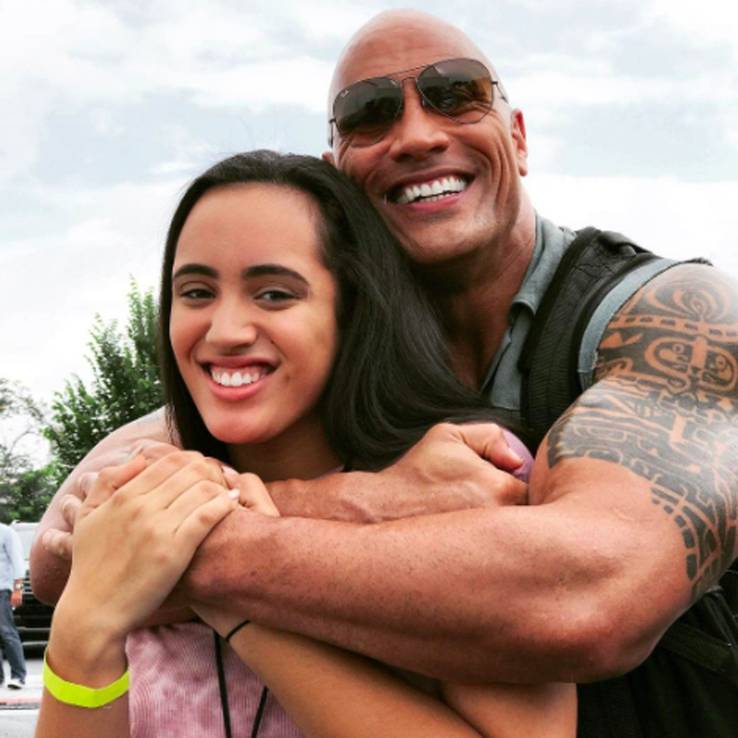 As we said before, Dwayne Johnson has made some mistakes over the years, one of which was when he used to steal chocolate bars daily from a convenience store where he grew up. One of the things he used to do to change his life was to go to the gym every day. He used to walk five miles just to get to the gym and that would be a workout in itself. "Midway point to the gym is a 7-Eleven," he explained. "I used to stop at this 7-Eleven, I swear, every day. I used to steal a king-size Snickers bar — for energy."
He wanted to teach his 16-year-old a lesson about giving back. His intention was to return to that same convenience store, buy a Snickers bar and give the man $500, but it didn't quite work out that way. When they arrived at the store, there was a woman taking substances in front of the store. That was more than the lesson he wanted to teach his daughter. "It's so sketchy now," he said, "so we did not go in." It's a cute story that shows he had the right intention with his daughter, but it just didn't work out the way he wanted it to.
References: eonline.com, huffingtonpost.ca, ew.com, thesun.co.uk
Source: Read Full Article