The 20 Most Unflattering Outfits Demi Lovato Has Ever Worn
The beautiful Demi Lovato first got her start in 2002-2004 when she acted on Barney & Friends. Disney took notice of her big smile and unique voice and casted her in Camp Rock in 2007, which helped her gain world-wide recognition since she sang a popular song for the movie's soundtrack. The single, called "This Is Me," hit the Billboard Hot 100 list.
Her first album titled Don't Forget, came out in 2008 and did very well. Demi released a follow-up album that did even better but the sudden fame drove her into some heavy personal issues that she had to seek help for to recover from.
She emerged squeaky clean a year later and dropped her third studio album, Unbroken, that the world went bananas over. Three albums later, six total under her belt, Demi is still going strong. She just came off a tour and is getting ready to announce some big news to her fans. Some think it might be an upcoming fashion line.
With all the shows Demi has put on and with all the appearances she's had to make, there have been some awful style choices. Some are so unbelievably bad that the images are still circulating on lists of the worst celebrity fashion decisions of all time. If you're having a bad day, these photos will make you feel better knowing that even gorgeous women like Demi sometimes get it wrong.
This Outfit Made The VMA's Worst Dressed List This Year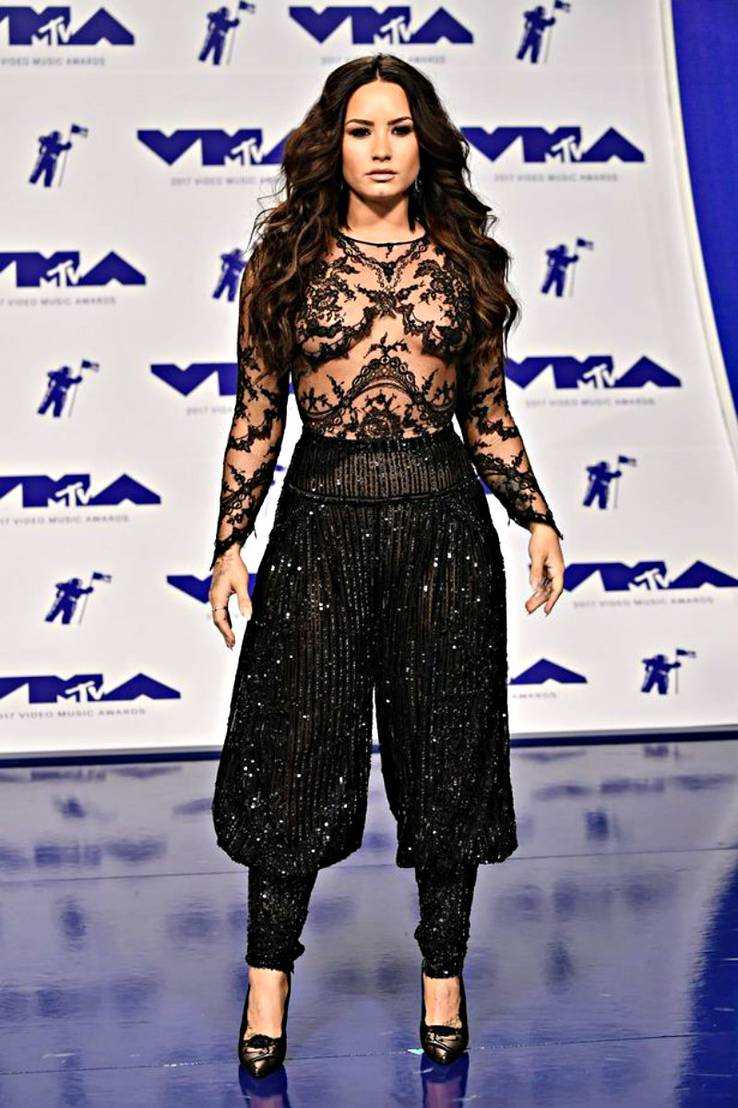 Is this Aladdin and Jasmine in one outfit? Demi made the worst dress list at this year's MTV Video Music Awards. Everyone noticed how she had to be extremely careful when walking around the red (well, blue) carpet. Since her top was sheer, she didn't make much freedom of movement. Her pants were… interesting. Some called them "harem pants" and others compared them to the Disney character Aladdin.
Demi doesn't lose any sleep over bad coverage like this anymore though. She's learned that criticism is a big part of fame, so she lets it roll off her back. One thing to note: Demi's confidence has sky-rocketed. You can tell in her body posture that she's comfortable in her own skin, bad outfit or not.
Her Denim Outfit Was Dubbed "Worst Red Carpet Outfit Of The Year" In 2017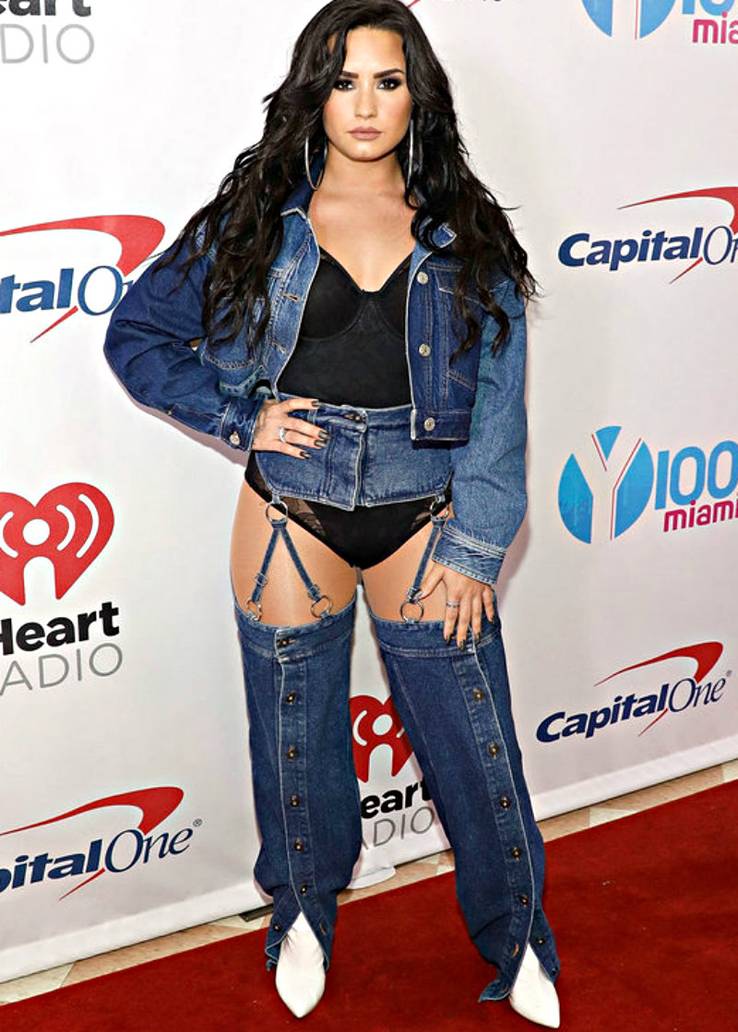 Ouch. Demi made headlines so many times in 2017 for poor style choices but this is the cake topper for sure. "Worst red carpet outfit of the year," wrote BravoTv, referring to the time Demi wore literal chaps to the Jingle Ball in Miami in December. She's all over the place. Sometimes she dresses it up and sometimes she shows up dressed as a cowgirl minus the bull.
She wore a black lacy bodysuit underneath her denim and hoop earrings big enough to lasso that invisible bull. Each year brings out bolder fashion choices for Demi. Some are so shocking that they work, but this one …not so much.
If she would've thrown out the chaps and went with just jeans, this outfit would've been praised! The denim chaps she sported cost her $570 and were made by French designer, Y/Project.
Her Early Looks Were Definitely Not Winners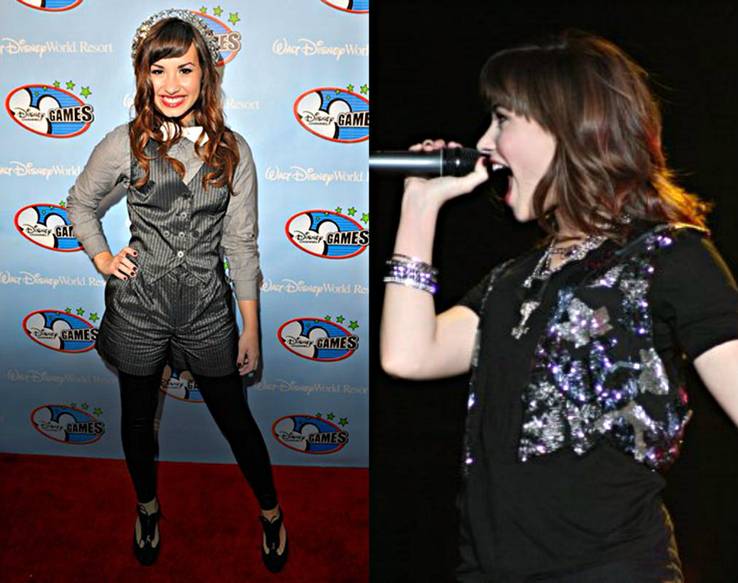 Many of the pop stars that emerged in the early 2000s were first Disney stars. Demi starred in a Disney show called As The Bell Rings back in 2007, and then filmed the Disney movie Camp Rock before catapulting into her music career. Concerning the outfit on the left, Demi personally reflected on it last year in a feature Allure wrote on her where she listed her most regretted outfits.
In 2008, soon after starting her acting career, she showed up at the Disney Channel Games in Orlando in this get-up. She said, "Oh my God, my worst red-carpet moment of my life. I had my very first stylist. Whenever she started working with an artist, she would put them in bow ties. And I was just going with it because I'd never had a stylist before." That bright smile makes up for it, though.
She Made The Worst Dressed List At The Teen Choice Awards In 2012 In This Yellow Disaster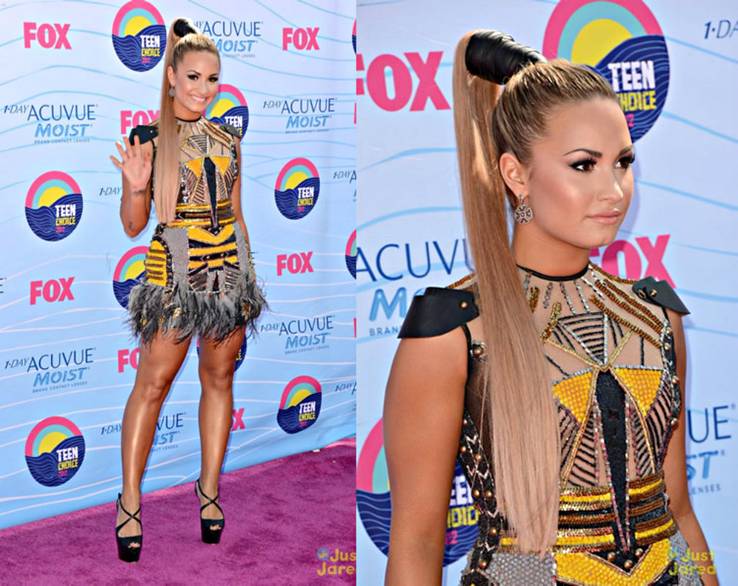 Back in 2012, Demi made the list of "worst dressed" at the Teen Choice Awards. Fashion critics said she looked like a peacock, but what's wrong with that? It was called "too busy" and "Lion King-ish." People thought it was too short, and spoke to how she should wear longer dresses to add length to her short legs.
Demi ignored her "body shamers." The high ponytail is elegant and her face is as beautiful as ever. This was the year that Demi came out and said she didn't feel fit to be a role model. She was used to people insulting her based on her weight, so she obsessed over her body and felt that it disqualified her to teach her following about self-esteem. Flash forward five years, and Demi is exactly what young women need to see. She's truly embraced her body.
Her First Press Conference Look Was Definitely Over-The-Top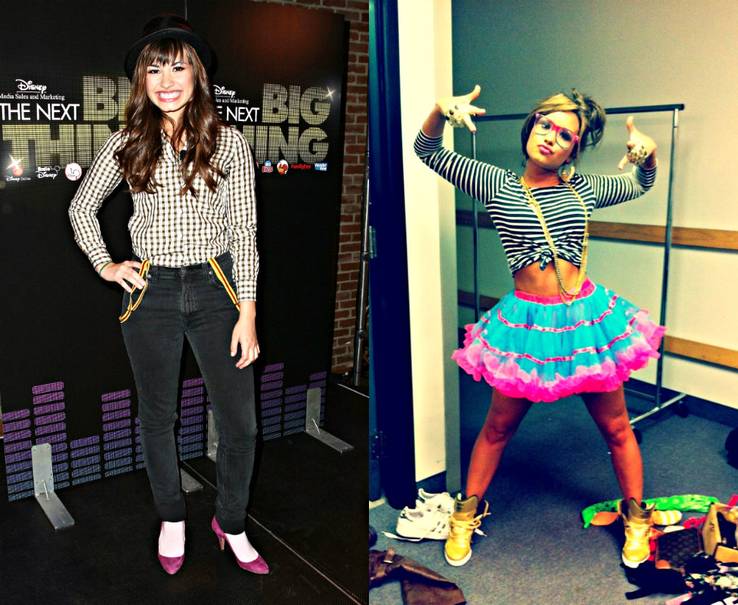 Demi is a goofball, which is probably why she's so outrageous with her style choices, and it started young. Here are a couple pics of the singer backstage at Disney Upfront in April of 2008 in New York City. Disney Upfront chooses a single rising star to interview and introduce to the press. That star gets to perform for a chosen crowd.
Demi was interviewed by reporters and posed for some pictures, then sang some pieces from Camp Rock and talked about sponsorships for future work.
She loves to dress in color, but at this specific event she was dressed in mostly black. She did slip in some pink heels, though. It wasn't her most favored look, but she was young enough to be protected from harsh comments. The photo on the right is what she'd rather have looked like. Way to ease into things, Dem.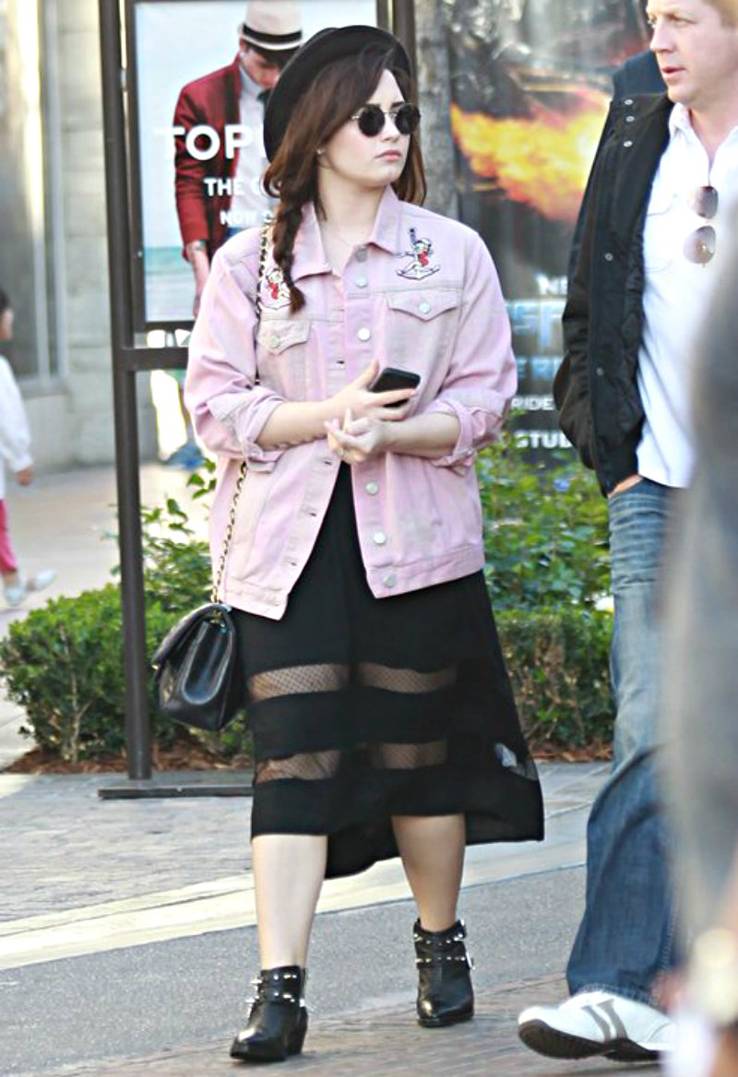 Fashion gurus will tell you that it's all about taking risks, making statements and trying to make a masterpiece out of things most people would expect to clash.
Demi tried to do that very thing with this outfit she wore when out and about in Los Angeles. It didn't quite pan out the way she felt it would, though. She made headlines in a handful of articles for this outfit, articles specifically highlighting fashion disasters. Yikes.
There are plenty of photos of her in this black hat. It's a favorite staple item of hers, but she paired it with a semi-formal black dress and a pink embellished jean jacket with spiked boots. Some thought it to be "too much."
Her Rockin' 2014 Fashion Flop Was Legendary – But Not In A Good Way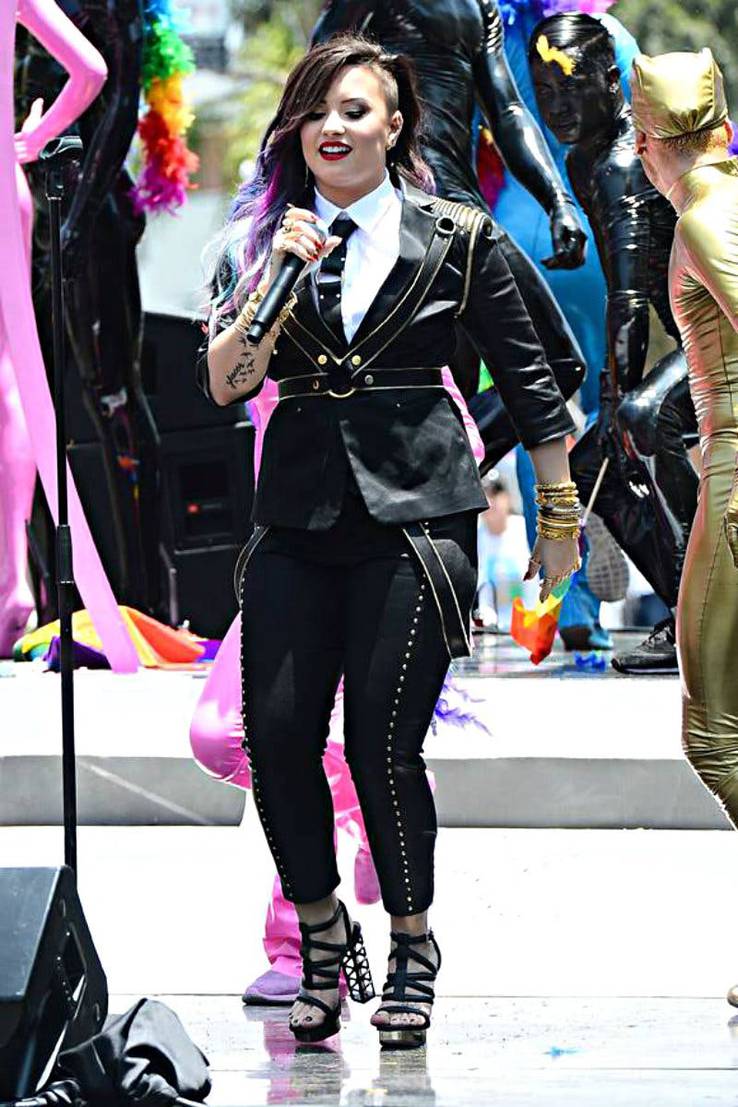 Demi unleashed the rocker chick in her at the Pride Parade in L.A. in June of 2014. She was named Grand Marshal, which is a position that honors the work of an individual who works to further the message of the LGBTQ community. Demi's grandfather was gay and she's advocated for equal treatment her entire career.
She sang in front of thousands wearing a white button-up shirt, leather jacket and tie. Her pants were studded down the sides and her heels were in a class of their own. This performance came right after Demi shaved the side of her head. Yes, her outfit fit her new do, but she still caught criticism from those who just weren't used to seeing this side of the singer.
Her shoes were the only exception. Everyone loved the Gianmarco Lorenzi design.
She Once Again Made The Worst Dressed List For The 2016 Met Gala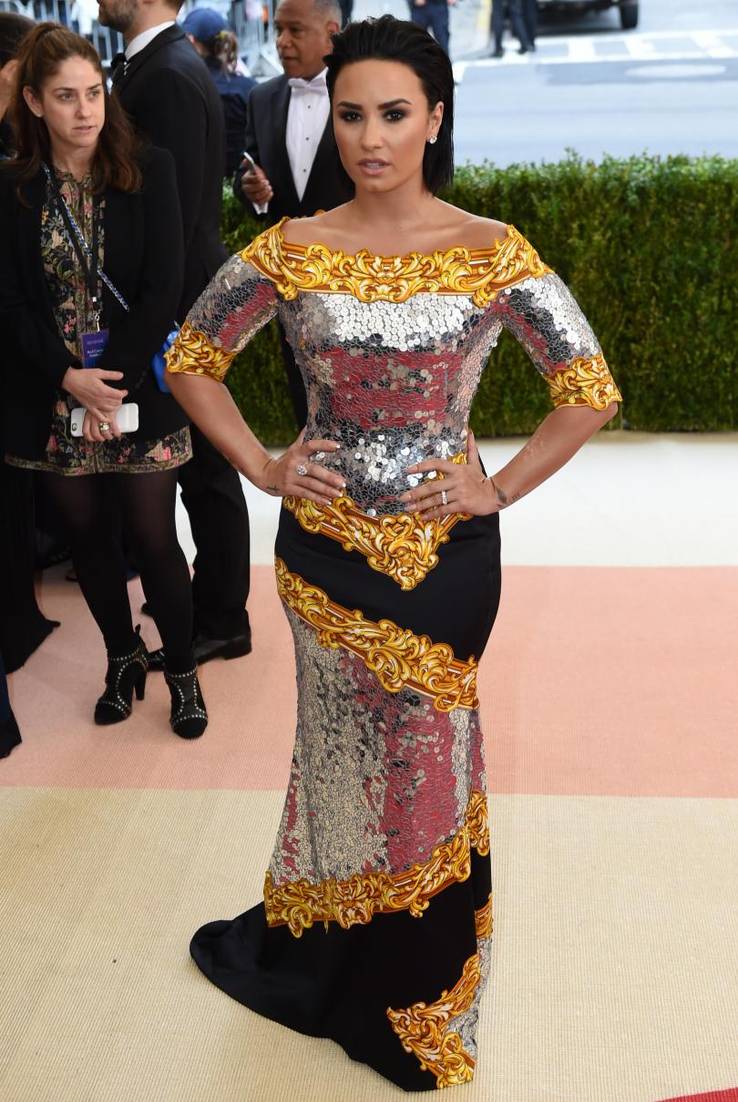 The Met Gala in NYC is the Oscars of fashion. The theme in 2016 was Manus x Machina. It was meant to be a cross section of handmade and machine-made fashions. Even among the over-the-top looks we are used to seeing at the Met Gala, Demi stood out that year.
Demi was among the worst dressed, according to the red carpet fashion critics. She emerged in a Moschino gown made by designer Jeremy Scott. Most felt it looked a bit "cheap," that the dress didn't look to be hand designed, but thrown together by machine. It failed according to theme but many still loved the gown for its detail.
The sequin took away from its elegance, but the way Demi floated around in it added a redeeming factor. Either way, the look definitely didn't complement the beautiful singer.
Demi came in 12th of 22 on a list of the ugliest Christmas sweaters ever worn by celebrities. This photo of her in it was taken in 2015 at her Jingle Ball performance. The star admitted that she made the sweater herself. She turned an oversized Christmas sweater that she already owned into a performance-ready crop top.
Demi wore fishnets and knee-high boots with it. Some called her outfit "tacky," but how far can you pile on the negative comments before you start killing the holiday spirit? Not very far.
Around the holidays, we're allowed to be bold, funny and over-the-top with our clothing. It could be argued that many women would wear this get-up. Demi's accessories added in her edgy style and her glowing skin shone as bright as a star on top of a Christmas tree. The look might not be a winner, but that's okay.
The 2015 MTV Video Music Awards Was A Whole Lot Of Look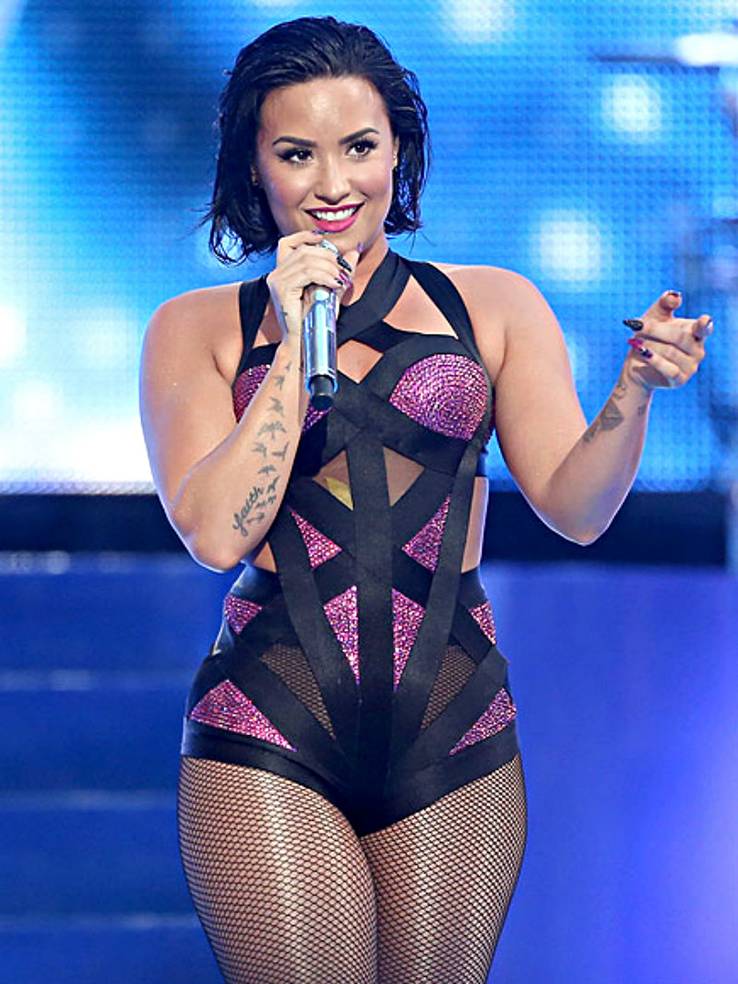 Demi Lovato put on one hell of a show in 2015 at MTV's Video Music Awards. She performed "Cool For The Summer" with bestie Iggy Azalea.
She moved around like no one was watching in a bright and glittery black and purple leotard. She was lifted in the air on a giant blown up raft as confetti started floating around her. Some found her outfit to be extremely alluring, but most found it to be, well, annoying. Some didn't appreciate the strappy effect of the outfit. They felt it to be too intense. Demi knew exactly what she was doing, though.
"There was a time when I was jealous of people who were able to party," she told Cosmopolitan. "For instance, Miley – in her music video "Can't Stop," her whole thing was partying and not [caring]. Part of me was super jealous that I couldn't be like that. I had to look at my life and be like, 'Okay, that's just not what you can do. There's no need to be bitter about it.'" But she started to change her mind and follow in Miley's footsteps, and her fans did not like it.
That One Time Demi Was On Late Night With Jimmy Fallon And Wore This Bold Dress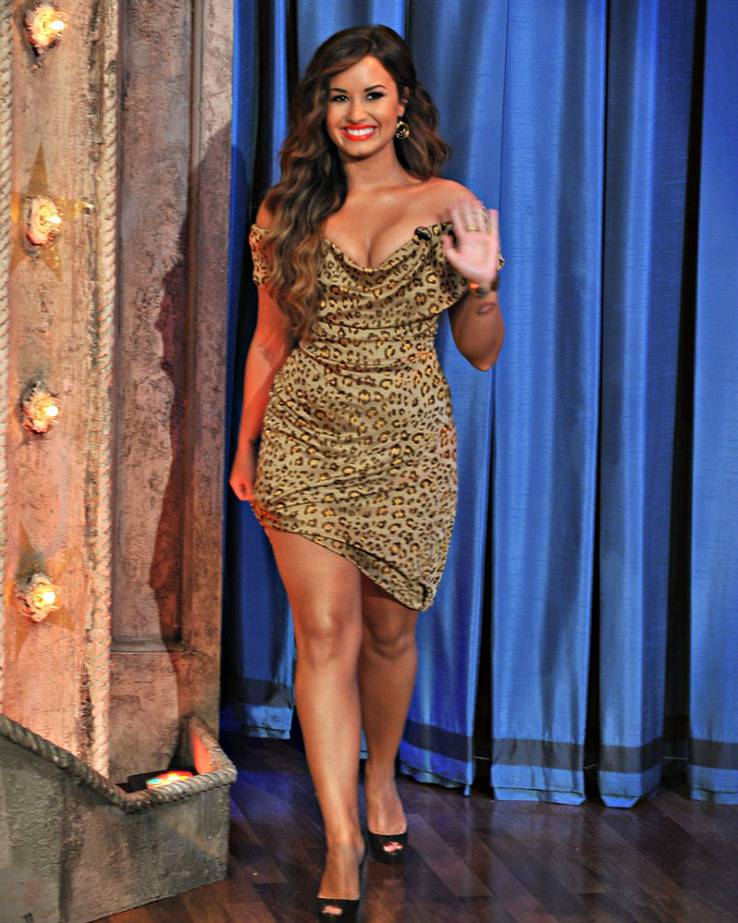 "What the heck is she doing," we all thought as we watched Demi walk on to the set of Late Night With Jimmy Fallon back in December of 2011.
Demi's cavewoman print dress, black stilettos and bright reddish-pink lipstick made her look like she had just walked into a taping of Jersey Shore and not a taping with Fallon.
Animal print feels cheap to most high fashion designers, but who cares about the approval of the fashion gods? Demi doesn't. Her smile was a mile wide as she talked to Fallon about her newest album at the time, Unbroken, and her opportunity to be a judge on The X-Factor singing show with Simon Cowell. Demi's returned to hang out with Fallon every year since her initial interview with him, but she decided to hang up the cheetah print dress. Thank goodness.
Her Metallic X-Factor Outfit Was Just Plain Bad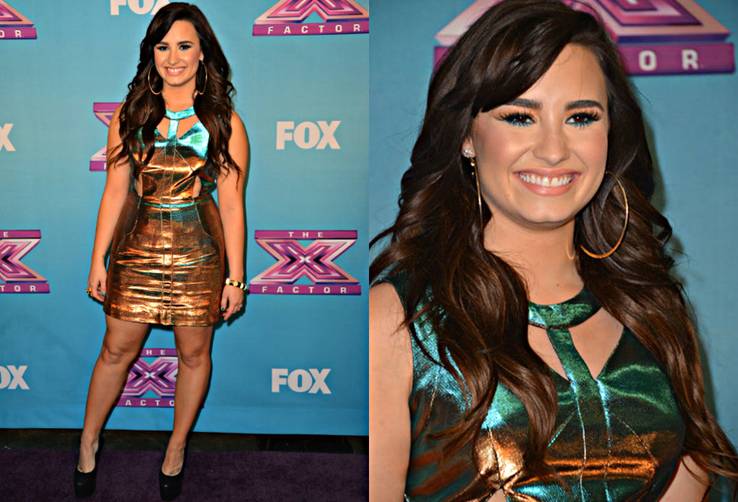 Demi wore this outfit to the season finale of The X-Factor back in 2014 when she was a judge on the show. It was right after her fourth studio album dropped and she had been released from a rehabilitation center where she fought to get over her addictions coupled with an eating disorder.
She seemed particularly affected by the performances that year on the show. Every emotional lyric brought the star to tears, so it'd be wrong to go too hard on dissing her wardrobe, but it's not awful to say that this dress was the wrong choice for Demi.
It felt very sci-fi-ish, like a spacesuit. It wasn't flattering around her mid-line and that material must have been hot to sit in for that many hours. But we have to respect the beauty and how far she has come.
This Orange Corduroy Suit Is Extremely Confusing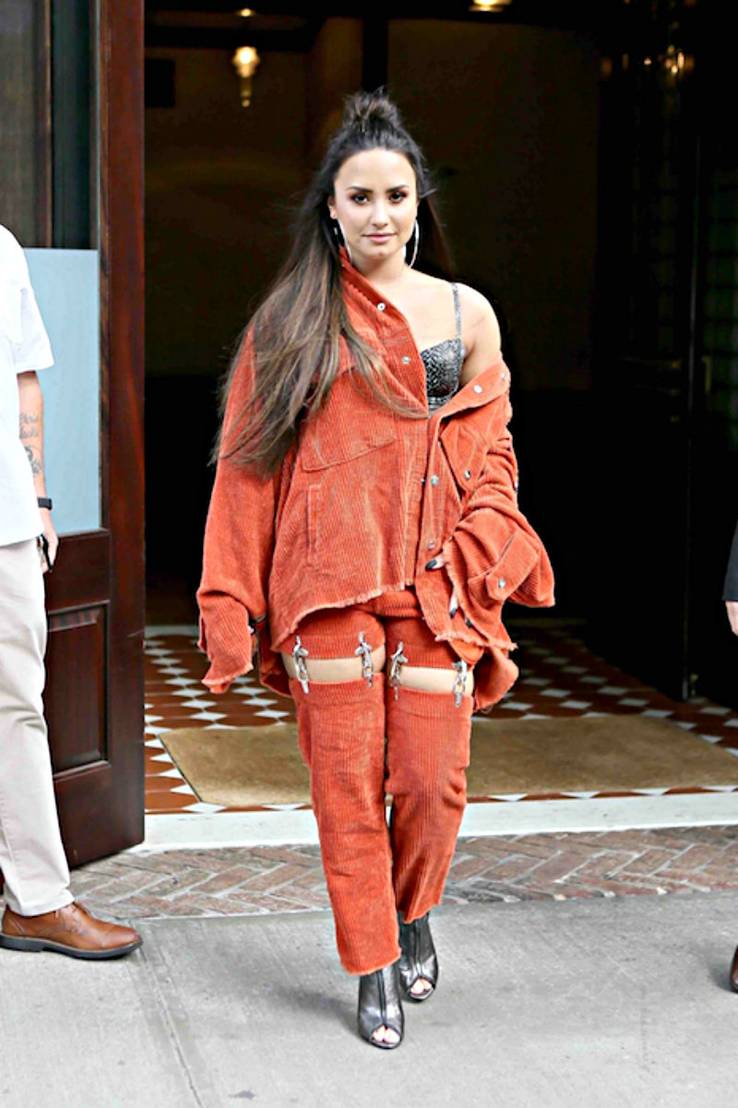 As you've seen already, Demi has a thing for chap-like pants, over-sized hoops and black sky-high heels. This corduroy set stirred up a bunch of chatter as Demi emerged to perform at her release party at the iHeartRadio Theater in New York in October of last year.
With her top exposed, she danced around the stage in her oversized jacket and pieced together pants with as much confidence as she could fit in her tiny frame. She brushed off the snickers and enjoyed her time with her fans. Rightfully so. She's accomplished so much, oversized corduroy suit and all.
After performing, she discussed her upcoming documentary titled,  Simply Complicated, which discusses how she went from surviving to thriving. This just goes to prove that Demi couldn't care less about what we think of her wardrobe choices.
Demi's "Fashion Misstep" At This Year's Jingle Ball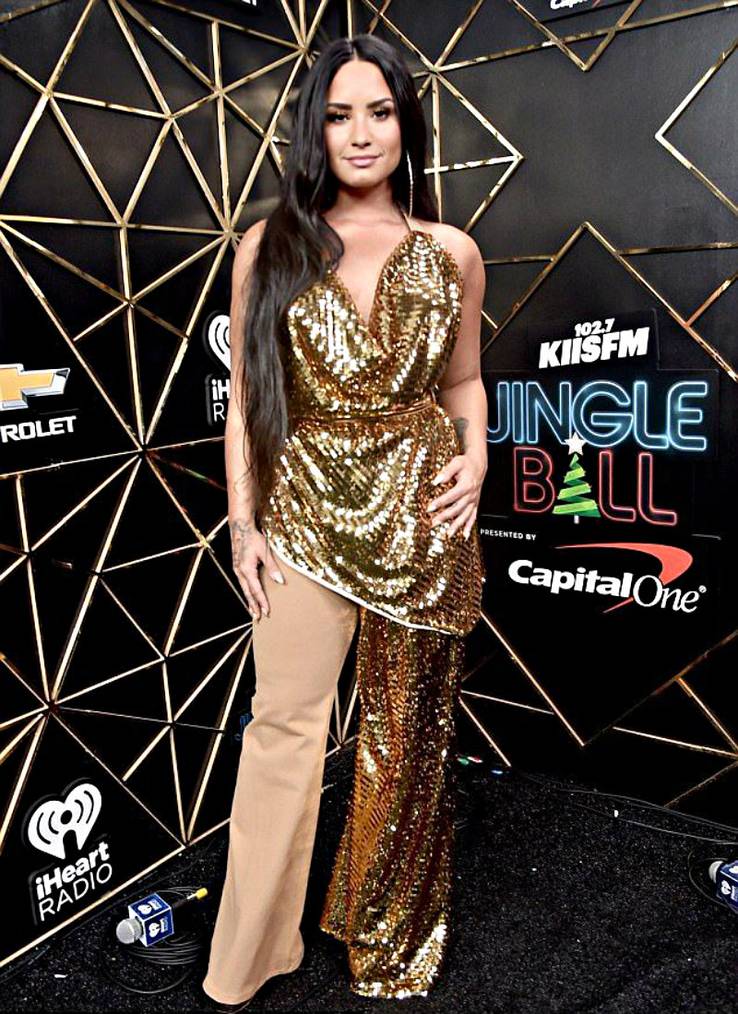 This outfit that Demi wore to 102.7 KIIS FM's Jingle Ball this past December is on the list of her top three most hated outfits.
People felt it was as if she'd walked out of the house in an unfinished jumpsuit. Was it supposed to be a dress that she put over pants? Was it supposed to purposely look this way? A single sequin pant leg ran up into a sequin halter leaving one leg a beige color.
It was just bizarre, but Demi seemed comfortable in it. She wore it onto the Inglewood Forum stage were she performed a few songs for fans. Demi is always shining bright like a sun goddess. We all know that bronzer is her product of choice. That glow distracts us from her hideous sense of style at times. At least the star manages to look beautiful even in her worst outfits.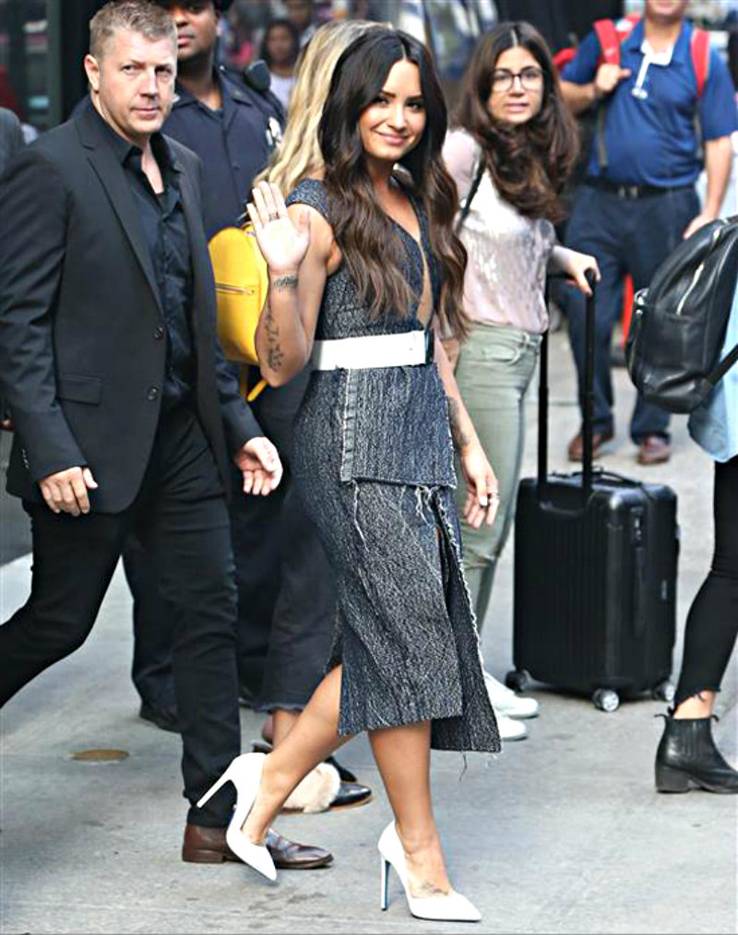 Back in September of 2017, Demi made an appearance on Good Morning America to answer some questions about her upcoming projects. We weren't sure whether to love or hate the denim dress she arrived in. Maybe if it wasn't frayed on the edges and it had a cleaner look, it would've gotten more positive reviews.
Demi sat down with Robin Roberts to talk about a partnership her and the Jonas Brothers have recently made with the Houston food bank to help Harvey victims get back into the routine of their pre-hurricane lives.
But back to the outfit. The white belt and white pumps make it tolerable, but Demi could've done better. She and many other celebs are desperately trying to bring denim back to the frontlines of the fashion world, and it has to stop.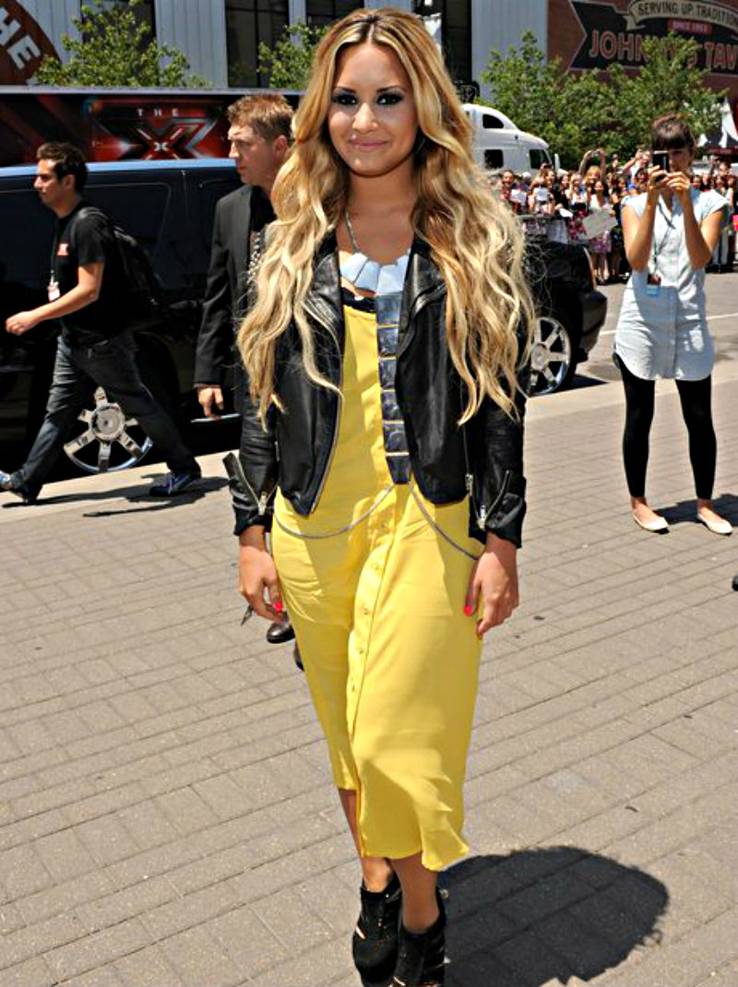 In June of 2012, Demi showed up at the Sprint Center in Kansas City for The X-Factor audition which she was helping judge along with L.A. Reid, Britney Spears, and the infamous Simon Cowell.
Her dress looked like the dresses many used to wear as a young girl. If Demi's yellow curtain dress had been worn alone, it would've been much, much worse, but she added a leather jacket and some nice heels to the fit that elevated it from potential disaster to simply unpleasant.
The silver accent of the dress is awkwardly placed across Demi's hips, unnecessarily widening them. It isn't clear if that is a silver necklace she's wearing, or a part of the dress. If it's a part of the dress, that thing needs to be cut off immediately. This is definitely not one of Demi's best looks.
This Firecracker Bodysuit Is Definitely A Lot To Take In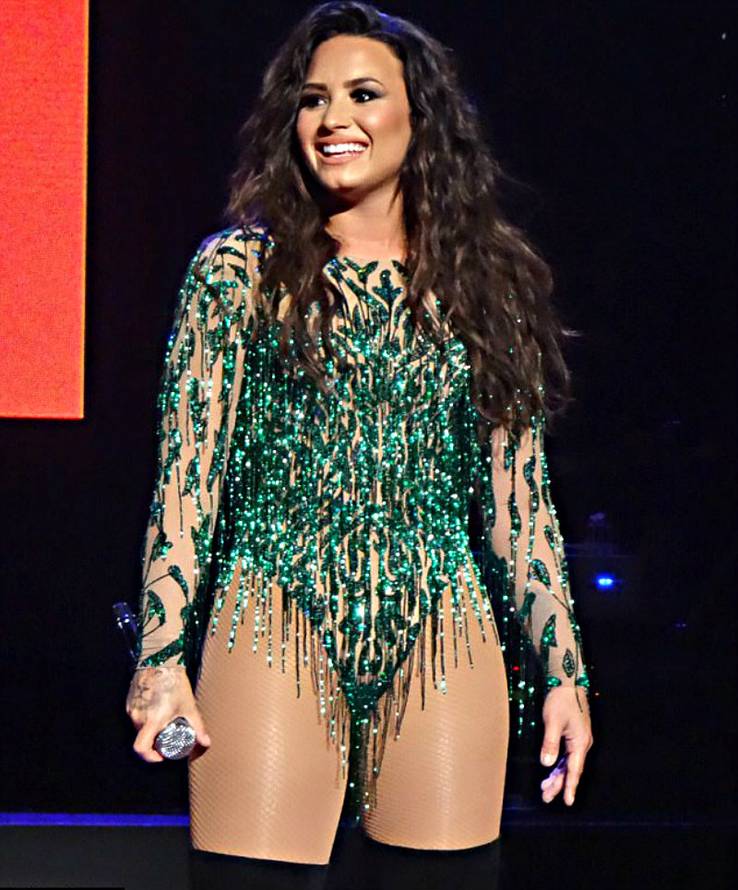 Demi wore this bodysuit back in July during a performance at the Hard Rock Cafe in Las Vegas. You already know she pulled out her famous black knee-highs that she wears with all of her bodysuits (at least a pair identical to them). She of course looks beautiful, but that green sparkly look is definitely way too much.
The event she sang at was invite only and lasted three days long. Some seemed to enjoy being entertained by Demi in this sparkly suit, while others felt she looked like Poison Ivy after running into a firework display. It was a bit hard to focus on, sort of overwhelming for the eyes, but all you have to do is zoom in on that smile and all is well with the world again.
This Pyjama Look Failed To Hit The Mark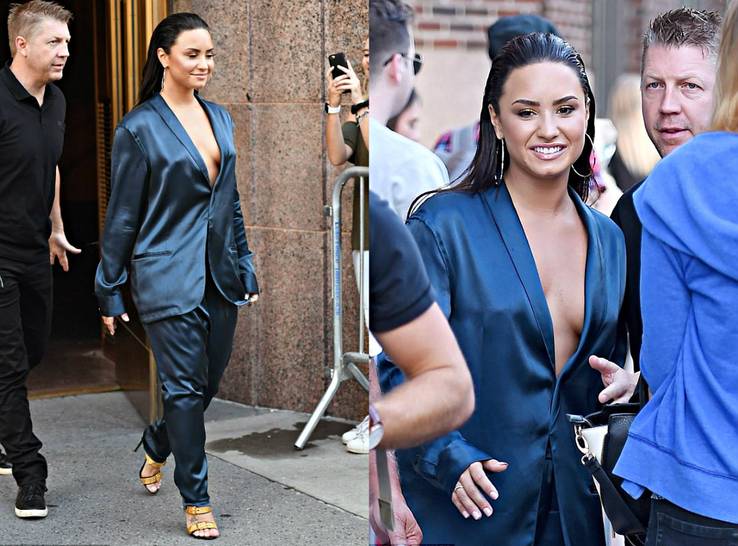 This past August, Demi showed up at Z100 Radio Station in New York City in what looked like pyjamas. The star made an appearance on the Elvis Duran and the Morning Show. Maybe the outfit had too much of a morning look with the silk pyjama-like top and the fact that Demi decided to wear the suit jacket with nothing else.
Demi helped Kate Hudson with some new designs for her brand Fabletics that she promoted during that interview. She also touched on body positivity, saying that she grew up with a mother suffering from severe body image issues and was told she was fat from a very young age. She worked hard on her body when she first found fame, but it turned into an obsession.
Demi feels she's now healthy and ready to have this conversation with the world. "Love yourself." Yes, even in pyjamas.
Someone Needs To Tell Demi That Jean Skirts Are So 1990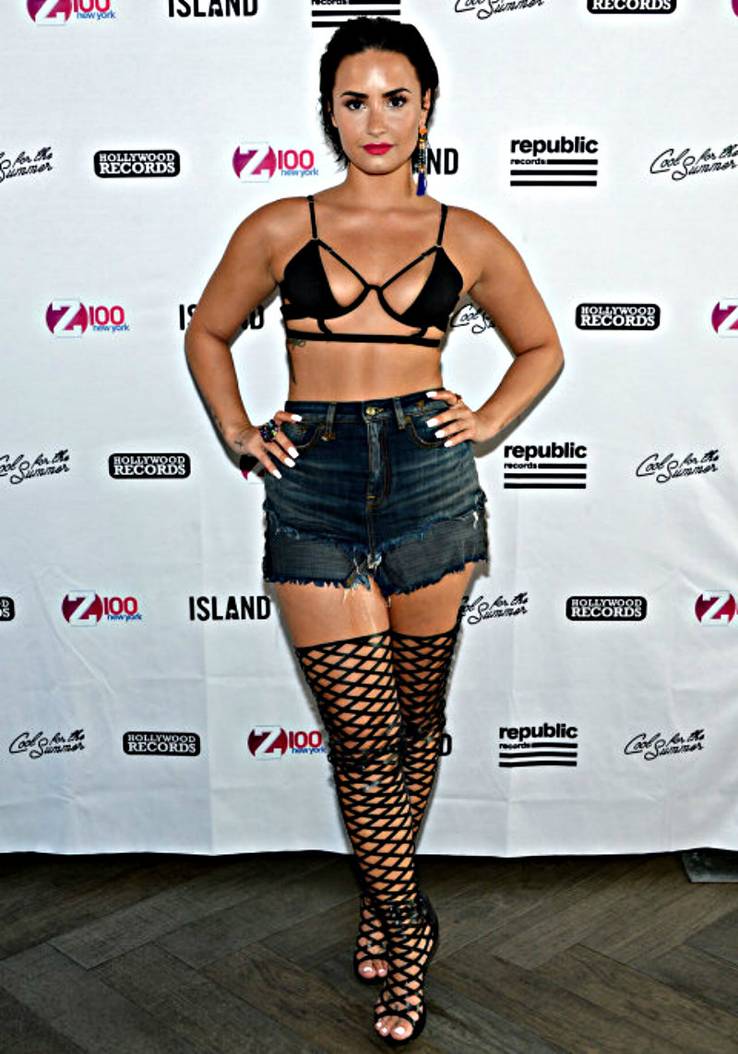 This photo of Demi made headlines back in 2015 when she performed her single "Cool For The Summer" at Z100's pool party in New York City.
She caught some criticism for wearing such an outfit, knowing that the fans that were going to be at the event would be teenage girls. It was a bold outfit, for sure, but Demi said she was excited to wear it and wasn't phased by the negativity surrounding her choice to perform in it. This outfit did make for some awkward tan lines, but Demi had great fun hanging out in the pool with her fans. As for the song, Demi was accused of stealing the melody from Katy Perry's "I Kissed A Girl," but she laughed those claims off as ridiculous.
This White Suit Jacket Did Not Work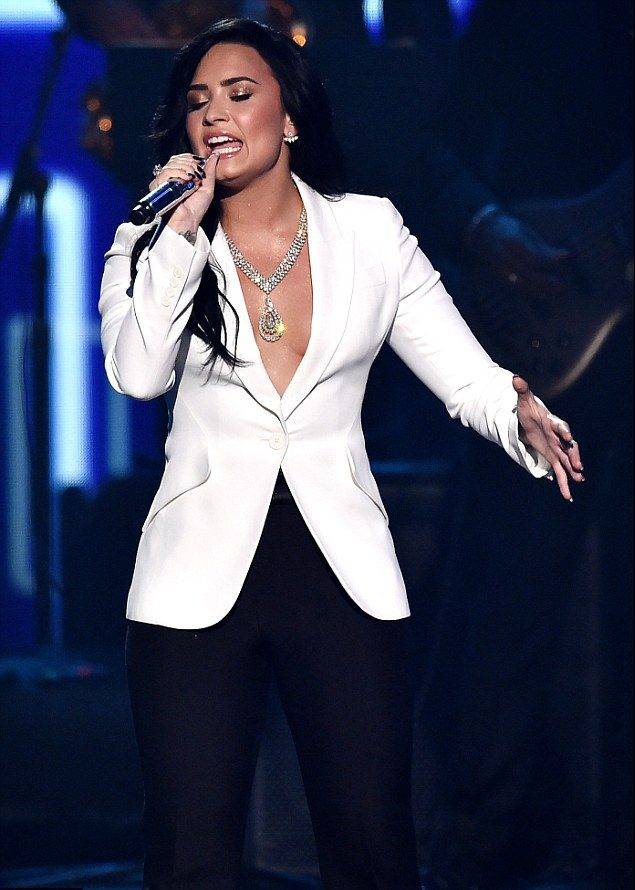 Demi has a track record of wearing blazers with nothing underneath, but this one was particularly frumpy. The outfit was pretty tacky, and the white blazer did not flatter the singer's incredible shape. It seemed like a bit of a let-down, especially for a performance look. However, her long dark hair extensions were stunning though and her eyes were beautifully defined in a glittery gold color. The woman will always be beautiful, even in her less than flattering outfits.
Demi's had many winning streaks, but this year her luck seemed to dry up. Her fashion has never been great, but Demi needs to step her game up now more than ever, considering she is a huge star. Her fans are always nice to her though and rave about her outfits, even the most unpleasant ones. Her fans will clearly always support her, regardless of her fashion fails.
Source: Read Full Article