An Evening with Pat Metheny: Local adds sinew to famous sound
MUSIC
AN EVENING WITH PAT METHENY ★★★★
State Theatre, March 8
Reviewed by JOHN SHAND
He doesn't call them bands, he calls them projects, and guitarist Pat Metheny has spent 44 years shaping them around specific compositional ideas and collective sounds. This project was different, again: a combination of players with whom to revisit some of the older material; the pieces that made him one of jazz's beloved acts across those 44 years. More recently this group has recorded one of Metheny's most ambitious albums, From This Place – to play which they needed an orchestra, so here they were tripping back down memory lane.
But the guitarist doesn't really deal in nostalgia – not when the alternative is unleashing the creativity of four exceptional musicians, with a brief of reimagining his pieces. And one of those musicians is Australian: bassist Linda May Han Oh. As many antipodean musicians know, making a dent in New York's jazz scene is as hard as denting a diamond. Only a handful have done more than survive. In touring her homeland as a member of Metheny's band, Oh has made as big an impression as any, and for good reason: she shone, even in this company. Her soloing could be potent, lyrical, poignant or even profound, and with drummer Antonio Sanchez she provided ample ignition for Metheny.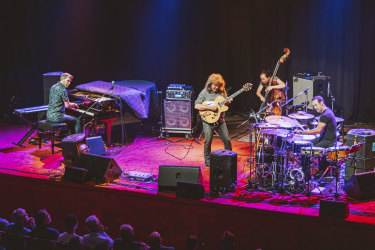 Pat Metheny revisited the material that made him one of jazz's most beloved acts at his State Theatre show.Credit:Stuart McKay
When the guitarist almost instantly became a major force in his early 20s, it was partly because of how he roamed between Latin rhythms, free jazz, a mellifluous cousin of progressive rock and the lonesome sound of the country music native to his Missouri home state. And so this band was continuously shape-shifting the context in which we heard Metheny's singing lines and sweet, slightly anaemic electric guitar sound. Adding sinew, grit and an endless stream of surprises was Sanchez, among the most sophisticated drummers of all, whose invention and deftness become ever more startling. Pianist Gwilym Simcock played with extraordinary virtuosity, yet sometimes also with a breathlessness that seemed overbearing in the company of one as nuanced as Sanchez. He was not aided by his amplified grand piano sounding rather like an electronic keyboard.
Source: Read Full Article