Ethel Kennedy Built A Legacy Of Her Own While Also Continuing Bobby's
There have already been countless books, movies, television series, and documentaries released about the Kennedy family, so much so that one looking to learn more about one of America's most powerful political families might not know where to start. But the new Netflix docuseries, Bobby Kennedy For President, which premiered on the streaming site on April 27, is a great way to dip your toes into this immense and complicated history. The series features never-before-seen footage of Robert Kennedy and his family, and explores both his public and private lives, up to his assassination in 1968. And one of the politician's key figures of support was his wife. Where is Ethel Kennedy in 2018? The civil rights advocate is still continuing the work set in motion by her husband.
Though Ethel is notoriously reluctant to speak to the press, and, according to CNN, is not interviewed for the Netflix docuseries, that doesn't mean that she has retreated fully from public life. On the contrary, since the death of her husband, Ethel Kennedy has been at the forefront of continuing his humanitarian work both in the United States and across the globe.
NBC reports that Ethel founded the Robert F. Kennedy Center For Justice and Human Rights shortly after her husband's death, and the center is now currently run by Ethel and Bobby's daughter, Kerry Kennedy. The foundation's website states that center works alongside "local activists to ensure lasting positive change in governments and corporations," both in the United States and abroad. In 2012, Vogue reported that Ethel still spent time personally fundraising for the center, which at that time was raising money for the people of Haiti. So while Ethel might not speak out often to the press, she has not been shy about advocating for others.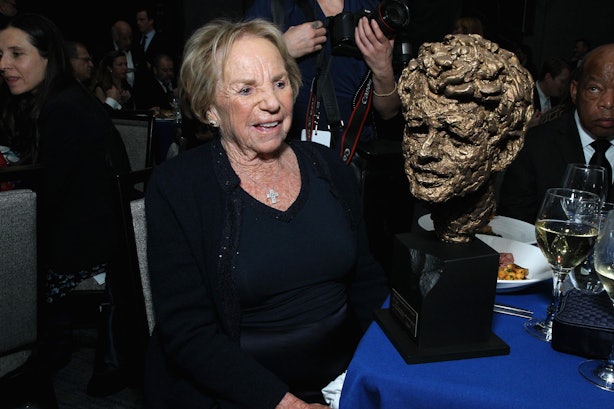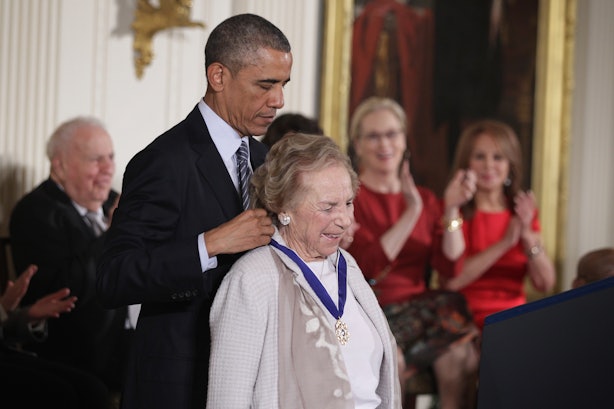 As Obama noted, though Ethel's work as a human rights advocate has inspired and helped people across the world, her role as a mother and grandmother is also a large part of her life, as she led her family with grace and strength through an especially tragic time. After her husband's assassination in 1968, Ethel was pregnant with the couple's youngest child, Rory, and left to raise a total of 11 children as a single mother. The resulting time was somewhat chaotic, as a Vanity Fair profile of the Kennedy children states of the Kennedy home that "Life at Hickory Hill with eight or 10 children underfoot was, depending on a visitor's point of view, a high-energy household of constant activity or, as one put it, 'a f*cking zoo.'" Ethel has also been no stranger to tragedy, as the Kennedy's fourth child, David Kennedy, died of a drug overdose in 1984, and another son, Michael, died in a skiing accident on New Year's Eve, per NBC.
But through it all, Ethel has been a pillar of strength and inspiration for her family, as the 2012 HBO documentary Ethel, filmed by youngest child and documentary filmmaker Rory, demonstrates. "Not only does she have her own viewpoint on some extraordinary events but also, she's just such a character," Rory Kennedy said of her mother in an interview with Vogue. "She's very funny; she speaks truth to power and stands up to authority. She's got a lot of moxie."
So while Bobby Kennedy For President focuses mostly on the politician's career and his presidential campaign, viewers should not ignore or underestimate Ethel's influence, determination, and strength in the face of immense tragedy and hardship.
"She's there on the campaign trail, she's there for the Hoffa hearings. She's there on Jack's campaigns and my father's. She's there at the White House. She's there at the inauguration. She's just there. And yet she had all of us children! Who were also there," Rory told Vogue of Ethel, who refused to let being a single mother stop her from being an influential public figure with her own career goals. Ethel Kennedy hasn't just ensured that her husband's legacy will live on— she has made her own, equally impressive legacy, as well.
Source: Read Full Article