Kirsten Dunst & Jesse Plemons Had An Epic Emmys Moment That You Didn't Even Notice
There were some uncomfortable moments at the 2018 Emmy Awards, but that doesn't mean the entire awards show was a disappointment. For example, this photo of Kirsten Dunst and Jesse Plemons at the Emmys not only made for an unforgettable and hilarious moment, but also proves how much fun they had at the event. The couple pretty much stole the show and you probably didn't even notice.
Their epic moment happened right after Alex Borstein won an Emmy in the Outstanding Supporting Actress in a Comedy Series category for her role in The Marvelous Mrs. Maisel. Upon her name being the called, the Amazon star stood up, removed her matching bolero jacket, threw the piece of clothing to the side, and then shimmied before heading to the stage.
At the same time Borstein was getting ready to accept her award like the true star she is, Dunst and Plemons were in the aisle, because they couldn't find their seats. That's right, the former Fargo costars had no idea where they were sitting, so they crouched down and hung out for a bit.
Seriously, look at them in this Instagram Dunst posted Monday night. She also captioned it, "Couldn't find our seats."
Better yet, here is a GIF of the moment. Pay attention closely, because you can even see both Dunst and Plemons waving at the camera.
How hilarious is that? They had one of the best Emmy moments and a lot of people had no idea, until Dunst decided to post it on social media. It seems like she thought it was as funny as everyone else. Dunst didn't reveal whether or not they ever found their seats, but it's probably safe to say they did. There's no way the engaged duo just chilled in the aisle all night long.
More likely than not, you've probably pulled a Dunst and Plemons. It can sometimes be difficult to locate your seat inside a big theater. The worst is when you're at the movies and have to get up in the middle to use the restroom. Then, you have to search for your seat in the dark. Can you imagine trying to find your seat at the Emmys in that huge crowd? It would definitely be confusing.
That said, the moment also made their night out on the town even more exciting. Seeing as Dunst and Plemons welcomed a baby boy reportedly named Ennis in May, they probably needed an enjoyable evening. According to People, this was their first red carpet event since Dunst gave birth.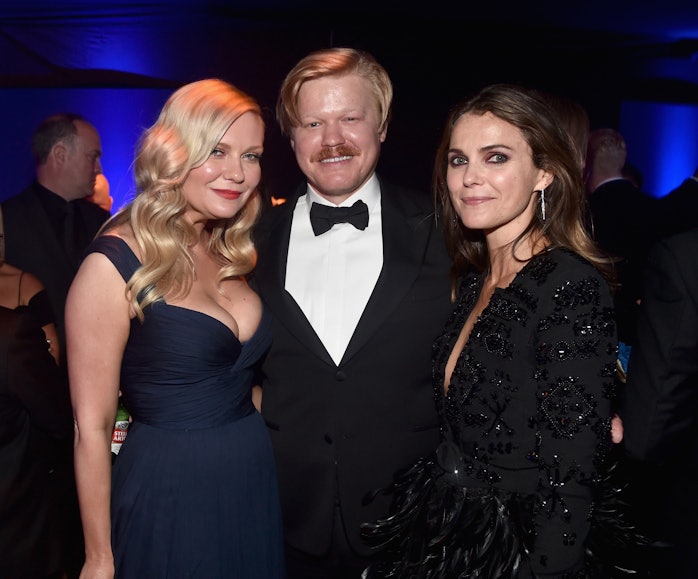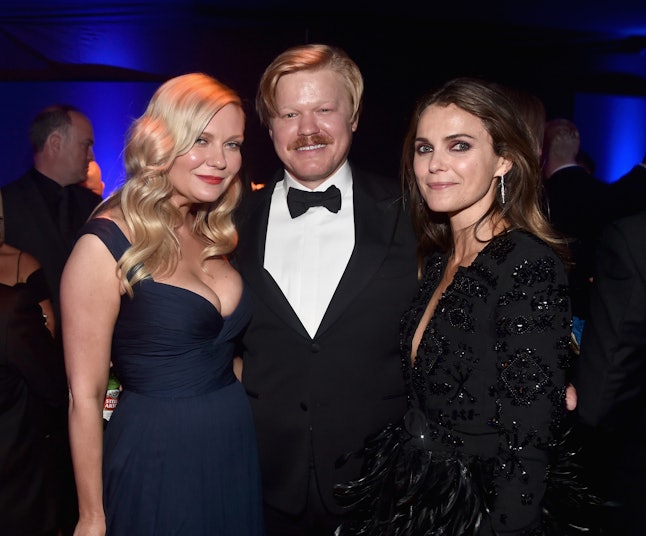 According to Us Weekly, the couple also spent time with Keri Russell, who gave them parenting advice. The Americans star reportedly told them at the Emmy Governor's Ball, "It's hard, especially at first." There's no doubt the Emmy-nominated actor knows about being a parent. She's mom to 11-year-old River and 6-year-old Willa from her first marriage to Shane Deary. She also has a 2-year-old son named Sam with Matthew Rhys.
Overall, it seems like Dunst and Plemons had a great time at the Emmys. They also walked away with a hilarious memory — and photo — that they'll never forget.
Source: Read Full Article