'A.P. Bio' Star Glenn Howerton Isn't Ready To Give Up This Character Just Yet
NBC's A.P. Bio certainly has some heavy hitters on its roster, and as the debut season comes to a close on May 3, it still seems like there could be plenty of stories left to tell at Whitlock High School. So, will A.P. Bio come back for Season 2? The network hasn't officially given A.P. Bio the green light just yet, but it also hasn't given it the axe.
In late February, Deadline reported that the comedy was "on the bubble" — a.k.a., it was unclear at the season's midpoint whether or not it was a clear candidate for either renewal or cancellation. And since then, there hasn't been any announcement one way or the other from NBC. However, the show does seem like it could have some legs as far as plot goes. It follows Jack, a disgraced Harvard professor who's been banished from his cushy life of high academia and has to teach at a high school back in his hometown while he plots his revenge.
The lack of certainty regarding A.P. Bio's fate hasn't stopped star Glenn Howerton from looking forward to more of the show, should it be renewed for another batch of episodes. In an interview with Entertainment Weekly, Howerton said he's not quite ready to say goodbye to this character. "I feel like I've been very lucky to be involved with some projects that I'm proud of, and I just think there's something really special with this show," he told the outlet. "It's funny and it's got heart, but it's also dark. It's got a lot of stuff that I personally respond to as a fan of things. I would just love to continue to play in this sandbox for a while."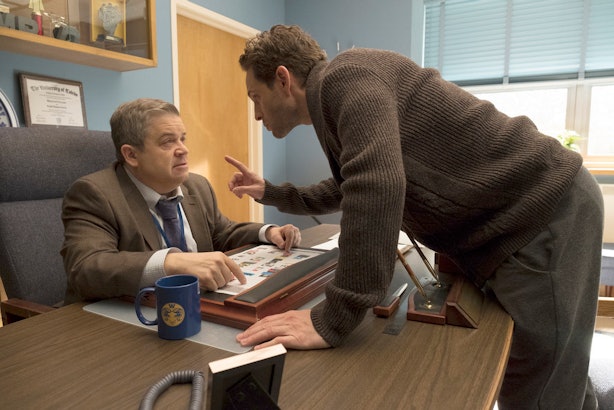 He also said he was initially worried about fan reactions, not due to the quality of the work, but because of the misconception that he was leaving his hit series It's Always Sunny In Philadelphia in order to focus on A.P. Bio. But as it turns out, he was pleasantly surprised by the support he's gotten on social media. "It's actually been quite the opposite. The response for me has been overwhelmingly positive," he said in the same interview. "And you know how much people love to hate things, so if there were a lot of people that were following me and hated A.P. Bio, I'd be hearing about it."
The role of Jack is a departure from Dennis, Howerton's Sunny alter-ego, despite the similarities that undoubtedly exist between them. In a February interview with Bustle, Howerton said he was excited about the depth this new character offered, compared to the straight up "evil" that exists in Dennis, his Sunny persona. "Dennis is arrogant to the point of extreme narcissism, and to the point where there's almost nothing … he's almost like a Darth Vader level of evil, as opposed to Jack," he said. "Jack, I think, is actually a really, really good guy, masking a sense of good guy with this arrogance because he's afraid of getting hurt."
Howerton isn't the only TV comedy veteran featured on A.P. Bio, either — Patton Oswalt plays the high school's well-meaning but ultimately powerless principal, struggling to keep things together as Jack causes conflict. In an interview with Parade magazine, it's clear the love Oswalt has for Principal Durbin, so it wouldn't be surprising if he'd want to stick with the role.
"I loved how hopelessly pragmatic he was," the actor said in a February interview. "Teachers and principals, especially in public schools, are just given nothing to work with and it's very, very hard to see someone that's showing up and has a fun, fatalistic sense of humor about everything. It was really fun to play that. I had a lot of affection for that guy."
So, while A.P. Bio fans are stuck in limbo for a little while longer, they can take comfort in the fact that the show's biggest names likely don't want this high school story to be over just yet.
Source: Read Full Article