Rashida Jones Is Directing Netflix's Quincy Jones Documentary In A Sweet Family Collaboration
Thanks to social media, folks are able to see their goals personified — whether relationship, career, or style. And these days, no one is representing father-daughter goals more than Quincy Jones and his talented daughter Rashida Jones. According to Variety, Rashida Jones is directing a Quincy Jones documentary for Netflix, entitled Quincy, and the details are everything. Quincy Jones confirmed the news via Twitter, calling it "the definitive doc about my journey." The film will be released on Netflix on Sept. 21.
Quincy Jones is a living legend, and totally deserves to have his industry-shaping story on air. And seriously… who else better to pull it altogether than actor, producer, writer and director Rashida Jones? Not only should the daughter of the super-talent seemingly be able to pull the best out of him, but with her own history of bringing some really awesome stories to the forefront, there's no doubt that Rashida Jones won't give this particular project the justice that it deserves.
No one, however, seems more enthused to have Rashida Jones attached to the project than her father, Quincy Jones. The legend took to his Twitter to share just how happy he is to be collaborating with his daughter in a Wednesday, Aug. 1 tweet, and it just screams "pride."
Along with Rashida Jones, it's Variety reported that she will be co-directing Quincy with film director Alan Hicks, and, as Quincy Jones wrote on Twitter, his "bro from another mo." Variety reported that Quincy will tell the story of Quincy Jones' rise to superstardom, from his humble beginnings as a trumpeter to becoming one of the biggest and most influential names in Hollywood, all through the lenses of recent and archival footage.
When speaking on her fathers impact within the industry, Rashida Jones told Variety: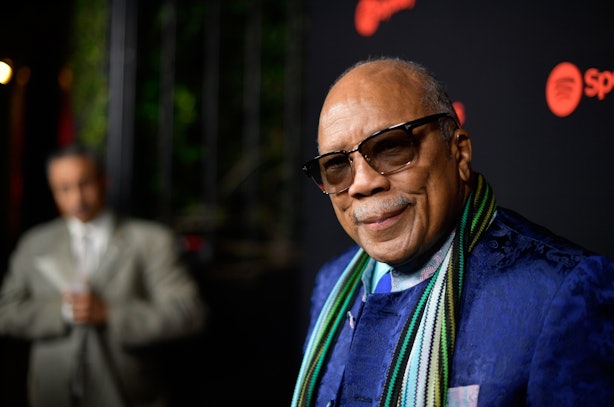 "It's about time" is the only sentiment to describe this moment in history. Not only has Quincy Jones been a force on the musical side of the industry, working with the biggest name in entertainment, Michael Jackson. But he's also been responsible for some pretty iconic film and television works, too — namely, 1985's Steven Spielberg directed and Whoopi Goldberg starring staple The Color Purple, and historical period television drama Roots. As a producer for music, film, and television, Quincy Jones has garnered quite a few Grammy, Emmy, and Golden Golden awards for his contributions, and has also been decorated with humanitarian awards and a Hall of Fame induction.
Using your talents to help influence generations seems to run in the family, especially with Rashida Jones building her own repertoire of entertainment-shifting works. From showing the world how to be the best bestie through her role of Ann Perkins on the award-winning NBC series Parks and Recreation, to co-writing and starring in her own 2012 feature Celeste & Jesse Forever, (to even producing socially conscious documentaries, such as her 2015 film Hot Girls Wanted), Rashida Jones is proof that it's possible to try and excel at as many things as your passion will allow.
With Quincy, Rashida and Quincy Jones will not only be adding another hit to their running lists of productions, but they'll also be raising the bar for other father-daughter duos to come.
Source: Read Full Article