Starbucks' Iced Vanilla Bean Coconutmilk Latte Tastes Like Being On A Tropical Island
With summer officially in full sweltering swing, Starbucks is releasing a new iced drink to make cooling off even more delicious. While your first question of the summer might have been "which way to the beach?", after hearing about Starbucks' new Iced Vanilla Bean Coconutmilk Latte, your next question is going to be "what does Starbucks' Iced Vanilla Bean Coconutmilk Latte taste like?" — because it's surely about to be your next obsession. On Monday, Starbucks announced that the drink will officially hit menus nationwide starting on Jul. 10. But just because it's gracing the menu in the midst of summer doesn't mean it won't last.
The Iced Vanilla Bean Coconutmilk Latte is being added to the official year-round cold coffee menu. So, you won't have to use a vacation day to stand in line and fight the crowds for a fleeting menu item. You can order this drink at your leisure — whether that's now, or in a few months. That said, the timing for this drink item really couldn't be more perfect. It's an ace refresher to hit the menu after a holiday week when we're all in need of a bit more caffeinated encouragement to make it through the work week. Nothing sounds more sympathetic to me right now than an iced, sweet-but-not-too-sweet coffee drink to ease me back into the real world.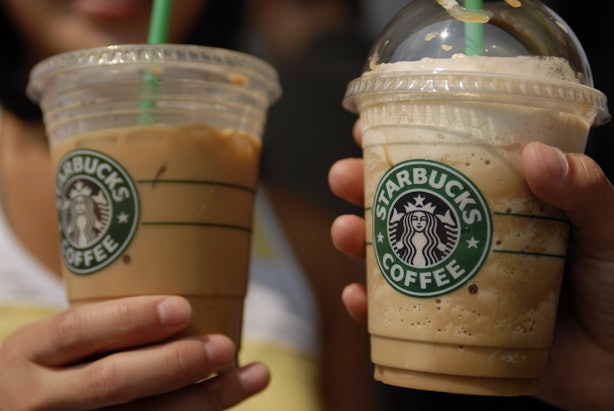 Whether you're a alternative milk-drinker or not, you're going to love the creamy summery taste of cold coconutmilk, vanilla bean, and espresso shaken with ice. While coconutmilk is a coconut product, it doesn't actually hold the tropical flavor that coconut water does. If you weren't told that you were drinking an alternative milk, you probably wouldn't notice. If you really try to taste the difference, you might notice a slight nutty sweetness but it's really just as creamy and thick as regular milk. Personally, I think coconutmilk tastes even richer than cow's milk and I can never tell the difference when I mix it in with coffee drinks.
The combination in this new Starbucks menu item is filling, refreshing, slightly sweet, and bright. While other flavored lattes on the Starbucks' menu might be more dessert-like on the sweet scale, this new latte is a bit more hearty. It doesn't have any syrups mixed in it, so you're just getting that full espresso taste without much sugar-coating. The drink is only diluted with fresh, cool coconutmilk and a natural vanilla bean flavoring that really rounds it out and makes it taste a bit more adult than other vanilla bean items on the menu. If you like a delightful and saccharine drink in the morning that doesn't completely mask the flavor of bold coffee, you're going to love this more balanced cold coffee drink.
What's more, the lack of syrup in this drink means that it's completely dairy and animal product free. So not only is this drink going to be a mega favorite for non-milk drinkers, it's going to be a big hit with vegans — there's no need to make substitutions to enjoy the same drink as everyone else. This is drink is 100 percent for all (unless of course you have an allergy to any of the ingredients). Basically this drink is going to be your go-to order not only for yourself, but for when you're picking up drinks for friends or co-workers and are unsure of their dietary restrictions. It's the perfect ice-shaken bold drink for combatting the heat, and will surely be a nice reminder of summer if you choose to enjoy the drink in the colder months. So get ready to change up your Starbucks order and enjoy the new Iced Vanilla Bean Cooconutmilk Latte now, and later.
Source: Read Full Article