10 Questions You Have After Watching the 'Riverdale' Season 2 Finale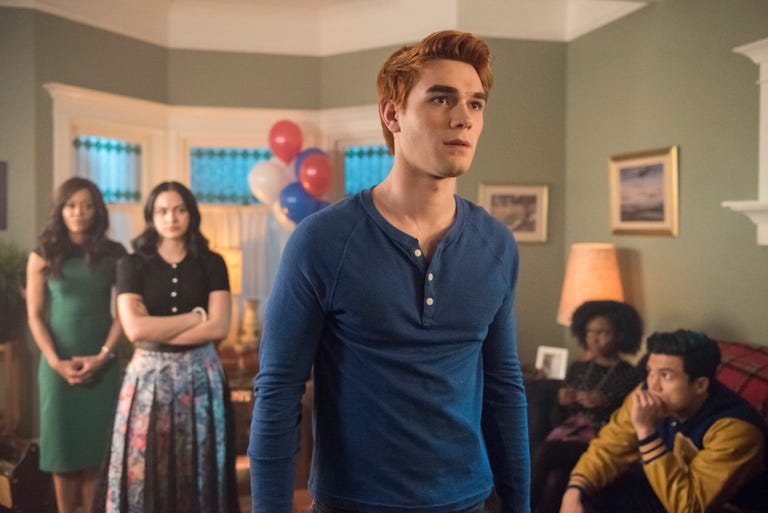 This post contains spoilers for the Riverdale season two finale, "Chapter Thirty-Five: Brave New World."
And just like that, another season of Riverdale is in the books. First things first: Jughead is alive! And so is Fangs! Despite what Jughead's face looked like last week, thankfully he's just an injured Serpent who's been promoted to Serpent King. FP has officially retired, giving way for his son's takeover and Cheryl's initiation into the crew, complete with her own red Serpent jacket.
The bad news from the season two finale? Archie's in custody for the murder of Cassidy Bullock, the kid André killed when the "Core Four" tried to have a regular, relaxing weekend at Veronica's parents' lake house. Below, questions you might have about the future of Riverdale as you continue to shake your fists at Hiram, who is 100 percent responsible for Archie's arrest.
1. Where was Ethel Muggs this whole time? Didn't she have a campaign to run? If she was the only one left running against Archie, why didn't she show her face, even if it was just to ask fellow students to vote for her? Was Archie's student body president win a complete landslide?
2. What is this farm Polly keeps on talking about? The last time Polly was on Riverdale was "Chapter Twenty-Eight: There Will Be Blood," when she announced that she was definitely, maybe driving out west to live in San Francisco. Chic creepily cut her out of the family photo in a subsequent scene. Now, Polly can't stop talking about how "the farm" is all about forgiveness and urges Alice and Betty to "absolve" Hal so they don't become what he was. In a later scene, Polly tells a distraught Alice, "I think I have someone who can help you, mom. A friend of mine, from the farm, who healed me when I was so broken after Jason." She tells Alice that this person, a man, can visit and talk to her if she's open to it. Polly's look immediately after is chilling. Is she still mad at her mom for sending her away to Sisters of the Quiet Mercy?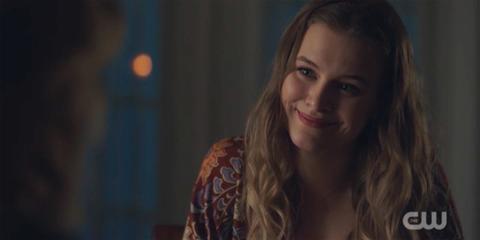 3. Is Dark Betty gone for good? Betty finally got an explanation about her darkness in the final two episodes of Riverdale this season: everyone on her dad's side had it. If she believes Jughead, the darkness can be controlled and forgotten about, eventually. "You're a good person, Betty," he tells her while babysitting Dagwood and Juniper with her. "You might have some darkness, just like me, but you're not evil. Do you believe that? Do you believe me?" FWIW, Dark Betty was last seen handing over Chic to the Black Hood, but that wasn't necessarily a dark act as much as her punishing Chic for lying about who he was. She also likely sacrificed him in the hopes of finding out the Black Hood's identity. That failed, and eventually Hal confessed to everything. With Hal locked up, Dark Betty will need to have a really good excuse to return to Riverdale.
4. Related: Where is Chic? Unless Hal quietly mumbled that he caught up to Chic at the cemetery and we all missed it, Chic is still out there, right? Is he still in Riverdale, perhaps hiding underneath Pop's (get out dude, Veronica is turning it into a cabaret space!) or has he run away to San Junipero like Joaquin? Honestly, let's just bring Chic back as a zombie. Would 100 percent watch that entrance.
5. Is Joaquin still in Riverdale? Having Rob Raco come back as the beautiful Joaquin DeSantos for the shortest scene ever in FP's trailer feels like a betrayal. Who else was expecting his face to pop up in the finale when FP announced his retirement? Even Fangs was there for the celebration. Joaquin, I'm pretty sure you're free to return to Riverdale again. The Jason Blossom stuff was SO long ago. Come back. Please.
6. What are Cheryl's official Serpent duties? It's great that Cheryl gets her own red jacket after giving the Serpents a heads-up about Hiram's raid of the Whyte Wyrm, but what exactly does she get to do as a member? Hold more flags for future drag races between the Ghoulies and the Serpents?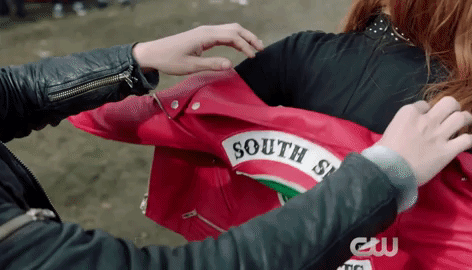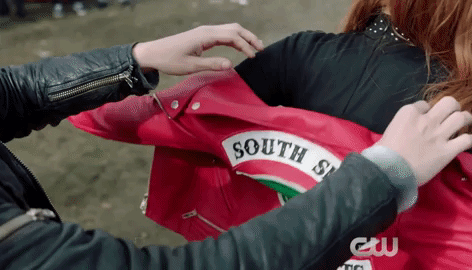 7. How will Archie get out of this mess? The arrest is of course Hiram's way of showing Archie who's in charge. In addition to the new sheriff, Hiram has control over the Ghoulies, Penny, and Cheryl's mom and uncle. Who will help Archie get out of jail? Josie's mom? Hermione? Or my personal fave, the hot dads of Riverdale (FP, Fred, Sheriff Keller)?
8. Will Hermione's first days of mayor actually be clean? She clearly wants nothing to do with Hiram after his mob life brought Papa Poutine's son Small Fry to The Pembrooke. (Nice shot, Hermione.) Now that Hiram's got a new crew to control, does this leave Hermione the space to sit in office without any drama? This is Riverdale, but one can dream…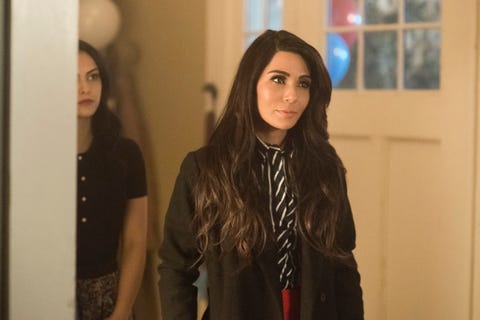 9. Will we see more Falice? FP and Alice gave fans a hint of what a Falice pairing could look like when she showed up at his doorstep with some eyeliner and a Serpent-inspired blouse on "Chapter Thirty: The Noose Tightens." Now that Hal's out of the picture, Alice is a free woman. And honestly, at this rate, Jughead's mom is never leaving Toledo. Please give the people what they want.
10. Was Tall Boy really the Black Hood copycat? If a Riverdale event didn't happen on screen, it didn't happen at all, right? Sheriff Minetta is under the control of Hiram, so everything he says should be taken with a grain of salt. On the finale, Minetta tells Archie that an anonymous tip led them to Tall Boy, guns that matched the ones used to shoot Fred and people at the mayoral debate, and a black mask. Archie doesn't look like he believes him for one second, and neither should we.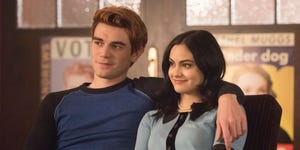 Source: Read Full Article