'90 Day Fiancé: Before the 90 Days' Season 5 Couples: Who Are Memphis and Hamza?
90 Day Fiancé: Before the 90 Days Season 5 premieres on Dec. 12, 2021, and fans of the franchise will see seven new couples navigate the waters of an international relationship. As usual, there's more than enough drama to go around for the couples this season, and that includes Memphis and Hamza. Here's what we know so far about the couple.
Who is Memphis from '90 Day Fiancé: Before the 90 Days' Season 5?
Memphis is a divorced single mom of two and lives in Muskegon, Michigan. The 34-year-old hasn't had much luck in the dating department. On top of her dating history and unstable childhood, it's not a surprise that Memphis is searching for that special someone to settle down with and complete her family.
As with many couples on Before the 90 Days, Memphis met Hamza through an international dating website. Despite a pretty significant language barrier, the two fell in love in a matter of months. Memphis believes that Hamza is the man she needs to fulfill her dreams.
Who is Hamza from '90 Day Fiancé: Before the 90 Days' Season 5?
Twenty-eight-year-old Hamza hails from Kairouan, Tunisia. Fans often see larger than average age gaps in the couples on 90 Day Fiancé: Before the 90 Days, but Hamza and Memphis are only about six years apart. However, fans see in the teaser trailer for season 5 that the couple experiences several bumps in the road.
Hamza proposed to Memphis after only a few months of video chatting and online dating. Memphis, who wants to find a man she can settle down with, accepted the proposal. The two made plans for Memphis to travel to Tunisia with the goal of getting married before she came home. However, the teaser shows viewers that things might not go as planned.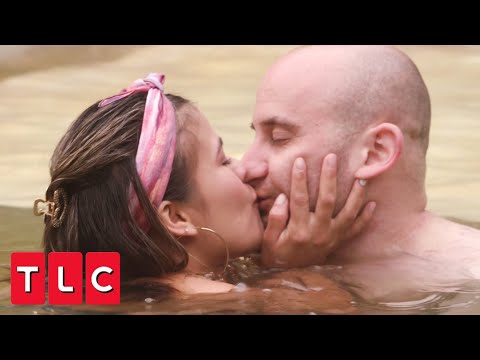 Memphis and Hamza deal with prenups, trust issues, and cultural differences in season 5
Cultural differences are par for the course with international relationships. Any Before the 90 Days fan can attest to the amount of drama for the couples featured on the show. Memphis and Hamza are no different.
First of all, neither of them is fluent in the other's language. Even with translator apps, the inability to speak to one another significantly strains a relationship. Second, while prenuptial agreements are common in the United States, that's not necessarily true for other countries.
In a clip from 90 Day Fiancé: Before the 90 Days Season 5, Memphis uses the translator app on her phone to tell Hamza, "I want to talk about a prenuptial agreement." 
Hamza replies, "We don't have prenuptial agreements in Tunisia." Later, when he's by himself, he tells the cameras, "I feel insulted."
Viewers then watch Memphis say, "If you do not sign, I do not marry you."
Between language barriers and family concerns about the couple's union, we don't know if Memphis and Hamza will actually make it down the aisle. Viewers will have to tune into 90 Day Fiancé: Before the 90 Days Season 5 to see how it all turns out.
Source: Read Full Article