Australia's Jessica Mauboy competes for Eurovision glory
Vikings, jets of fire, clucking singers, vampires and the annual guest appearance by a stage invader … say what you like about the Eurovision Song Contest but you can't say it doesn't deliver.
Australia and 25 other countries are battling it out on the Eurovision grand final stage hoping to take home Europe's prized music crown in front of an audience of more than 10,000 fans who are packed into Altice Arena in Lisbon, Portugal.
Jessica Mauboy on stage rehearsing for this morning's Eurovision grand final in Lisbon, Portugal.
Eurovision requires four performances for each heat, including a "jury show" which is assessed by a professional jury and the live telecast, which is voted on by the TV audience. The two scores are then integrated to find the final result.
Australia has a strong track record at Eurovision, ranking 5th, 2nd and 9th in our three past years of competition, but 2018 is an unusually strong year and there are at least a half-dozen countries expected to dominate the competition.
Among the highlights of the grand final were stunning performances from Eleni Fouriera (Cyprus), featuring Spice Girls-inspired backing singers, Elina Nechayeva (Estonia) in a giant projector screen dress, and Israel's Netta, sporting crazy hair and mixing Bjork-like squeaks and clucks into her performance.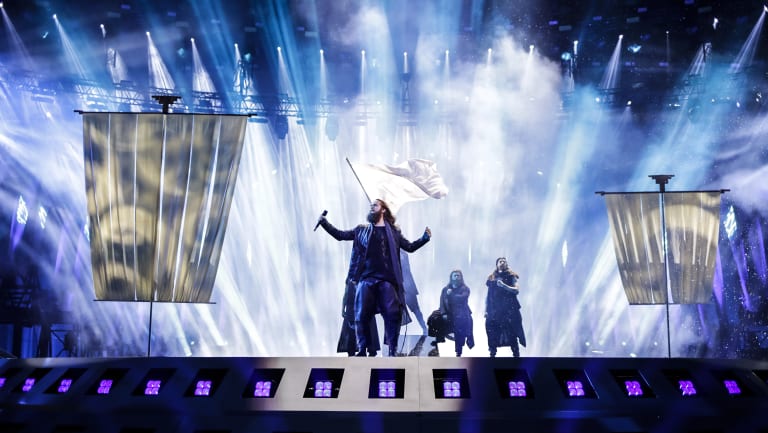 Denmark's Rasmussen on the stage at the 63rd annual Eurovision Song Contest.
Some of the bigger set stage pieces included Denmark's Rasmussen, sporting Viking boats, beards and hoods, and Moldova's DoReDoS, who, if you weren't looking too closely, looked for a moment like a stage musical starring David Campbell and Lucy Durack.
One of the most powerful moments in the telecast was last year's winner Salvador Sobral performing Amar Pelos Dois with legendary Brazilian composer, singer and activist Caetano Veloso.
Though is officially discouraged, clusters of European countries often vote in blocs, giving each other their highest scores, such as Cyprus/Greece, Denmark/Finland/Iceland/Norway/Sweden, Estonia/Latvia/Lithuania and so on.
Though Australia, a relatively new entrant in the competition, has not fallen into a voting bloc there is a noticeable trend identifying which countries tend to score us well; they include Sweden, Denmark, Iceland, Poland and the United Kingdom.
Elina Nechayeva from Estonia performs La Forza at Eurovision.
Speaking before the grand final, Mauboy said she was running on adrenalin. "I am pumped," she said. "I am thinking about what it's going to feel like, how I am going to move, and that is all going to change again."
Though the week-long event has run smoothly, it has not been without incident; the European Broadcasting Union expelled the Chinese broadcaster from the event after it censored two performances in the first semi-final.
Mall, performed by Albania's Eugent Bushpepa, was cut because it featured performers with tattoos and Together, performed by Ireland's Ryan O'Shaughnessy, featured lyrics and visual imagery about a same-sex relationship.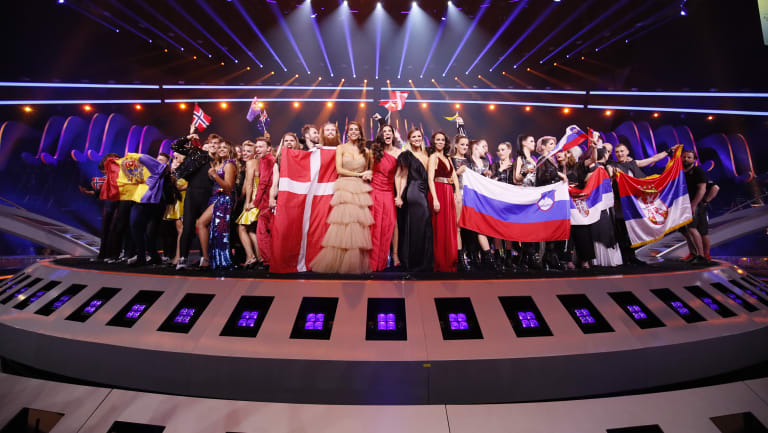 The semi-finalists, including Australia, advancing to the grand final of the Eurovision Song Contest.
The Chinese broadcaster Mango TV could not give the EBU an assurance that the performances, both of which booked slots in the grand final, would not be censored again so the EBU tore up its broadcasting agreement.
"[The censoring of the two performances] is not in line with the EBU's values of universality and inclusivity and our proud tradition of celebrating diversity through music," the EBU said in a statement.
It is also, somewhat controversially, the first time since the introduction of the semi-finals in 2004 that Azerbaijan, Romania and Russia failed to qualify for the grand final.
The six-decade-old song competition has served as the launchpad for a string of high-profile artists, notably ABBA, who won in 1974 with Waterloo, Celine Dion, who won with Ne Partez Pas Sans Moi in 1988 and Brotherhood of Man, who won in 1976 with Save All Your Kisses For Me.
Jessica Mauboy in a candid moment after her stunning semi-final performance at Eurovision.
The grand final of the 63rd annual Eurovision Song Contest is airing live on SBS; it will be replayed at 7.30pm; the two semi-finals and grand final can be replayed via SBS On Demand.
The journalist travelled to Lisbon courtesy of SBS.
Source: Read Full Article