Did Barnaby and Vikki dud themselves out of an extra $150,000?
Channel Nine doubled an offer from arch-rival Seven to secure an exclusive interview with Barnaby Joyce and Vikki Campion, sources have told Fairfax Media.
Insiders at both networks claim Nine's 60 Minutes tried to woo Campion – who gave birth to Joyce's son, Sebastian, in April – with an estimated $250,000 to $300,000. Yet Seven's Sunday Night had already bagged the exclusive for a smaller sum – a reported $150,000, to be set aside for expenses such as school fees.
Replay
"It was too little, too late from Nine," says one person close to the negotiations.
"Seven had been chipping away at this for months. It wasn't just about the money; it was about the fact Seven started negotiating first and built up trust [with Joyce and Campion]."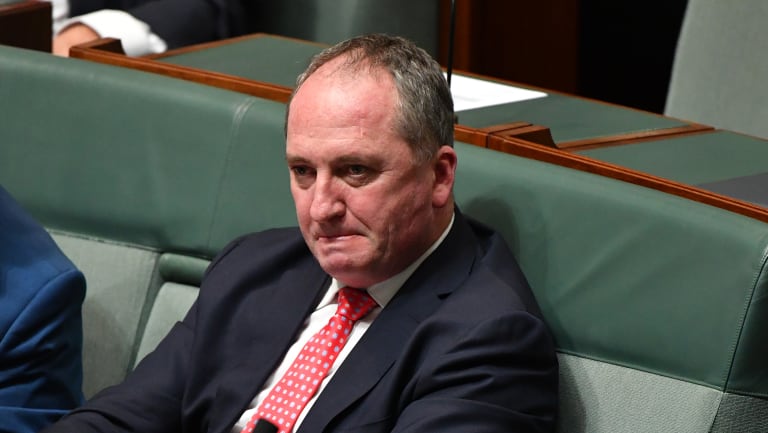 Former deputy prime minister Barnaby Joyce during question time last week.
Sources say Campion led negotiations with Sunday Night while Joyce dealt with 60 Minutes. But some Nine executives insist the network refused to match Seven's rumoured $150,000 sum, let alone beat it.
A Nine spokeswoman said: "We don't comment on the details of discussions."
On Thursday, Campion's father, Peter, told The Cairns Post that Nine offered his daughter more than $200,000.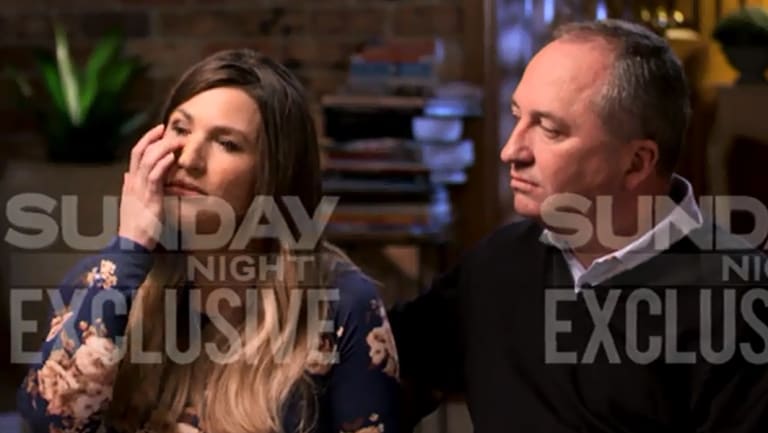 Vikki Campion and Barnaby Joyce have given an exclusive interview to Channel Seven's Sunday Night program.
"Seven had the idea to explore the story and made Vikki an offer for the privilege, which she accepted," he said.
"Nein's [sic] negativity is a fat, festering bunch of sour grapes because it wasn't their idea. When they belatedly made an offer it was 40 per cent bigger, but far too late."
Peter Campion had previously urged Joyce to "give himself an uppercut", telling Seven News: "I've got rather a taste for lamb roast at the moment and I think the deputy prime minister on a spit would be quite a sight."
Joyce lost his cabinet position and the Nationals leadership in February, after it was revealed he and Campion – his former media adviser – were expecting a child. The news prompted Prime Minister Malcolm Turnbull to initiate his infamous "bonk ban", prohibiting ministers from having consensual sex with their staff.
A spokesman for Joyce said the former minister's office had nothing to do with the Sunday Night negotiations.
Earlier this week, Joyce took personal leave amid the fallout from the interview payment.
Joyce (left) and his media adviser Campion (right) seen arriving for a Canberra press conference in June 2017.
While $150,000 is unquestionably a large sum, it also reflects commercial networks' dwindling budgets.
In 2006, Beaconsfield miners Brant Webb and Todd Russell received a reported $2.6 million to tell their story to Channel Nine and its then-print stablemates Woman's Day, The Australian Women's Weekly and The Bulletin.
It was previously reported that Iraq hostage Douglas Wood was paid up to $400,000 for an exclusive interview with Ten.
One Seven source says the money spent on the Joyce-Campion exclusive represents a "bargain" in light of the expected boost to ratings and revenue.
However, some within Seven's current affairs division are upset by the timeslot allocated to Sunday Night this week: 8.30pm, after House Rules.
"We would have gotten a bigger lead-in [had we followed] the news," a source says.
Last Sunday, Seven's 6pm bulletin topped the night with almost 1.2 million city viewers while House Rules averaged 795,000 – behind MasterChef and The Voice.
Source: Read Full Article