The Best Cameos Billionaires Made in Movies and TV Shows
If you're rolling in the dough, it's pretty reasonable to assume that you're going to be bumping shoulders with the most elite folks in Hollywood. After all, money can buy you a lot of things, and it can certainly buy your way into films and beloved television shows. While most billionaires make their fortune in tech industries, oil, or other brilliant endeavors, many of them like many of us, have a soft spot in their hearts for the silver screen.
Over the years, folks like Warren Buffett and Telsa Founder Elon Musk have made cameo appearances in various movies and TV shows. Though everyone can't be as iconic as Marvel's Stan Lee, here are some of the best billionaire cameos of all time.
1. Warren Buffett
Warren Buffett| Bill Pugliano/Getty Images
Our favorite McDonald's loving billionaire Warren Buffett is actually a simple man. He loves his fast food and his TV. Buffet has appeared in everything from the legendary soap opera, All My Children to HBO's Entourage. Still, our favorite cameo appearance of Buffett was his appearance on the NBC sitcom, The Office.
He was positively thrilling as an applicant trying to get a job at Dunder Mifflin paper company.
Next: This software CEO appeared on a beloved '90s sitcom. 
2. Bill Gates
Bill Gates| JP Yim/Getty Images
Bill Gates is the man behind Microsoft, but just like everyone else in the '90s, he adored Kelsey Grammer's Fraiser. The tech titan appeared on the 200th episode of the show and the 2,000th episode of Fraiser's fictional radio program. For Grammer's character, Dr. Frasier Crane, snagging Gates for his radio show was the get of a lifetime.
Next: This Google guy played himself in a movie. 
3. Sergey Brin
Google co-founder Sergey Brin in Davos | Fabrice Coffrini/AFP/Getty Images
Google co-founder Sergey Brin is pretty lowkey, except when he's playing himself in movies and on TV shows. In the Vince Vaughan and Owen Wilson comedy, The Internship which follows two older guys who get Google internships, Brin appears as himself near the end.
Also, the President of Google's parent company Alphabet Inc. had a brief part in HBO's Silicon Valley. However, with a net-worth of over $50 billion, we doubt he's desperate to be on TV.
Next: A business mogul who appeared on "The Big Bang Theory."
4. Elon Musk
Elon Musk| Mike Windle/Getty Images for Vanity Fair
Telsa CEO and PayPal co-founder Elon Musk has his hands in all types of businesses, and he's appeared in a variety of films and TV shows. Musk has had small roles in Iron Man 2 and Machete Kills. However, TV seems to be his foray. Musk has appeared in The Simpsons (in cartoon form of course) and on one of The Big Bang Theory's Thanksgiving episodes.
On The Big Bang Theory, he was a homeless shelter volunteer who washed dishes on the beloved holiday.
Next: A billionaire who is no stranger to the spotlight.
5. Michael Bloomberg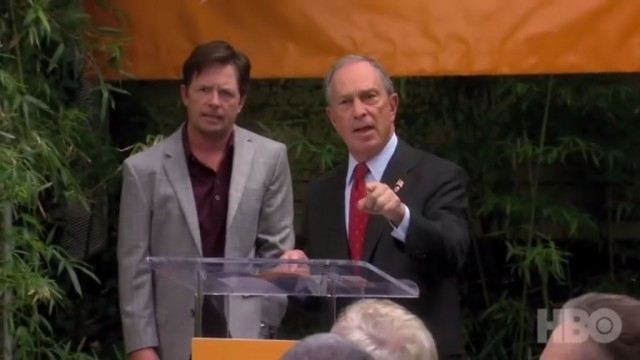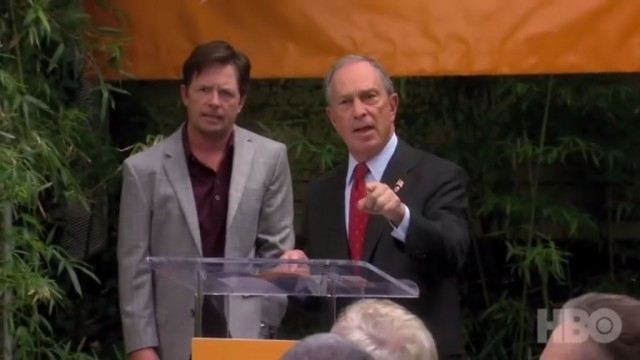 Michael Bloomberg on "Curb Your Enthusiasm" | HBO
Businessman and former mayor of New York Michael Bloomberg has had a couple of movie and TV parts in the midst of his bustling career. He appeared in the 2011 film, The Adjustment Bureau which starred Matt Damon and Emily Blunt. Before the film, he got a taste of the spotlight in a 2008 episode of 30 Rock and the holiday classic, A Muppets Christmas.
Next: A tech mogul who is a Trekkie for life. 
6. Jeff Bezos
Jeff Bezos | David McNew/Getty Images
Since Jeff Bezos created Amazon, we honestly think he deserves whatever he wants. The man is literally a gift to the world. Luckily, it looks like the universe was able to make Bezos' ultimate Star Trek fantasy come true. The Amazon CEO is a lifelong Trekkie, so in 2016, when he got the opportunity to appear in the film, Star Trek and Beyond, he jumped at the chance. It was a bucket list item for him.
Cloaked in a ton of makeup and prosthetics, Bezos boldly went where no CEO had gone before. This wasn't the first time Bezos had appeared on the big or small screen. He also had a small role in the 2004 short film, Tooth Fairy.
Next: A hamburger mogul who was in a made for TV movie.
7. Dave Thomas
Wendy's Founder Dave Thomas in 2000 | Tim Boyle/Getty
Net worth $135 million when he died in 2002.
If you were alive between the '70s and the early 2000s, then you know Wendy's founder Dave Thomas. After all, the late hamburger man starred in nearly all of Wendy's commercials.  As a result, his cameo in the 1994 TV movie Bionic Ever After?,  which was a crossover between the series, Six Million Dollar Man and Bionic Woman has faded from our memories.
The man who gave us the frosty plays a hostage trapped in a wine cellar awaiting rescue by the bionic couple.
Next: A fashion legend who isn't afraid of a bit of comedy. 
8. Donatella Versace
Donatella Versace attends Heavenly Bodies | John Lamparski/Getty Images
For a woman who is the head of a $1.2 billion dollar company, Donatella Versace could probably make an appearance in whatever movie that tickled her fancy (and fit her hectic schedule). The fashion mogul has been mentioned in films like The Devil Wears Prada for obvious reasons, but she actually made a brief cameo appearance alongside Ben Stiller in Zoolander.
If you were paying close attention to the satire flick, you would have caught a glimpse of Versace as Stiller's character gives her a kiss on the cheek before going onstage to accept an award.
Next: A TV CEO who got to play an over the top version of himself. 
9. Jack Welch
Jack Welch at LinkedIn Studios | Mike Coppola/Getty Images
Tina Fey's iconic 30 Rock was known for being over the top and which is why GE chairman and CEO Jack Welch decided to appear on the series in 2010 and play an absurd version of himself. The casting was genius. In real life, Welch oversaw the sale of NBC to Comcast. On 30 Rock he announced to Alec Baldwin's Jack Donaghy that GE was selling NBC to Kabletwon.
Welch even got to slap Baldwin while saying, "If you need to pass some eye water, I'd be happy to go out and get you some weakness tissues."
Next: An auto CEO who lived for this '80s TV shows. 
10. Lee Iacocca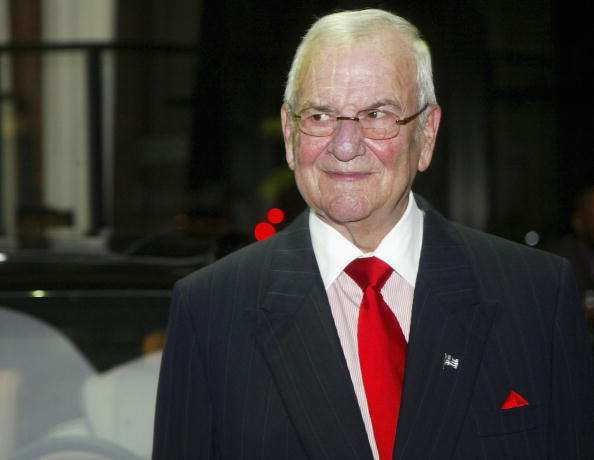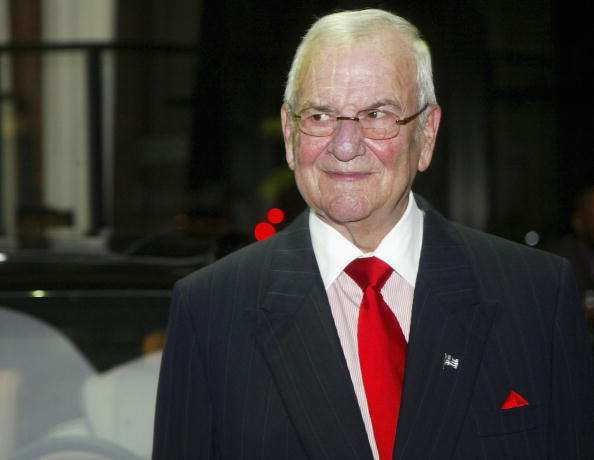 Lee Iacocca | Matthew Simmons/Getty Images
In the '80s Miami Vice ruled TV. The long-running crime drama was beloved by millions so naturally, then long-serving president and CEO of Chrysler Lee Iacocca had to make a cameo appearance. The automobile industry titan made a rather brief appearance on a 1986 episode of the show.
He played a parks department official on the series. Interestingly enough lacocca's episode was also the television debut of ER actor, John Leguizamo.
Next: A British billionaire who loves the spotlight. 
11. Richard Branson
Richard Branson| Adrian Dennis/AFP/Getty Images
We all know that Virgin Group billionaire Richard Branson lives for some good publicity. He's appeared in everything from Friends to The Simpsons and even Baywatch. However, our favorite cameo appearance from the $5.1 billion dollar man is in Casino Royale.
Though Branson's appearance in the James Bond flick is super quick, he was edited out of the version of the movie that shows on British Airways. After all the airline is a direct competitor of Virgin Group, so it really wouldn't be good business.
Next: A fashion mogul that couldn't quite get his lines. 
12. Mickey Drexler
Mickey Drexler | Michael Cohen/Getty Images
Sometimes, millionaires, billionaires, and moguls need to stick to what they know, and former CEO and current Chairman of J.Crew Group Mickey Drexler might be best sticking with fashion. The fashion executive appeared on a 2013 episode of AMC hit drama Breaking Bad as a customer in Walter White's car wash. Unfortunately, he stumbled over his ten words of dialogue. It apparently took him nine takes to get it right.
Drexler said, "I think I said, "Ma'am, you gave me a five instead of a one." The irony was I think I was the only honest character on the show. Acting is not an easy profession." At least he knows his gifts.
Next: The real life Iron Man. 
13. Larry Ellison
Larry Ellison | Julian Finney/Getty Images
You may or may not know Larry Ellison, the eight wealthiest man in the world. Hethe co-founder, executive chairman and chief technology officer of Oracle Corporation which is the second largest software maker after Microsoft. Since Ellison's life is so close to Marvel Cinematic Universe's Tony Stark, it makes sense that he would have a cameo appearance in 2011's Iron Man 2.
Next: A media mogul who carved out a part for himself. 
14. Ted Turner
Turner is a proponent of sustainability. | Chip Somodevilla/Getty Images
When you're a media mogul, you can pretty much do whatever you want. Ted Turner created a role for himself in the 1993 Turner Pictures film, Gettysburg. Turner had a small role in the movie opposite Tom Berenger and Martin Sheen. In the movie, Turner plays a nameless Confederate soldier who meets a messy end.
Turner recalled of his big moment, "When I fell, I just didn't want to drop my sword on someone."
Next: A "Shark Tank" billionaire who does whatever he wants. 
15. Mark Cuban
Mark Cuban| Kevin C. Cox/Getty Images
We all know billionaire Mark Cuban as the sharp and outspoken host on Shark Tank. The Dallas Mavericks owner has also made cameos on everyone's favorite testosterone centered HBO dramedy, Entourage. Ironically, the celebrated businessman shared his appearance with Bob "Better Call Saul" Odenkirk.
The appearance also involved tequila, so that's always a plus.
Source: Read Full Article