Chris Tucker's Lip-Sync Videos Are Here to Boost Your Mood During Quarantine
"Do you understand the words that are coming outta my mouth?" That classic catchphrase is synonymous with the 1998 film, Rush Hour. Comedian Chris Tucker delivered the line with humor, verve, and bite, and over 20 years later, it reigns as one of the most recognizable quotes in comedic history. Tucker has been absent from the big screen since the 2016 film, Billy Lynn's Long Halftime Walk, but he has enjoyed a recent live comedy tour revival to the delight of comedy lovers around the country.
Although Tucker's spring 2020 appearances are on hold due to the coronavirus (COVID-19) outbreak, he has been very active on social media, and now he is giving fans a much-needed morale boost during the pandemic. In a series of music-themed videos, the funnyman entertains and encourages fans who are stuck at home during the quarantine.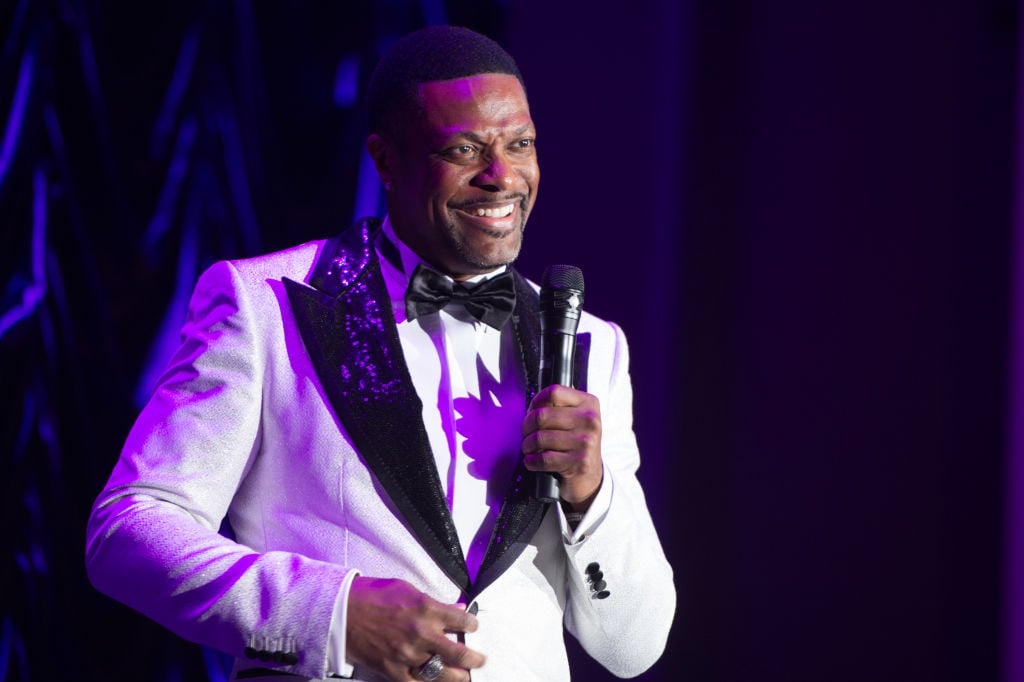 Chris Tucker, lifting spirits through music and dance
As a comedian and actor, Tucker uses his movements, voice,and demeanor to create comedic moments on stage and on camera. One of his most iconicgags is his Michael Jackson impersonation. Recently, Tucker channeled the Kingof Pop in an outdoor karaoke session on an empty basketball court.
Tucker sang and danced to Jackson's "Off the Wall," and even included the signature MJ spin and leg kick in his routine, a callback to his Rush Hour days with he mixed it up on the big screen with Jackie Chan. The feel-good lyrics include the phrase, "Life ain't so bad at all. Live your life off the wall," making the Instagram video a subtle nod to Tucker's positive outlook, which he shares frequently on social media. After dancing his heart out, Tucker admitted, "I'm tired now."
Chris Tucker, entertaining fans with throwback hits
Tucker's rendition of "Off the Wall" isn't the only music-themed video the star has posted in recent weeks. Back on Instagram, Tucker burst into another cheery throwback hit. A capella, he belted out, "Come back to the world, come back to the world. Baby, come back to the world."
"Y'all remember that song?" Tucker asked. Although thecomedian flawlessly sang the lyrics, he could not recall the recording artistwho originally sang the song. "That was the cut right there. Who sang it?Somebody tell me who sung that song so I can play it today."
Instagram followers were quick to remind him that R&B crooner,Tevin Campbell made the song famous. "Back to the World" was a 1996 hit fromthe singer's album of the same name.
Chris Tucker, encouraging others through the gift of song
In another Instagram video, Tucker treated fans to an inspirational lip-sync performance of the hit, "I Told the Storm" by Greg O'Quin 'N Joyful Noyze. In the video, Tucker pantomimed lyrics, including the following passage:
Death can't shake me
Job can't make me
Bills can't break me
Disease can't take me
You can't drown me
My God surrounds me, that's what I told the storm.
At the end of the song, Tucker expressed an upliftingmessage to followers, saying, "That's what we're gonna do. Tell that storm togo on somewhere. Encourage yourself like David did. Yes, sir!" In the caption,Tucker simply wrote, "Be encouraged."
In another inspirational video, Tucker sang along with the radio to "Big" by Pastor Mike Jr. He ended the video with this advice to fans: "Don't watch the news all day…Stay encouraged." For comedy lovers who want to follow Tucker's advice to take a break from the broadcast news, they can catch the standup special, Chris Tucker: Live, now streaming on Netflix.
Read more: Kid From Kid 'n Play is Giving Us Instagram Feel-Good Posts We Need Right Now
Source: Read Full Article