Ellen Pompeo and Shonda Rhimes Wrote Moving Tributes to Sarah Drew and Jessica Capshaw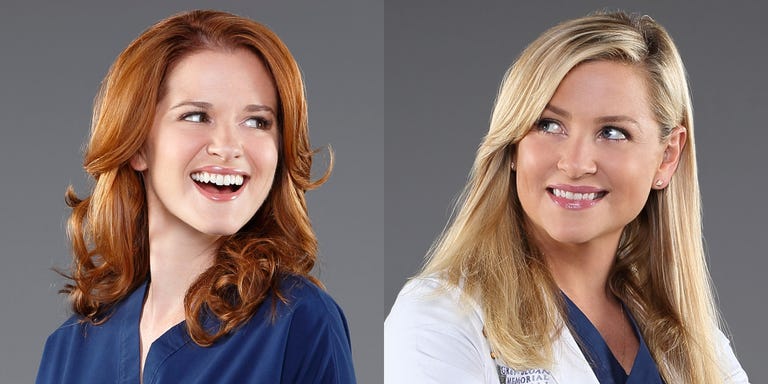 That's a wrap for Grey's Anatomy stars Jessica Capshaw and Sarah Drew, who played Arizona and April, respectively, on the long-running series. The show's star, Ellen Pompeo, shared special goodbye messages to her leaving co-stars on Instagram after they filmed their final scenes.
"What a blessing you are and what a contribution you made to television history," she wrote in praise of Capshaw. "Making a difference and making it all look so easy."
"Your passion and talent and storytelling has touched so many people, provoked thought, and Grey's is a better show because of it and you," she wrote about Drew.
Grey's Anatomy creator Shonda Rhimes also posted a special message to the two actresses on Instagram. "I need to devote a whole day just to celebrate Jessica and just to celebrate Sarah," she wrote. "For now I will just say how lucky we were to witness their talents and the magic they brought to their characters."
It was announced in March that Capshaw and Drew would be departing the series. Capshaw first appeared in the series as Arizona Robbins in season five while Drew joined on as April Kepner in season six.
The announcement was made after Ellen Pompeo revealed to The Hollywood Reporter that she had become the highest paid actress on television, bringing her salary to $20 million for the show's upcoming 15th season. While many fans felt that the reason why the two actresses were departing was due to Pompeo's pay bump, co-showrunner Krista Vernoff said it was a creative decision.
"The characters of Arizona and April are permanently woven into the fabric of Grey's Anatomy thanks to the extraordinary work of Jessica Capshaw and Sarah Drew," Vernoff told Deadline. "As writers, our job is to follow the stories where they want to go and sometimes that means saying goodbye to characters we love. It has been a joy and a privilege to work with these phenomenally talented actresses."
Ellen Pompeo also defended herself after receiving backlash, saying that the reason why they were leaving was not due to her pay raise and that the public should not be pitting them all against each other.
"We [are] grateful all of you are so passionate but if you knew these two women the way I know them they would not approve of all this nastiness," she wrote on Twitter. "They both are super shiny happy people. I know you're angry but you're representation couldn't be further from who these women actually are."
While Capshaw has not announced any new projects yet, Drew will be co-starring on CBS' reboot of Cagney & Lacey, playing LAPD Detective Cagney, according to Deadline. Capshaw and Drew's final episodes will air in May.
Source: Read Full Article