Everything You Need to Know About Jamie Lee, the Host of Netflix's 'The Wedding Coach'
If you absolutely love weddings but haven't been able to attend many because of the COVID-19 pandemic, same. But thankfully, there's something that can help fill that void. Enter: Netflix's newest series, The Wedding Coach. Think of it as Queer Eye: Bridal Edition. Comedian Jamie Lee (who cheekily calls herself a "former bride") comes to the rescue of six couples as they get ready to walk down the aisle. Whether it be trying to reconcile family drama or receiving life-changing news, Jamie and a guest host are there to pull on some heartstrings and help the couples along the way. In short: If you love weddings, you'll binge this ASAP.
But before you click on the show in your Netflix queue, you're probably going to want to get to know the woman who seems to be the saving grace for these lucky couples. Here's a little bit about Jamie Lee:
She's been on the comedy scene for a while.
Before landing the gig on Netflix's newest reality binge, Jamie found a career on the comedy circuit. While she worked her way up the ladder (she even had a job as a publicist at Comedy Central!), she has MTV to thank for her big break: Girl Code.
"Being on Girl Code was great because it was the first time that I was on television known for my point of view," she told The Sentry in 2017. "Everyone had their own unique take on whatever the topic was. I was allowed to be myself, which is exciting. It's not like I catch them off guard with a new personality, because I'm not on TV playing a character—I'm just me."
She's literally written a book on the subject.
When you're turning on a wedding show, you'd hope the host has some idea of what he/she is talking about. Well, lucky for viewers, Lee does know a thing or two. In fact, she is the author of a bridal guide called Weddiculous: An Unfiltered Guide to Being a Bride. Among all the humorous anecdotes from her own wedding planning, she sets up timelines, checklists and gives overall good marriage advice for couples preparing to jump the broom. Thank goodness someone's here to help these people out!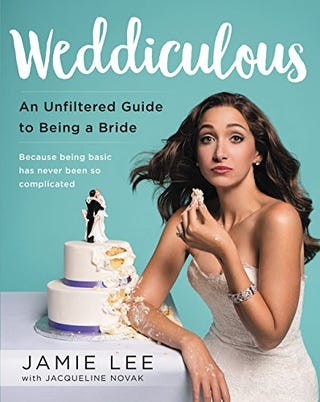 She's married to a fellow comedian.
That's right folks—Jamie is off the market. She wed comedian (and wrestling aficionado) Dan Black in a traditional Jewish wedding ceremony back in 2016, and it was while trying to figure out the details of her own day that she got inspiration for her book.
https://www.instagram.com/p/CEpDFR4ne5i/?utm_source=ig_embed&utm_campaign=loading
A post shared by Jamie Amanda Lee (@reallyjamielee)
https://www.instagram.com/p/B_nqH5LpfVu/?utm_source=ig_embed&utm_campaign=loading
A post shared by Dan Black (@danblackattack)
Want more intel on all your favorite Netflix shows? Yeah. We know you do. You can find all of our entertainment coverage here.
Source: Read Full Article