The Full Trailer for 'Crazy Rich Asians' Is Finally Here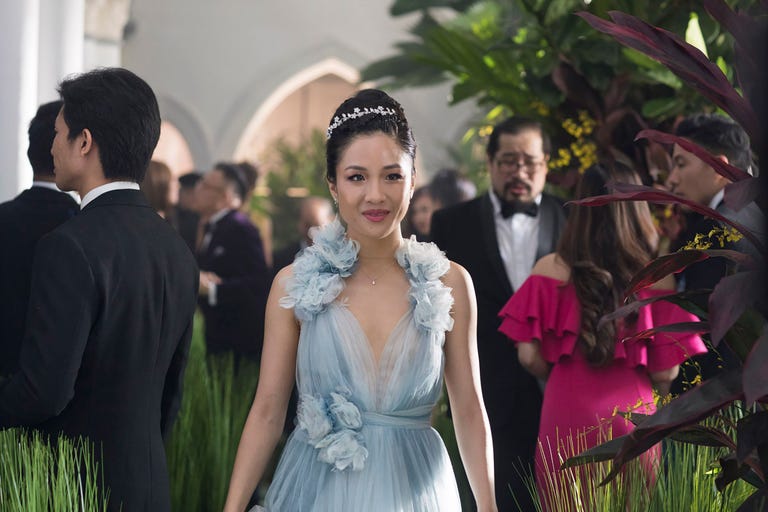 As promised, Warner Bros. Pictures has blessed the world with the first full trailer of Crazy Rich Asians, based on Kevin Kwan's bestselling novel of the same name. There's a lot to unpack here, especially for longtime fans of Kwan's CRA book franchise, but for starters, it looks like Rachel Chu (Constance Wu) and Nick Young's mom Eleanor (Michelle Yeoh) will have one hell of a showdown. (Or game of chicken, as Rachel puts it.) Did anyone else get goosebumps watching the two women meet for the first time? Here it is, via The Ellen DeGeneres Show:
Yes, there are plenty of shirtless moments to appreciate (hello, Henry Golding and friends!) but I am all here for the Eleanor show. At one point, she tells Rachel, "I chose to raise a family. For me, it was a privilege, but you might think it's old fashioned." That's followed by, "I know you're not what Nick needs," and "I know this much, you will never be enough," with Rachel on the receiving end of both burns. Not to be outdone, Rachel throws this down on her boyfriend's mom: "If Nick chose me, he would lose his family. If he chose his family, he might spend the rest of his life resenting you." All together now, Oooooooooohh!
The trailer, which you should definitely watch at least 15 more times today, also gives glimpses of Colin and Araminta's OTT wedding and life as a rich person (traveling first class is everything).
Crazy Rich Asians, directed by Jon M. Chu, also stars Awkwafina, Ken Jeong, Gemma Chan, and Sonoya Mizuno. The film opens Aug. 17.
Follow Peggy on Twitter.
Source: Read Full Article