Grey's Anatomy's Camilla Luddington Reacts to That *Major* Season 17 Premiere Twist
[There are spoilers ahead for the season premiere of Grey's Anatomy. If you haven't watched the episode in its entirety, proceed with caution!]
Last night, Grey's Anatomy came back to TV screens with a major bang. Because the show had to shut down its production last spring before season 17 actually finished filming, it had to do a lot in its season premiere. Not only did it start to take on the coronavirus pandemic through the lens of the doctors working at Grey Sloan, but it pieced together much of what's been happening with all of the main characters since we last saw them.
Camilla Luddington's Jo Wilson was one of the biggest question marks from season 17. With the departure of the Alex Karev character at the end of the season (which shocked fans) there wasn't a lot of time to let Jo react before production shut down. Cosmopolitan chatted with Camilla about the premiere, the twists we can expect for the rest of this season, and what's in store for her character's love life.
Okay, let's get down to business. Where did that Jo and Jackson Avery hookup idea come from!?
Jesse [Williams, who plays Jackson Avery] and I have a lot of fun together in real life, and for so many seasons, we've been asking to have scenes together. That scene was actually shot last season. We didn't know that was coming until Krista [Vernoff, the showrunner] was like, 'So, you guys are going to hook up. It's gonna be really funny hook up.' Those characters haven't really interacted a lot, either. But I loved it because I felt like, first off, it's really funny, even though it's kind of depressing, too, but I do love that Jo is advocating for herself and kind of just going for it. I think it takes a lot of strength to just go in and say to someone what you need and want and put yourself out there. And we had so much fun filming it.
I thought it was incredibly relatable! Who hasn't gotten into a situation where they thought they were ready for something and then realized they weren't?
Yes, absolutely. I definitely think that's happened where you're like, 'You know what, I just need a new guy, and it's gonna help me move forward a little.' She just didn't realize she wasn't ready for it yet. But I also felt like Jackson was very sweet when she had her snotty breakdown.
He was. So can you tell us anything about what will happen with them the rest of this season? Is this the beginning of something?
What I'll share is that I think it's at least the seed of a friendship, because I think that they've shared something intimate, even though it didn't go very far. I think they were both very vulnerable in that moment. And I think that in COVID, as well, you need to lean on people. I think that you'll see them start to sort of find that, at least, in each other.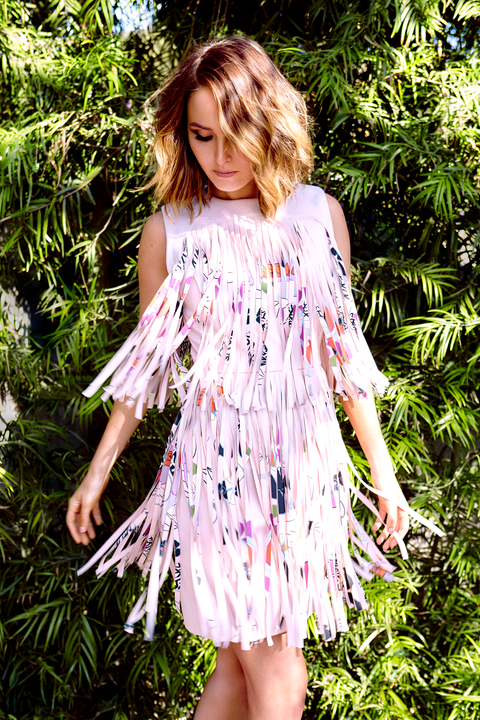 Do you feel like, after the departure of Alex Karev, this is Jo's time to have her single girl season? Or does she need a rebound man?
I want her to have her single girl season. Personally, I don't think her jumping into a long term relationship is the right thing for her right now. I think you always need that time after a huge breakup like that to kind of sit back and breathe. I would like Jo to play the field, that's what I would like.
Something I really appreciated about the episode last night was how it balanced the lighter moments with the harder COVID moments. Is that the tone for the rest of the season?
I think what Grey's does so well is it shows you the light at the same time, and there's that balance of light and dark always in our episodes. Those moments are needed. It feels like you're coming up for air a little bit. And then I feel like it prepares you to go back down into the darker moments on the show.
Moving forward to the end of the episode, I think it's an interesting choice to make Meredith the first doctor that gets sick this season.
With someone like Meredith, she feels like Teflon, she is Meredith Grey. So for her to get sick it just shows, I feel like this is the message that the writers are trying to send, that this can affect anybody. Even the strongest of the strong, the person that you don't expect it to affect. And that's what's so scary about coronavirus. And that's why it has to be taken so seriously. So you'll see, it does rattle all of the doctors.
Based on what we've seen in the medical community, it seems safe to assume Meredith won't be the only doctor to get sick from this. What can you tell us about that?
What I will say is COVID is an extremely infectious disease, so it should not come as a surprise if anybody else does get infected.
Especially considering there were scenes where Meredith was with other doctors and they weren't wearing masks…
And more importantly, I think, is that the characters are reusing PPE, which is what actually happened at real hospitals, so the infection rate becomes higher.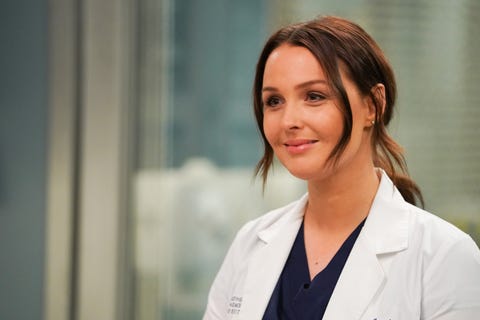 Alright, I need to ask about THE big twist of the night, the Patrick Dempsey/Derek Shepherd appearance. My jaw was on the floor! How'd you find out about this? It seems like it was pretty hush-hush.
It was very hush-hush. I knew about it at the beginning of the season. In the script, I think it was written as Ellis coming back. And I'm thinking, something's weird about this, the way it was written. And then Krista told me that Patrick was coming back and to swear on everything that ever existed that I would never tell anybody.
I knew the day they went to shoot at the beach, but I was looking on Twitter the next week, thinking it was going to leak. There's no way those two people get together on the beach with a bunch of crew and someone not walk by. I was just like, 'It's going to get spoiled,' and it didn't. And then when it aired last night, it was the first time I've seen the episode, and I did not know what that scene actually was. I just knew that they were both in it. So I was still fangirling and I got emotional. And I was like, 'Oh my god, it's them.' How do they still have this chemistry from like, 100 feet away from each other?
It was really emotional!
It was really emotional. And then, of course, Twitter blew up. But I think it's genius. I think I just think it's absolutely genius. I think it's so exciting to have him back in this capacity.
I wanted to ask if there are any other cameos we can look forward to. Some eagle-eyed fans on Twitter did some IMDb creeping and think they've found some spoilers.
I saw that! I got tweeted at over and over. For some reason it says 2020 on, like, everyone who has ever been on the show. I would not get as excited about that as as they are. That's what I'll say.
But it does feel like we're in for some twists and turns. What can you tease for the fans?
I do want to tease that Levi and Jo have some fun roommate stuff this season, which is nice because they're sort of in their own little COVID pod together. And Jo also becomes really connected to a patient this season, which is going to play out in maybe the second or third episode, but you start to see her become very connected to a patient of hers.
I just want to say this. Honestly, there are so many things this season that people need to watch live. You just have to watch it live, otherwise it's going to be spoiled for you. And it won't be as fun.
Source: Read Full Article