Here's What Happens When Royals Marry Commoners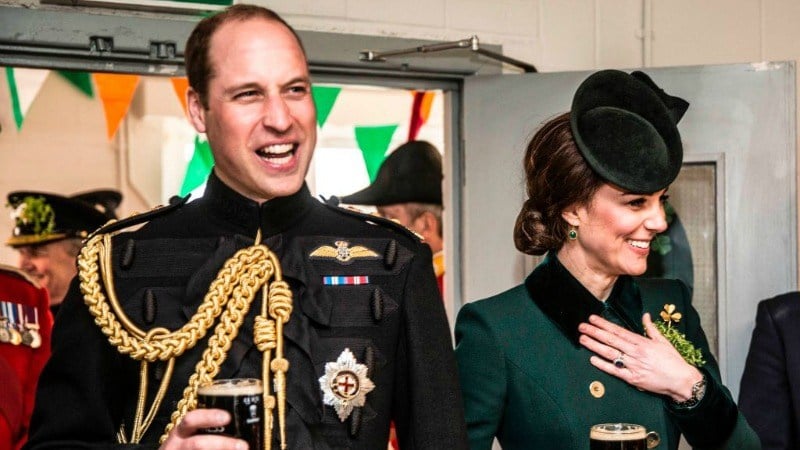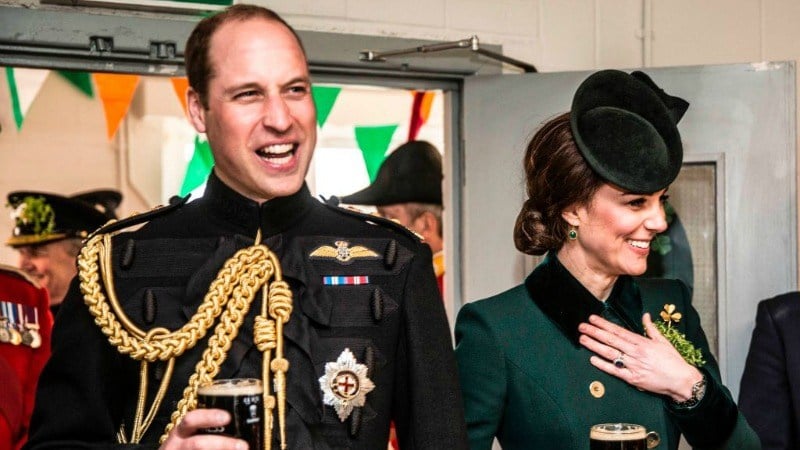 Prince William and Kate Middleton | Richard Pohle/AFP/Getty Images
From the glamorous weddings, stunning crowns, and glitz of being a member of the royal family, it's easy to see why marrying a royal might entice commoners. However, tying the knot with a public figure isn't always as exciting as it seems from the outside.
In recent years, many monarchies have become more liberal when it comes to accepting outsiders into their families. Still, although we are well into the 21st century, some outdated regulations remain in place, which can certainly test any relationship — especially one playing out in the public eye.
From antiquated laws to strange rules involving seafood and board games, royals who marry commoners often ask a lot of their spouses. We've watched Kate Middleton marry Prince William and take on her duchess duties, wearing all of the right clothing and showing up at charities and events. And yet, Duchess Kate has had to contend with the paparazzi following her every move during her pregnancies, as well as the release of private photos.
Now, the entire world received the engagement announcement they anticipated: Prince Harry and his girlfriend, Suits actress Meghan Markle. Like Duchess Kate, Markle's life is under a microscope, and she's dealt with racist backlash due to her mixed race heritage. Still, Markle will have to confront even more customs and practices.
Here are 17 things commoners must learn to live with when they marry into a royal family.
1. Forget about a title
Prince Harry's flame, Meghan Markle | Mike McGregor/Getty Images
Marrying into the royal family doesn't mean that you'll be a king, queen, or even a princess.
Queen Elizabeth's husband, Prince Phillip, is Greek, so he can't actually hold the title of king — he is a prince consort. If Prince William does become king, his wife, Duchess Kate, will be a queen consort. Also, when Prince Harry walks down the aisle with Markle, then she will become a duchess.
Next: Your political musings wouldn't be welcome.
2. Politics are for peasants
Prince Harry | Eamonn M. McCormack/Getty Images
Before marrying a royal, a commoner might be politically active. That all comes to a screeching halt after saying "I do" and becoming a member of the royal family.
In fact, though they are technically allowed to vote, the royal family must keep things as neutral as they possibly can. If they voted for or advocated for one candidate over another, there is a concern that they could unfairly sway the public's opinion.
Voting is technically unconstitutional for royals. (Obviously, they are barred from holding public office as well.)
Next: You might need a snack after dining with the queen.
3. Eat up quick!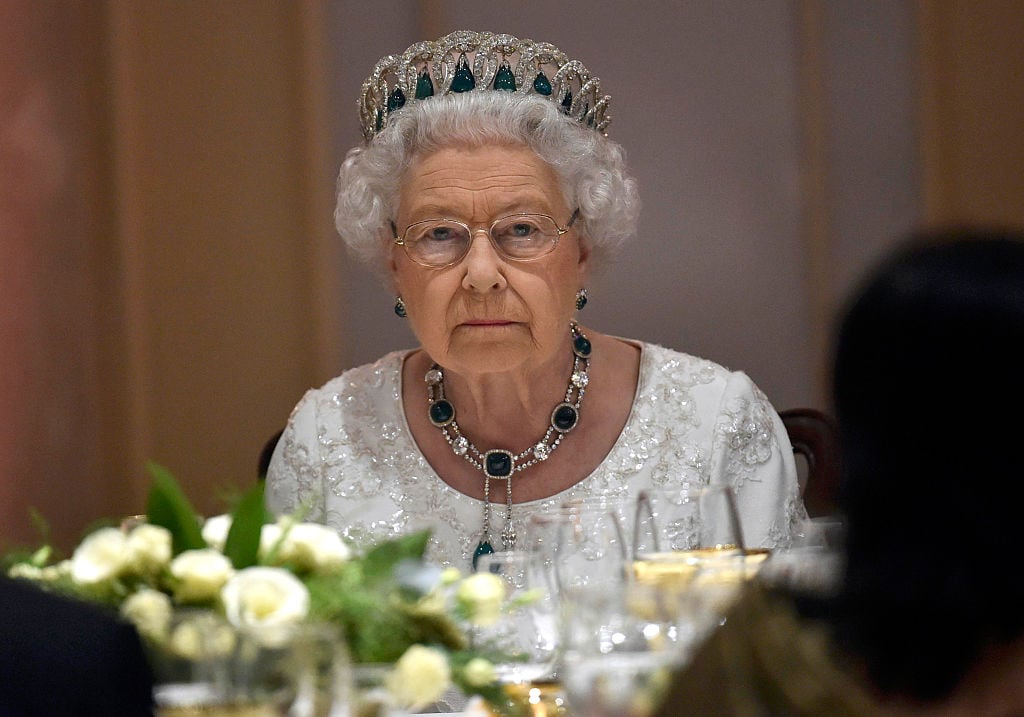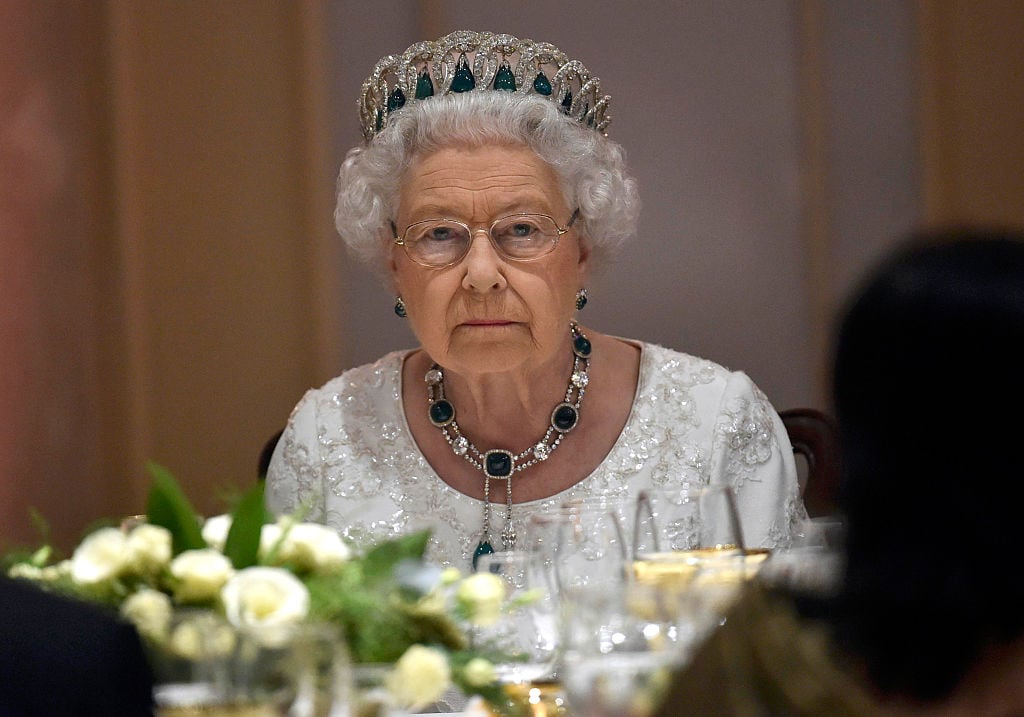 Queen Elizabeth attends a dinner at the Corinthia Palace Hotel. | Toby Melville/Getty Images
As commoners, we're used to eating as much as we please whenever we want. But a meal with the British royal family will put an end to that.
If the queen is present, the meal starts and stops with her. When she puts down her fork and spoon, everyone else is expected to do so as well. It's probably best to have a snack before dinner.
Next: Affection is best reserved for close friends and family.
4. Hugs are reserved for royals only
The royal family usually disregards that "no hugging" rule. | Chris Jackson/iStock/Getty Images
Apparently, royal people should not be touched by non-royals. This is a rule that is broken all the time, especially when the British royal family meets celebrities, politicians, or other major figures.
If you're royal and not super into being touched, you just have to go with it because being royal means you mustn't make a fuss.
Next: You may have to choose between a royal title and true love.
5. You might be ousted from the family
Princess Mako | Toru Yamanaka/Getty Images
Despite the pomp and circumstance, the English monarchy is actually one of the more liberal of the royal families. In some countries, when a royal member marries a commoner, they must give up their crown altogether.
When Japan's Princess Mako marries her college sweetheart, she'll have to give up her crown, royal status, and her place in the royal family. The Imperial Household Law in Japan forces women to abandon their crown when they marry commoners. Of course, this rule doesn't apply to men.
Next: New life as a royal won't hide your past.
6. Don't expect your past to be buried
Princess Sofia and Prince Carl Philip | Ragnar Singsaas/Getty Images
We've all done things in the past that we aren't exactly proud of. When a regular gal (or guy) marries a royal, everything that ever happened in their past will be thrust into the spotlight.
Princess Sofia of Sweden learned this the hard way when she married Prince Carl. Years before, Sofia was a model and even participated on a reality TV show. Luckily, she remained unbothered when people tried to criticize her for it. In The Year With the Royal Family documentary, she said, "It happened 10 years ago and I've moved on with my life. But no regrets. Experience shapes a person." Iconic.
Next: Delete your Twitter account immediately.
7. Keep your opinions to yourself
Princess Eugenie of York and Princess Beatrice of York | Chris Jackson/Getty Images
Royal families don't do drama, so if you happen to marry into a royal family, it's probably best that you delete your social media accounts. Keeping your thoughts and your opinions private is probably the safest thing you can do to stay out of the press.
Next: Say goodbye to your professional ambitions.
8. A career down the drain
Grace Kelly | Hulton Archive/Stringer/Getty Images
Career ambitions and aspirations don't mean anything once you become a member of the monarchy. Perhaps one the most famous royals to give up her career was actress Grace Kelly, who became the Princess of Monaco.
After her marriage to Prince Rainer, Kelly never made another movie. From where we're sitting, being a princess is a full-time job anyhow.
Next: Your marriage may involve a family vote.
9. Asking for permission
The queen clearly approved of Kate Middleton. | Alexander Koerner/Getty Images
If regular folks want to get married, they can just hop up and head down to their local city hall to sign the paperwork. It's not so easy to marry into the royal family.
In England, Queen Elizabeth II must give her written consent for members of her family to get married. This practice dates back to the Royal Marriages Act of 1772. The monarch wants to protect against marriages that might "diminish the status of the royal house."
Luckily, the British royal family is now a bit more liberal than it was in the past. The queen's uncle, Prince Edward VIII, was forced to abdicate the crown so that he could marry the woman he loved — a divorcee. Markle is also divorced, but luckily, the monarch isn't quite that old-fashioned anymore. The permission slip rule really only applies to the six people closest to the royal family.
Next: Your holidays would look very different as a royal.
10. Say goodbye to Christmas dinner with your family
Prince Harry won't be spending the holidays with his mates.  | Jeff Spicer/Getty Images
If you become an English royal, the queen will expect you to spend Christmas with the royal family. Duchess Kate has reportedly already rebelled against that tradition, choosing to spend Christmas with her side of the family instead.
Next: Changing your name is even harder for royal brides.
11. Nicknames no more
Kate Middleton | Charlie Crowhurst/Getty Images
Though we all love and adore Kate Middleton as simply "Kate," she technically should only be referred to as the Duchess of Cambridge or "Ma'am." If you want to get extremely technical and fancy, she should be referred to only as, "Her Royal Highness Princess William of Wales." If you weren't too keen on your formal name before marrying a royal — too bad.
Next: Being a royal takes a village.
12. Call a royal stylist
Kate Middleton's style is iconic and loved by many. | Dominic Lipinski/Getty Images
If you're a commoner who enjoys pushing the envelope or if you're just generally confused about the rules of dressing with a regal flair, it's probably best to call someone who knows what they're doing. Back in her college days, the now-Duchess of Cambridge wore a sheer dress to walk the runway at a fashion show, and people are still mad about it to this day.
Now, the mother of two is known for her chic and sophisticated modern looks. Had the duchess known she was going to marry Prince William she probably would have avoided the drama to begin with.
Next: Your everyday choices are up for public debate.
13.  Enduring harsh judgments
Japan's Emperor Akihito and Empress Michiko | Toru Yamanaka/Getty Images
If a commoner thought the public was hard to please, imagine getting the cold shoulder from inside the royal family.
Emperor Akihito of Japan married a common woman: Michiko Shōda, the daughter of a wealthy businessman. According to CBS News, Akihito's mother, Empress Kōjun, was not exactly kind to her son's new bride when they were first married.
Next: Animal cruelty isn't tolerated by the British royal family.
14. Your furs should technically be taken away
The queen still wears fur. | Ben Stansall/Getty Images
Way back in 1137, Edward III signed a law that said no one was allowed to wear fur — especially no member of the British royal family or members of the church.
However, that rule hasn't exactly stuck, because we see members of the royal family draped in fur coats, hats, and muffs all of the time. Who knew the royal family could be rebels?
Next: Seafood stays in the ocean and off royal plates.
15. No lobster, no crab, no shrimp
The royal family is missing out on lobster.  | Victorn/iStock/Getty Images
Partaking in shellfish is a huge "no-no" for the British royal family, so we hope Markle is indulging as much as she can now. Members of the British Royal Monarch avoid shellfish because they fear allergic reactions and potential poisoning.
Though this rule has been around for quite some time, Prince Charles (Markle's potential father-in-law) has been known to dabble from time to time.
Next: The royals don't appreciate a competitive spirit.
16. Trash the board games
The royals don't have to worry fighting over a game of Monopoly. | Ballda/iStock/Getty Images
Proper royals don't engage in activities as vicious as Monopoly. At least the royal family of York doesn't.
In 2008, Prince Andrew Duke of York was banned from playing the classic board game at home with his family because it was deemed unbefitting for a member of the royal family. Perhaps he is still allowed to play Cards Against Humanity.
Next: All gifts are good.
17. Accept all gifts with a nod and a smile
Prince William and Kate Middleton | Chris Jackson/Getty Images
Being gracious is probably the No. 1 rule you must follow if you're going to be accepted into any royal family. That means happily accepting any and all gifts that are presented to you — even if you think they are garbage.
You might as well accept them anyway because all gifts ultimately belong to the British monarchy.
Follow Aramide Tinubu on Twitter @midnightrami.
Read more: You Won't Believe This Dark Secret About the British Royal Family
Check out The Cheat Sheet on Facebook!
Source: Read Full Article