Here's How Prince Harry is Breaking Royal Tradition With His Wedding Ring
Even though most royal family members typically stick to royal protocol, some have broken from tradition over the years. Princess Diana was known for her rebellious ways, and Kate Middleton and Meghan Markle have both followed in her path where they've seen fit.
As it turns out, Prince Harry is following in his mother's footsteps, too. Here's how he's breaking royal tradition — specifically, with his wedding ring.
His ring is made with platinum instead of classic Welsh gold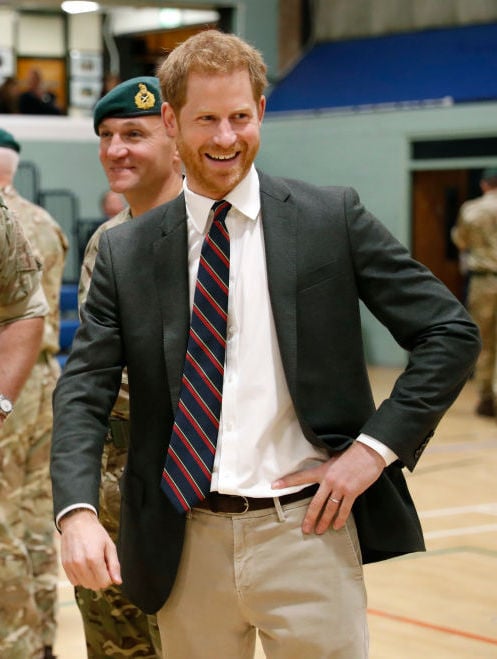 Prince Harry | Chris Jackson – WPA Pool/Getty Images
Usually, royal family members have wedding rings made with classic Welsh gold. And as Hello! Magazine pointed out, the gold has a significant meaning: "[Prince] Charles' ring is made from classic gold, like all other wedding rings in the royal family, which is traditionally gifted by the Queen from her personal collection of Welsh gold from the Clogau St. David Gold Mine in Dolgellau, Wales."
Harry's ring, instead, takes a more modern approach. He opted for a platinum ring, which on a surface level, might not seem like a huge deal. But we see the break from tradition as a symbol for how members of the younger royal generation are taking steps (no matter how small) to modernize the rules of royalty.
Most royal men don't wear their wedding rings
Just the fact alone that Harry wears his wedding ring is an unconventional choice. His older brother, Prince William, and his grandfather, Prince Philip, don't wear their wedding rings at all. His father, Charles, does wear his wedding band — but he wears it on his pinky (along with a signet ring he's been rocking for decades).
Markle's engagement ring honors Princess Diana
Meghan Markle | John Sibley-WPA/Getty Images
Although the engagement ring Harry had custom-made for Markle follows more royal tradition, it holds a unique meaning that essentially makes it priceless. While the band is made from yellow gold and was made by the queen's official jeweler, Cleave and Company, the diamonds make the ring particularly special.
The center diamond is from Botswana — which Harry and Markle share as one of their favorite places in the world. But the two, smaller diamonds on either side of the center stone hold the most significance: They came from Princess Diana's jewelry collection.
Diana broke royal tradition with her ring before Harry did
Long before Harry broke royal tradition with his wedding ring, Diana stirred up controversy with her choice of engagement ring. It wasn't just that her ring was a unique choice — it was that it came from a catalog, and she picked it herself. She chose the oval blue Ceylon sapphire ring out of the Garrard catalog, as the 18-karat white gold ring with 14 solitaire diamonds surrounding a stunning sapphire caught her eye.
Most royal engagement rings are custom made, as Markle's was, to ensure they are one-of-a-kind. Essentially, anyone could have the same ring as Diana, which was just one of the many reasons fans felt they could relate to her.
Kate Middleton now wears Diana's engagement ring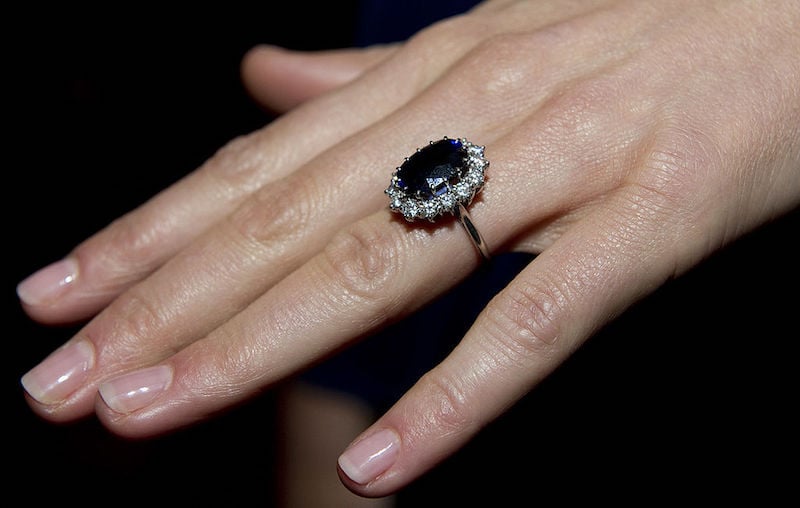 Princess Diana's engagement ring on Kate Middleton | Arthur Edwards – WPA Pool/Getty Images
As most royal family fans know, Kate Middleton now honors Diana by wearing her engagement ring. Prior to Diana's 1997 death, the late princess made sure to pass down her jewelry collection to her sons. She wrote, "I would like you to allocate all my jewellery to the share to be held by my sons, so that their wives may, in due course, have it or use it. I leave the exact division of the jewellery to your discretion."
Harry was initially the son to take the ring. However, once William had plans to propose to Middleton, the ring was passed on to him. In return, William gave Harry their mother's Cartier watch.
William explained just how much it means for his wife to be wearing the special ring: "It's my mother's engagement ring, and it's very special to me, as Kate is very special to me now as well. It was only right the two were put together."
Source: Read Full Article