MasterChef Turns 10: Cooking up careers
​WHAT
MasterChef Australia
The Masterchef TV show champions.
WHEN
Monday, Ten, 7.30pm
MasterChef Australia returns for a new season of cooking triumphs and failures.
In the hothouse of the MasterChef kitchen, under the golden glow of its well-calibrated lighting, dreams can come true. That sounds like a terrible cliche, but, as the show's decade-long history attests, it's also appropriate.
Reality-TV shows cop a lot of flak for being cynically larded with tearful talk of hopes, dreams, journeys and life-changing opportunities. And, in many cases, the criticism is valid. But, as it launches its 10th season, the cooking contest that helped to usher reality-TV into a prominent place in prime time can claim that it has helped a notable number of its contestants to change the course of their lives.
Many of the hopefuls who arrived on the show as keen home cooks have gone on to build careers in the food industry: running restaurants, cafes and food stores, writing cookbooks, hosting TV shows, launching product lines and food-focused websites.
It is perhaps with that in mind that the latest batch of aspirants assembles in the garden to greet judges Matt Preston, Gary Mehigan and George Calombaris, and to cheer a parade of people that illustrates the opportunities that the show's exposure can bring. Here are the nine contestants who have triumphed in their respective seasons, from Australia's first MasterChef, Julie Goodwin, to last year's winner, Diana Chan.
The original Masterchef winner Julie Goodwin.
As the contenders prepare to produce the signature dishes that they hope will wow the judges, Goodwin remembers the nerves that plagued her MasterChef experience. Back in 2009, it was a different can of peas.
"None of us had any idea what we were getting into," she recalls. "My audition dish was a lamb rump with a red wine gravy – I'm sure they'd call it a jus these days – and mashed potato. The judges came in to introduce themselves – they were unfamiliar because the show had never been on before. And they said, 'We've just been auditioning in Perth and all they've made for us is lamb and potatoes and we're sick to death of it. So here's hoping that if you've got lamb and potatoes, it better be the best damned lamb and potatoes we ever ate.' I spent the whole day freaking out."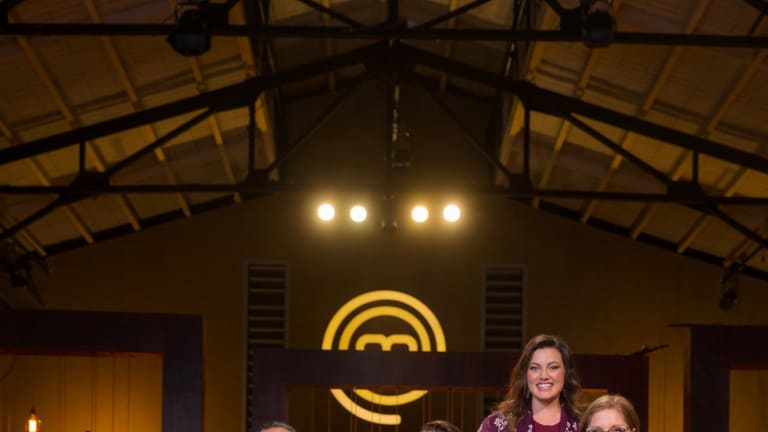 Masterchef's alumni.
She also thought that, as with the UK version, the contestants would be going home at the end of each day: she hadn't realised that entry to the competition would mean living in. She found leaving her husband and three young sons extremely stressful. But she battled through, eventually emerging as a winner against Poh Ling Yeow in a finale that attracted a phenomenal 3.7 million viewers.
She subsequently became a contributor to Woman's Weekly and the Today show, and wrote her first cookbook, which was a best-seller.
Adam Liaw, who was victorious the following year, recalls that the big goal for many of the contestants was to write a cookbook: one cookbook. He's now published five, as well as travelling the world exploring cuisines, hosting TV shows and writing recipe columns for newspapers and magazines.
He describes his decision to apply for MasterChef as "a fit of madness. I'd been encouraged by people who knew that I loved cooking to give it a go, including my dad. The magnitude of an Asian father saying to his highly paid lawyer son, 'Why don't you quit your job and go on reality TV?' It's not really the kind of message you expect to hear. But the thing that tipped it for me was that I really enjoyed the auditions."
Billie McKay has chosen a different path following her MasterChef victory. The seventh season winner clinched the title in spectacular fashion when she completed a fiendishly complicated Heston Blumenthal recipe and was offered a training position at his acclaimed English restaurant, The Fat Duck.
"It was good, but it was really full-on," she says of the experience. "It was a great learning curve and it pinpointed for me what I wanted to do and what I didn't want to do. I never really wanted to go into the high-end restaurants and be a chef. I always loved the other side of it: cooking for family, cooking for people I know."
McKay spent eight months in England, travelled in Europe with her partner and has returned to the family dairy farm in country NSW where she's making cheeses with her mother, with the aim of building a business.
"I'm totally country at heart," she says. "I love the lifestyle. You're milking the cows first thing in the morning and then taking the milk to the kitchen and making the cheese. I think that one of the best things about MasterChef is that it shows you that there are so many aspects of this industry that you can follow."
Reflecting on her time after the show, Goodwin says, "There was all this beautiful fallout. My family could travel. It gave us experiences that all the money in the world couldn't buy. My kids got to meet their sporting heroes."
But, she adds, the most important benefits had nothing to do with food. "It was self-belief and learning not to sweat the small stuff. I had to get over bad nerves. They landed me in every elimination test: these brain farts would get in my way and I had to take some serious steps to control that. I came out of it a lot stronger and better at dealing with stressful situations."
With that in mind, here's the sage advice of Australia's first Masterchef: "If your souffle flops, call it a pancake, put a strawberry on it, and serve it anyway."
Previous winners: Where are they now?
Kate Bracks (Season 3)
Kate runs cooking workshops in regional NSW to help people improve flavour and nutrition, and reduce waste in cooking.
Andy Allen (Season 4)
Andy owns and is head chef at Three Blue Ducks in Sydney's Rosebery. The restaurant was awarded a hat in the most recent Good Food Guide.
Emma Dean (Season 5)
Emma co-hosts Channel Ten's daily cooking show, My Market Kitchen, with MasterChef 2013 runner-up Lynton Tapp. She runs workshops on sustainable cooking around Victoria and has written a cookbook, A Homegrown Table.
Brent Owens (Season 6)
Brent has spent time since the show travelling and has become focused on issues regarding food availability, nutritional quality and food security.
Elena Duggan (Season 8)
Elena's website, www.elenajoduggan.com, features recipes, tips and reflections. She runs cooking workshops and master classes for aspiring chefs and disadvantaged children and works with special-needs students, teaching hospitality skills and home economics.
Diana Chan (Season 9)
Diana recently opened Chanteen in Melbourne's CBD. It features "scratch" cooking, with everything made fresh daily and its focus is on family recipes and traditional Singaporean and Malaysian cooking. A house specialty is her dad's satay.
Source: Read Full Article