MTV Is Giving 'The Real World' a Full Reboot After 32 Seasons
MTV's iconic reality show, The Real World, debuted in 1992 and basically introduced the whole concept of reality television. But by last year, the show's future was in question—and now, it's getting a streaming-only reboot, alongside other shows like Daria, Made, and Aeon Flux.
Deadline reported MTV put the reality series on hold after The Real World Seattle: Bad Blood, which was the show's 32nd season. Those 12 episodes aired from late 2016 to early 2017, and there have been no new Real World seasons since.
This new rebooted Real World will exist only on streaming platforms, and MTV promises it'll be a stripped-down version of the series, going back to its roots of just simply seven strangers put in a house together. That might mean a little less drunken antics, and a little more actual human interaction. MTV is promoting the reboot as a "return to its roots" and sets aside "the facades of the instafamous culture."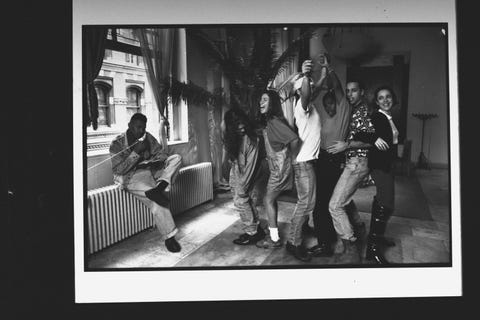 "You have a whole different generation of young people that are growing up that didn't experience cable in the way you and I did," MTV president Chris McCarthy told Deadline. "And so we're able to go and actually retell that story, updated of course, with new characters, new tensions, new real-life issues, but still stay totally pure to the clean idea of what Real World was without having to bastardize it in order to make it work for traditional cable."
Through its new production company, MTV Studios, the network is also bringing back other '90s and '00s favorites. They're rebooting every sarcastic girl's favorite, Daria, into a new show, Daria & Jodie, which will focus on Daria's friendship with Jodie Landon. Some fans, though excited about a reboot, were confused about Jodie's placement in the show, since the two weren't very close friends on the series.
This is… interesting. Jodie wasnt even really friends with Daria (they had more of a mutual respect), but okay. https://t.co/ZlPeAoreW1
Don't get me wrong. I like Jodie. But the core of Daria was Daria and Jane's relationship. Jodie's disposition wouldn't make her a likely friend for Daria unless they change either Daria or Jodie's personality a lot, at which point why even make it Daria at all?
It's interesting how many ppl don't like Jodie getting the spotlight but she was a good character w great commentary..Like Daria she knew there were idiots around her but she also knew what it was like to be a minority among them..
Jane was me in hs but Jodie is who I am today. https://t.co/IdTxkr45WL
I'm not the only one who thought Daria was kind of… a bad friend and dismissive about Jodie's anxieties (tied to being a black girl) in the original show, right?
On top of those two shows, MTV will make the anime Aeon Flux into a live-action series, and also bring back the reality makeover series Made, which paired what they called "talented young underdogs" with experts to help them reinvent themselves.
Source: Read Full Article