Ninja Warrior is an antidote to the winner-takes-all ethos of reality TV
Something remarkable happened at the end of season one of Australian Ninja Warrior.
After endurance to overcome the myriad eccentric obstacles of the Thunderdome-meets-Double Dare set, all nine finalists failed to complete stage two of the Grand Final course.
Replay
This meant we didn't even get to see them attempt stage three, on the intriguingly-named Mount Midoriyama. With only one of three stages conquered by the hopefuls, the winner of the adrenalin-soaked series was therefore declared to be…nobody.
Really. Nobody won Australia Ninja Warrior last year, and if no one can overcome the entire course of the Grand Final this year, presumably nobody will win again.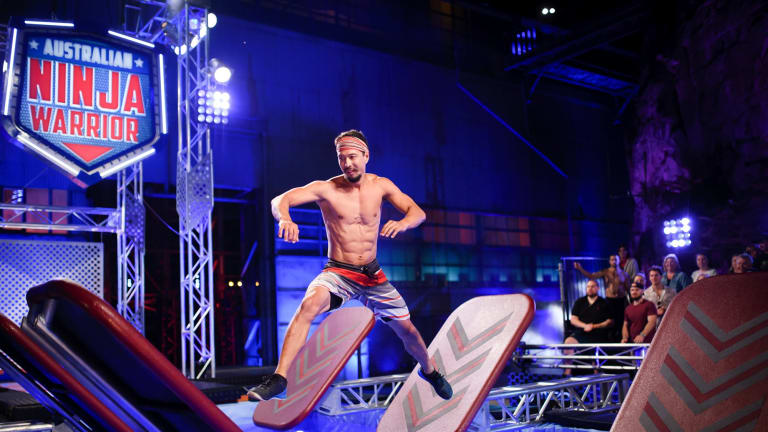 At the end of season one of Australian Ninja Warrior, no one won.
Some people were upset by this, as they found a competition without a winner to be a case of viewer gratification denied.
For myself, however, I found the idea incredibly refreshing, a marvellous point of difference in the bloated reality sector.
There was a kind of powerful integrity in the producers' decision that this show, however loud and brash and silly and kitschily reminiscent of Gladiators it might be, would be a true test of excellence, where the only way to win was to be good enough.
Other shows do not follow this philosophy. Reality television has had a variety of methods to determine a winner, but they generally adhere to one of two approaches: either a judge declares you the best, or the viewers declare you their favourite.
Failure to navigate Australian Ninja Warrior's obstacles is disappointing, but most contestants come out grinning.
Either way, the only requirement is to be better than the next person. Every time a MasterChef contestant says, "this has to be perfect" they're lying: it actually just has to be slightly less awful than everyone else's, and victory is theirs.
That wouldn't cut it on Australian Ninja Chef, which would decree that if nobody can make their croquembouche identical to Zumbo's, nobody gets the cheque.
It's not all about winning for the contestants on Nine's Ninja Warrior.
And yet this commitment to excellence does not produce a fierce, unforgiving, winning-is-all culture on ANW.
Indeed, one of the most striking elements of the show is just how happy the contestants seem after crashing out into the deadly water below, the very touch of which signals termination in the Ninja world.
Failure to navigate the course's many obstacles is disappointing, but most of the ninjas emerge to the post-game interview smiling with pride at the obstacles they did get past.
And this, too, is refreshing.
In a TV landscape filled with tear-stained declarations that "this competition is everything to me" and "I've given up everything for this chance" and "I'm not ready to go home even though I can't stop talking about how much I miss my kids", ANW provides us with a marvellous portrait of people who truly believe in Baron de Coubertin's exhortation that it is not the winning that counts, but the taking part.
But obviously, there's a lot of money on the line, so the winning counts a bit.
But how beautiful is it to watch these folks, who have invested a hell of a lot of time into training for what is a genuinely daunting physical ordeal, express the quaint notion that to come up short of perfection is no occasion for tears or regret?
Could other programs be improved if the aspiring chefs/singers/dancers/home renovators/abusive dinner party hosts took their disappointment with a cheerful smile and a heartfelt declaration of joy and pride in being there?
Could we enter a new era of reality TV wherein aspirants embody Rudyard Kipling's exhortation to meet with triumph and disaster, and treat those two imposters just the same?
Probably not, but in Australian Ninja Warrior we have at least a lovely example to follow.
Australian Ninja Warrior returns to Nine on Sunday, July 8 at 7pm.
Source: Read Full Article