Real Housewives Ultimate Vacation – Ramona Singer Was Television Gold on 'RHUGT', Melissa Gorga Recalls
Melissa Gorga recalled Ramona Singer on their Real Housewives ultimate vacation, laughing about how Singer was just being herself the entire time.
"Ramona was just like … Ramona to be honest," she told Showbiz Cheat Sheet about the Real Housewives Ultimate Girls Trip. "Ramona through the whole show is just like gold. And she's one of the most amazing cast members from reality TV. But she was just being Ramona, it's great."
Ramona Singer quickly made the 'Real Housewives' ultimate vacation awkward
Gorga may have laughed about Singer but other cast members didn't find her comments or behavior as amusing. She kicked off the trip by insisting she should be given one of the best rooms in the house and then called Kenya Moore a 'b*tch." But she also suggested that Teresa Giudice wasn't smart, referring to her as "The Scarecrow" from The Wizard of Oz.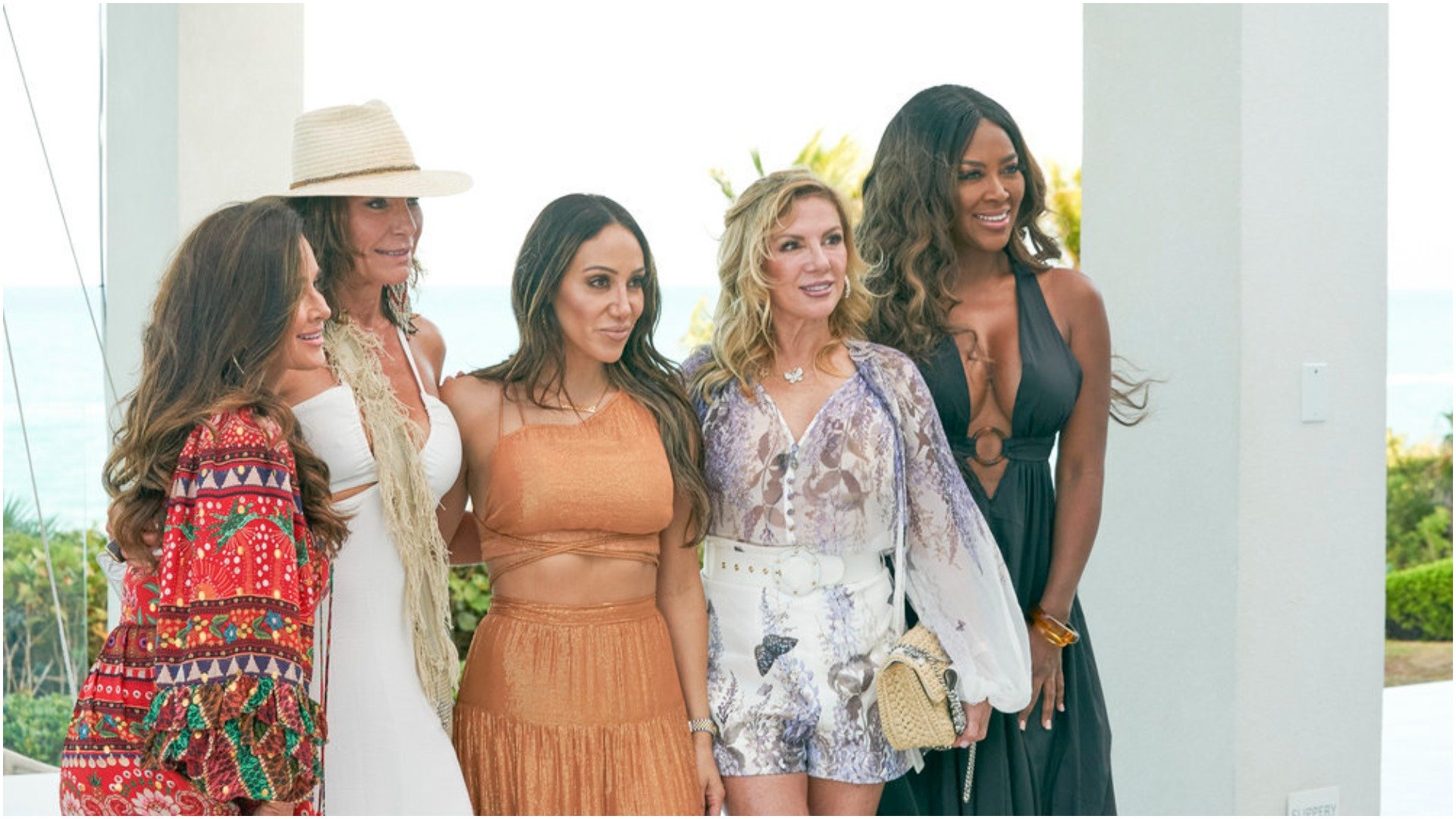 "Kyle called me while I was packing and she said she spoke to Ramona, and that Ramona called you 'The Scarecrow,'" Gorga told E! News. "She was saying basically the scarecrow has no brain."
Luann de Lesseps admits she cringed. "I gotta say, Ramona off with a bang being uncool," she said. "No surprise there." But added, "I'm so used to being embarrassed by Ramona that it kind of doesn't faze me anymore. So it's kind of nice to see her getting called out, finally. Karma's a b*tch."
Ramona Singer believes she can change and evolve
Singer ultimately apologized to everyone after Cynthia Bailey took her aside and gently spoke to her. She even joked about being "the apologizer," a name Bethenny Frankel gave her because she has to constantly apologize for her behavior. Singer still believes she is evolving and growing – while the other RHUGT members aren't entirely sure.
The Real Housewives ultimate vacation cast played a game on Watch What Happens Live with Andy Cohen where they had to agree or disagree to a question. "Ramona is who she is. And will never evolve or devolve." Singer and de Lesseps disagreed with the statement. Meanwhile, every other RHUGT member agreed.
Singer also addressed her behavior this season of RHONY during Black Shabbat. "When I went to Black Shabbat my intent was to connect with everybody by sharing my experiences," she explained during WWHL. "But I realized I should have just listened, absorbed, and learned. And for that, I deeply regret." Singer kept trying to inject herself into the conversation at Shabbat and when she was no longer the center of attention, she went into the kitchen for food and then left the dinner.
"Also, obviously I was drinking," she added. "And when I watched it, the episode, I was mortified." WWHL host Andy Cohen said Singer sent him an apology text after the event.
Melissa Gorga dishes about that viral TikTok from the 'Real Housewives' ultimate vacation
Behavior aside, Singer also made Gorga's viral TikTok dance. Gorga recalled to Showbiz Cheat Sheet how the video was created very last minute and was a lot of fun.
She also laughed about how viral it ultimately went. "I had no idea it would do what it did," she laughed. "I was like 'Oh my God, people are going crazy. The memes from it, the GIFs. I was like, 'This is just insane.'"
"Was that not the best thing?" Gorga reflected. "So much fun and you'll probably see it when you watch the show. It was just on a whim. Kenya [Moore] was like, 'I really want to do a TikTok, and Melissa, I know you're the only one who can make it happen.' So we made it happen."
"Everybody was like, 'OK let's do it,'" she remembered asking the cast. "Everybody was down. And it was funny because everybody was funny in it and not serious … a little awkward. It was fun."
Source: Read Full Article