The Real Reason Tom Hollands Post About Zendaya Has People Talking
Even before actors Tom Holland and Zendaya lit up screens as each other's love interests in 2017's "Spider Man: Homecoming," they've flaunted some intense chemistry. In November 2016, Zendaya gushed over her co-star when the pair popped by the Presbyterian Children's Hospital of New York, calling Holland the "worlds best real life Spider-Man" in an Instagram video. And Holland was equally in awe of Zendaya, whom he credited for helping him navigate his newfound fame. "We are like the best of friends," the Marvel star told People in 2017.
But is "friends" really the best word for their relationship? People alleged the pair were dating IRL, a speculation that was further fueled when Zendaya whisked Holland away to meet her parents in December 2017, per Page Six. And despite that brief period in 2019 where Zendaya was linked to her "Euphoria" co-star Jacob Elordi, spidey senses signaled that she and Holland would find their way back to one another. And they did — in a major way! 
The pair's romance was seemingly confirmed in July when the paparazzi snapped them kissing. Per Page Six, the pair were "photographed packing on the PDA at a red light during a sunset drive in Holland's $125,000 Audi sports car." And as of this writing, Zendaya and Holland appear to have taken another big step in their relationship by going Insta official (well, maybe). Keep reading for the details.
Tom Holland posted an adorable birthday message to Zendaya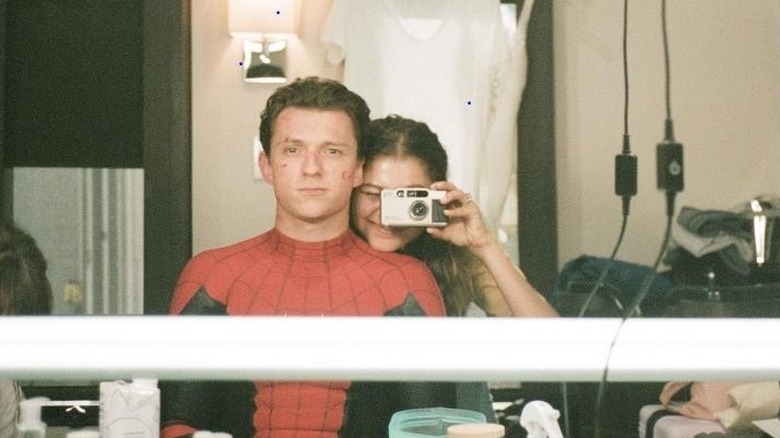 September 1 marks Zendaya's birthday, and Spiderman didn't pass up the chance to celebrate his "MJ," as he called the Emmy-winning star. "My MJ, have the happiest of birthdays," Tom Holland wrote on Instagram, underneath an adorable post that showed the pair posing in front of a mirror, and Zendaya snapping a pic with her camera. He also added a flirtatious "Gimme a call when your up xxxx," which raised eyebrows. The use of "MJ" and "xxx" seems to imply romance, but the "gimme a call when your up," sounds like the two didn't spend the night together.
At the very least, fans certainly seem to think they're a couple. Holland's post racked up over 3 million likes and counting, while social media users reacted to the news on Twitter with joyful posts, with one fan saying, "The couple we all wanted." That said, Zendaya and Holland's exact 'ship status still remains unconfirmed. 
"They're both not one to make their relationship public," a source told Us Weekly. "They're private when it comes to dating, so any photos that have come out would've just been them going about their business and not knowing photographers were around." And even when Zendaya was gallivanting around New York City with Jacob Elordi in 2019, she'd demurred to confirm they were together. Elordi actually told GQ that she was "like [his] sister," so don't expect Zendaya to go public with this romance anytime soon.
Source: Read Full Article