The Untold Truth Of Melissa Barrera
Melissa Barrera may have been pushed into the limelight by her role in the movie adaptation of "In The Heights," but as the actor herself explained to Harper's Bazaar, she's always been musical.
"We're all singers, so that was just how loud my house is all the time, to this day," she revealed, discussing her family and her three sisters. "There's always at least two people singing at a time." Even now, Barrera says that spending time at home inspires her. "I just got to be in Mexico for a week with my mom and my sisters," she told Bustle in an interview. "When I come back I'm ready to work and hustle."
The star became seriously interested in musical theater through school, per Harper's Bazaar. "My school had a good arts department where we had choir, drama, and music classes, so musicals were a big part of our curriculum," Barrera recalled, adding that at first, she was more of a "sporty" student. "I played basketball, so you're in a different circle. You're either sports or arts." Despite her athletic ability, she tried out for "'The Wizard of Oz' in eighth grade, and the rest is history," the actor quipped. Here's how Barrera went from performing at school to lighting up the big screen.
Melissa Barrera came to America to study acting at NYU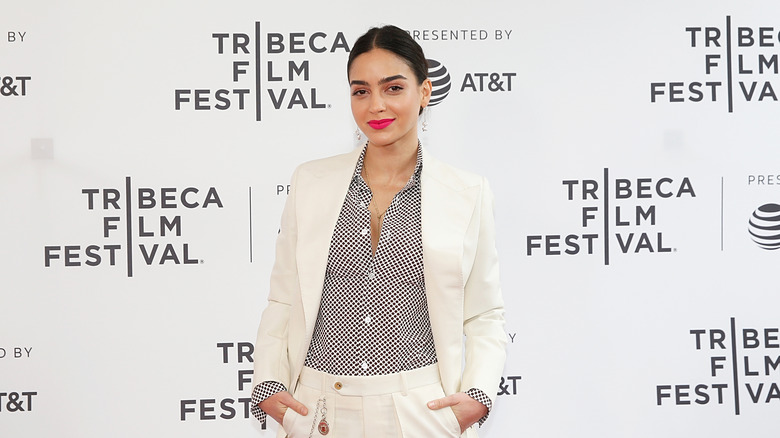 After high school, Melissa Barrera followed her dream of Broadway success and applied to study at NYU's Tisch School of the Arts.
"I was heavily influenced by American pop culture — I watched American TV and listened to American music," she told Elite Daily, revealing that she had "always wanted to live in the U.S." Her ambitions led her to New York, but the reality of college there was a "total culture shock," she admitted. "I was one of three or four foreign students in my studio at NYU, and everyone treated me like, 'Oh, the Mexican!'" Barrera "felt tokenized and fetishized" by her fellow students, which she called "a weird experience to have at 18."
The actor was also stunned by the immigration process when she first moved to America. "When I was in the process of getting my Visa, I was terrified," she confessed to Harper's Bazaar. "To think I could be rejected and have to go back and put my dreams on hold and have to resort to doing something else. That wouldn't be awful, but that's not what I wanted."
The surprising way Melissa Barrera met her husband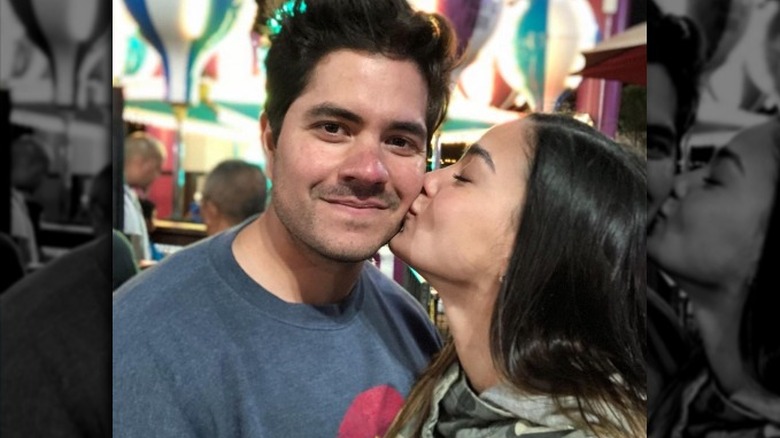 Melissa Barrera and her husband Paco Zazueta are a very sweet couple, but they have a pretty unconventional meet-cute story.
The pair appeared on a Mexican music-based reality show called "La Academia" in 2011, and Barrera told Variety that they both had a tough time. "Reality TV is like a snake pit," the actor observed, revealing how she lost all her enthusiasm for singing while filming the show. "You think the entertainment industry can be hard, but reality TV? That's the epitome of whether you're ready for this or not." Luckily for Barrera, she found a source of comfort and support in fellow contestant Zazueta. "We would take turns telling each other we had what it takes to stick it out," she recalled.
The couple announced that they were engaged in June 2017 on Zazueta's Instagram, posting a series of pictures showing his proposal on the Empire State Building. Their wedding took place in 2019 and featured a song written and performed by the groom called "Melissa." It looks like the romance is alive and well, too: Barrera gives her husband birthday shout-outs on her Instagram, writing that Zazueta is her "favorite person."
Melissa Barrera made a name for herself in telenovelas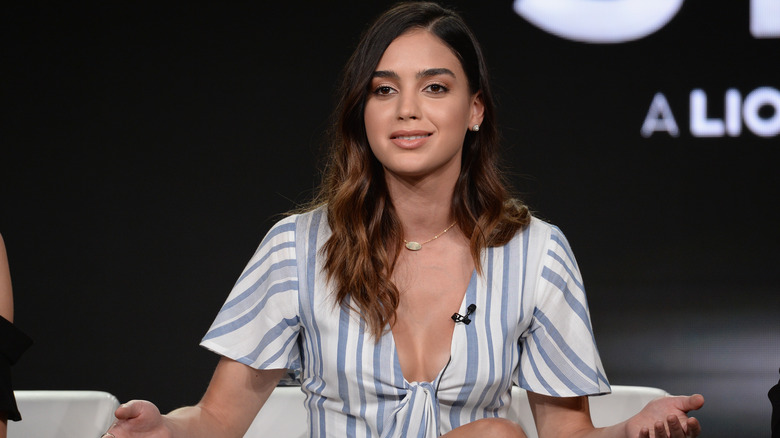 After reality television introduced her to the world, Melissa Barrera's new popularity led her to the realm of telenovelas.
Barrera's early on-screen acting career included series like "Siempre Tuya Acapulco" and "Tanto Amor," per The New York Times. "I know the genre is looked down upon, but I would invite any actor to try to shoot a soap," Barrera told the New York Post, defending the typically dramatic style of telenovelas. "It's a challenge, and a set of skills, and a lot of discipline. In Mexico, you rarely have two takes." According to Barrera, those shows reportedly required her to film up to 30 scenes daily.
And as she told Coveteur, that rigorous schedule helped prepare her for American sets. "Working in the United States is such a breeze for me because you only work Monday through Friday — you have a maximum of eight hours," Barrera explained, adding that in Mexico, actors are expected to "work all day, every day." She continued, "If they are planning on respecting your turnaround, it's like, 10 hours. People are just used to the hustle."
She was obsessed with In the Heights long before the movie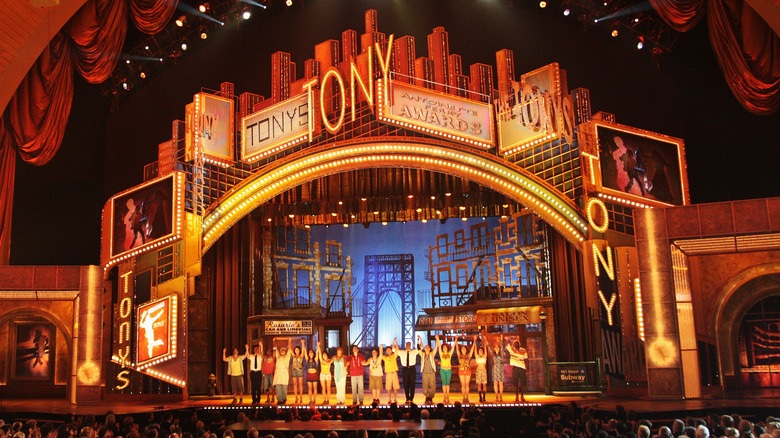 Years before Melissa Barrera was cast in the movie version of "In the Heights," she was obsessed with the Broadway show.
"I went on a school trip to New York City, and a few of us escaped our hotel to see the show," she recalled in an interview with Harper's Bazaar, reflecting on how the 2008 original cast made her cry. "It was a strange feeling, because those were tears of hope and pride — pride in seeing the Mexican flag on a Broadway stage and seeing people who looked like me and roles that I could play — I felt like I was on the right path." The high school sophomore was inspired "to pursue musical theatre" because of Lin-Manuel Miranda's Tony-winning musical.
Once she reached NYU, Barrera decided that she had to become a part of the Broadway show. Per V Magazine, the actor "regularly" auditioned at "every open call" held for "In the Heights," lining up to sing in front of casting agents whenever roles were open. She was never successful, but the musical still held a special place in her heart. "Seeing 'In the Heights' on Broadway gave me that final push that I needed," Barrera insisted, adding that it enabled her to say, "I can do this, there's a place for me in this industry."
She calls Lin-Manuel Miranda her 'fairy godmother'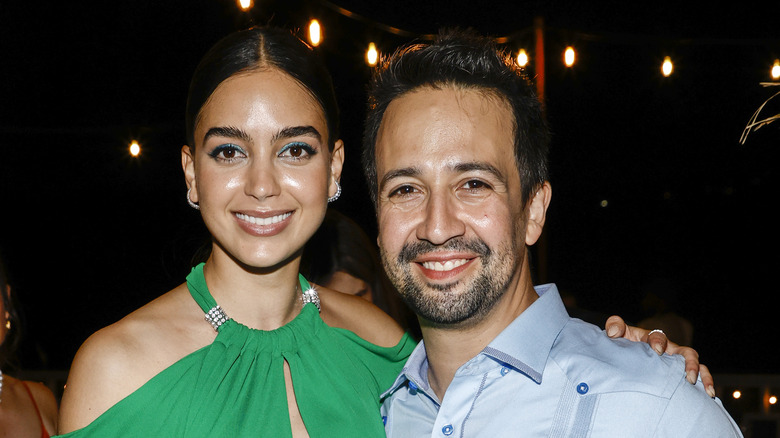 The cast of "In The Heights" is reportedly still close, years after the production started shooting. As Melissa Barrera told the New York Post, the stars have their own group chat where they keep in touch. "It feels like the movie is an arts high school we're all graduating from and going out to do other things. It feels awesome to be able to share in each other's successes."
Lin-Manuel Miranda, the original Broadway show's creator, has also been looking out for the actors. "He's kind of like this fairy godmother," she explained, adding, "When he loves you, he has your back. And I think that's so beautiful." Miranda, whom she called "incredible" on her Instagram, gave Barrera a thoughtful surprise on her first day of filming.
"I was so nervous because you're always nervous on your first day, but I was even more nervous because it was a big dance number," she said in an interview with People. Barrera remembered, "…all of a sudden Lin walks up and he has his phone and he's like, 'Hey, Mel, I have a surprise for you.'" The person calling to wish her luck was Karen Olivo, the actor who originally played Vanessa on Broadway. "My legs just gave out," Barrera revealed. "She was so sweet. And it really gave me the confidence I needed to start that day."
The star connected to her In The Heights character through a manicure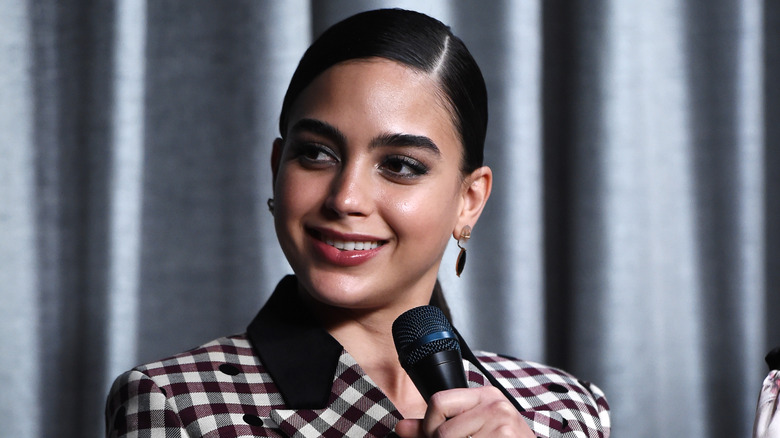 Melissa Barrera had no problem relating to her "In the Heights" character, thanks to her sense of ambition and a new set of acrylics.
"I am her," the actor told Cosmopolitan, comparing Vanessa's life to her own. "I am this girl that wants to go somewhere else where there's more opportunities, where I can start over, where people are not gonna judge me because they know me for my entire life and they know everything about me." She also admitted that the song "It Won't Be Long Now" felt very personal, since she relates to the feeling of waiting for a dream to come true.
As she told Byrdie, however, Barrera sometimes doesn't feel settled in a role until she's in "full hair, makeup, and costume." Although she usually keeps her nails short for practical reasons, the actor felt like she needed to connect to her character, who works in a Washington Heights nail salon. "For 'In the Heights,' I went, and I got nail extensions for the first time," Barrera revealed, explaining how it made her feel more like Vanessa. "And I was obsessed because it makes you want to talk with your hands. That small little thing helped me get into character."
Melissa Barrera is not afraid to get political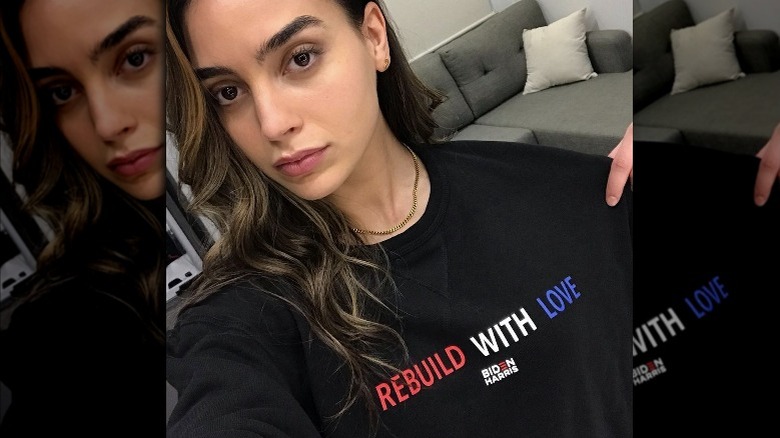 Melissa Barrera isn't afraid to speak her mind when it comes to politics, even if that means ruffling a few feathers. The actor celebrated on her Instagram when Joe Biden won the presidency, with two triumphant images of President Biden and Vice President Harris, along with one cartoon of Donald Trump being "fired" by the Statue of Liberty. "Crying tears of joy cause love triumphs over hate. Unity over division. America you did it," Barrera wrote, referring to Joe Biden and Kamala Harris as "Mr. President and MADAME Vice President!" She then declared that "the work continues" with the Senate.
Barrera also spoke out about her pro-choice politics in another Instagram post, arguing in an iPhone note that if anti-abortion activists were truly "pro-life," then they "would give a f*** about the lives of children in cages separated from their parents," or "the lives of immigrants stuck now for months in ICE detention camps in deplorable, subhuman conditions." The actor went on to criticize Christians who adopt anti-LGBTQ+ or anti-feminist stances as well, telling them to "stop excusing your hypocrisy with Religion."
María Félix is Melissa Barrera's hero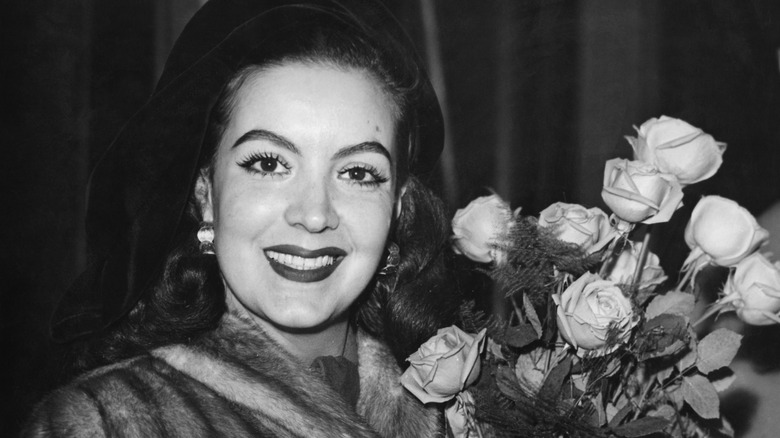 As a young Mexican actor, Melissa Barrera had one major icon whose career she wanted to emulate. "In Mexico, we have a really famous actress called María Félix, who was an icon of the golden age of Mexican cinema," she explained in an interview with Byrdie, describing Félix as "this badass, feminist, tough woman with arched eyebrows." The classic actor, whose face graced screens across the world, also had a prominent beauty mark. "And she was gorgeous and had a deep voice," Barrera added. "Everyone wanted to be her. She's an icon that I love."
Melissa Barrera also named Salma Hayek as a source of inspiration, per Glamour. "I always admired Salma Hayek because she was the one Mexican woman who had made it in Hollywood and was known worldwide for being a Mexican woman," Barrera commented, saying Hayek had made "an important accomplishment" that gave her "a line of light." And the young actor has already appeared on-screen across from one of her other heroes: Daphne Rubin-Vega, who played Daniela in "In the Heights" and rose to fame through the Broadway musical "Rent."
"Oh my God, an icon!" Barrera gushed, sharing her love of the Panamanian actor. "I was blessed to be able to share a screen with her and share a summer with her and call her a friend."
Melissa Barrera is not worried about being typecast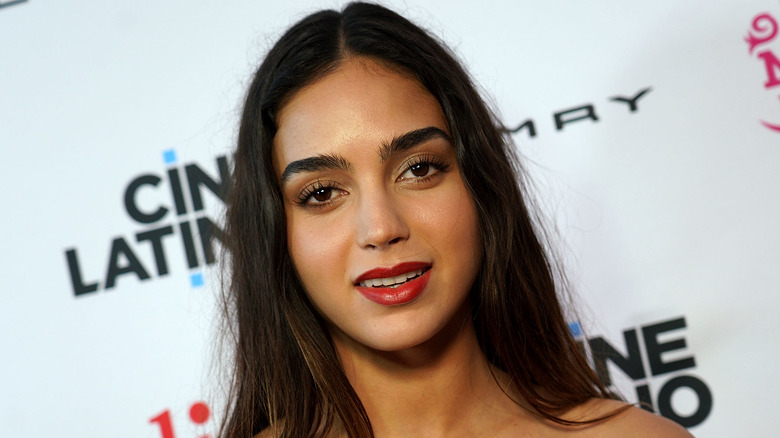 "In the Heights" isn't the only time fans can see Melissa Barrera singing on the big screen. The actor has already taken on another musical, as Variety reported.
"Carmen," an adaptation of the same story as one of the world's most famous operas, is directed by Natalie Portman's husband, the former ballet dancer Benjamin Millepied. Originally, Barrera was supposed to star opposite Jamie Dornan, but he was replaced by Paul Mescal from "Normal People" in November 2020, per Variety. "Benjamin's unique style and creative vision to reimagine this classic we all know and love hooked me from day one," Barrera told Variety at the time.
The actor told Collider, "…a lot of people were telling me, 'You shouldn't go and do another musical after 'In the Heights.' You don't wanna put yourself in a box.'" Barrera insisted that the project isn't at all similar to her previous film. "I'm like, 'First of all, no one told Judy Garland to not do another movie musical, so shut up. And this is a completely different world.' This is more of a tragedy with music."
The actor is judicious about her roles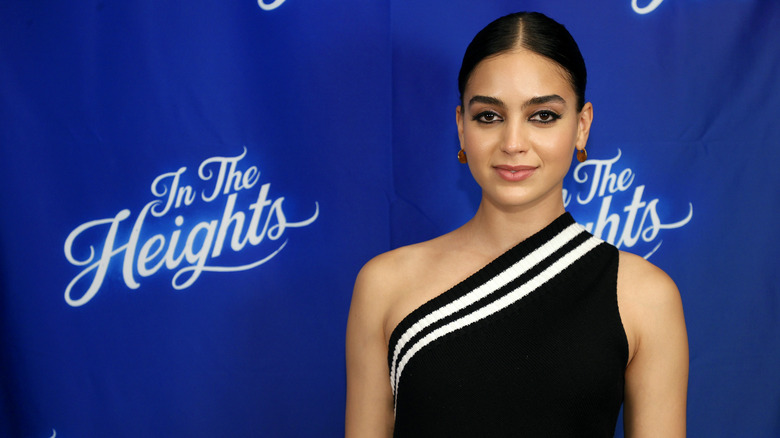 As her career so far has proven, Melissa Barrera is open to a wide range of projects, from reality TV to telenovelas and musicals. But there's one factor that she always considers before taking a role: representation.
"I feel like, whenever I can, I want to raise my voice for my community, and present in a way that makes everybody proud," she told the New York Post, revealing that she turns down "stereotypical or racist" Latinx parts. "A lot of the scripts I get, I'm like, 'You don't understand how this is a negative portrayal.' But when I say no, I always explain why." And as she explained to The Cut, Barrera learned a lot about representation while playing a Mexican-American woman on the critically acclaimed series "Vida," which began in 2018.
"We've always been stereotyped. But these stories and these voices that have been put to the side are now the center of a story," the actor stated. She then described how she felt a sense of "responsibility" when playing someone who had grown up as both Mexican and American. "But in the end, we share that history and that culture and the traditions because everything that you see on the show, the señoras, the food, the words, the slang, the language, everything … I feel like it's mine," Barrera declared.
Introducing scream queen Melissa Barrera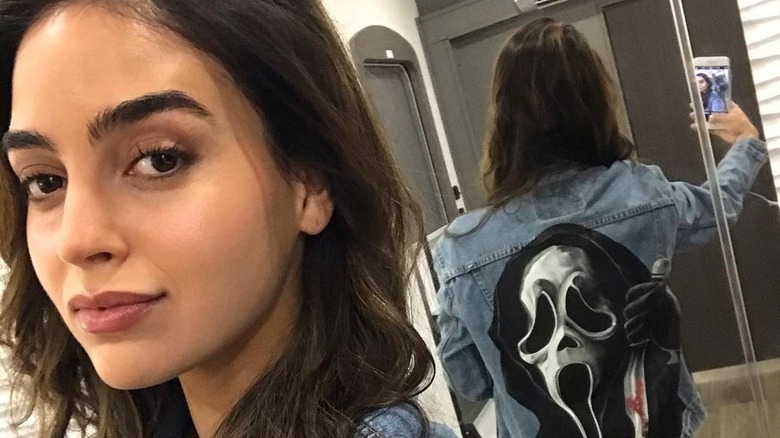 Melissa Barrera found another way to show off her impressive vocal cords — but with screaming rather than singing. As Deadline announced, Barrera was cast in the newest installation of "Scream" alongside Courteney Cox. The "Friends" star returns to the franchise in her iconic role, Gale Weather. And Barrera herself has admitted that she was a bit of a fangirl on set.
"I couldn't believe it; I was being a fan the entire time," she told Variety, describing how exciting it was to act opposite Cox. "Every time they yelled, 'cut,' I would say to the directors, 'Take a picture of us!'" Now Barrera considers the star "a really close friend of mine," after they bonded while shooting the movie. "They're all so incredible and I loved it," the actor added.
Speaking with W in September 2020, Barrera said she is a lifelong horror fan and that snagging the "Scream" role was basically a double dream come true since she's also "a huge 'Friends' fan." But aside from preparing to meet an idol, Barrera also took the role seriously. "I've been doing a lot of research on my character specifically," Barrera said, "Because she has lived through certain things that make her a very complicated human being that I personally have not lived through."
Melissa Barrera is a budding guitarist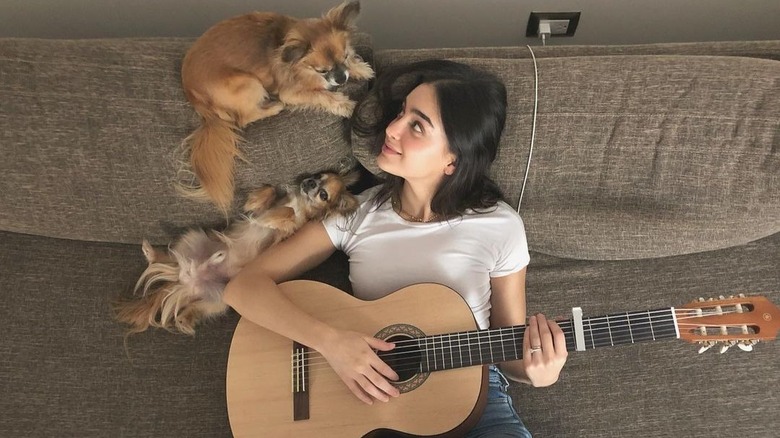 Like many people, Melissa Barrera tried to make the most out of the COVID-19 lockdown by learning a new skill.
"I usually live in the future, always thinking about what comes next. And because of this forced pause, and the uncertainty of the future, I've learned to enjoy each day fully because each day is all I have," the actor told Hola! in April 2020, adding, "Tomorrow everything might change again." Barrera also revealed that she'd been passing the time in her TV room, "eating or doing zoom calls with friends," as well as "learning to play guitar" and enjoying movie nights with husband Paco Zazueta.
She's been recording her progress on Instagram since March 2020, when she shared a clip of herself playing ABBA's "I Have a Dream" and showing off her new callouses. "Quarantine guitar lessons day 1," Barrera wrote in the caption, promising her fans that she would "get better." The actor admitted that it was "harder than [she] thought, describing how she had learned different chords from YouTube videos. Just one month later, however, Barrera confidently played "Disfruto" by Carla Morrison in another post, showing off how she had honed her musical abilities.
She's accrued more money thanks to a deal with Clinique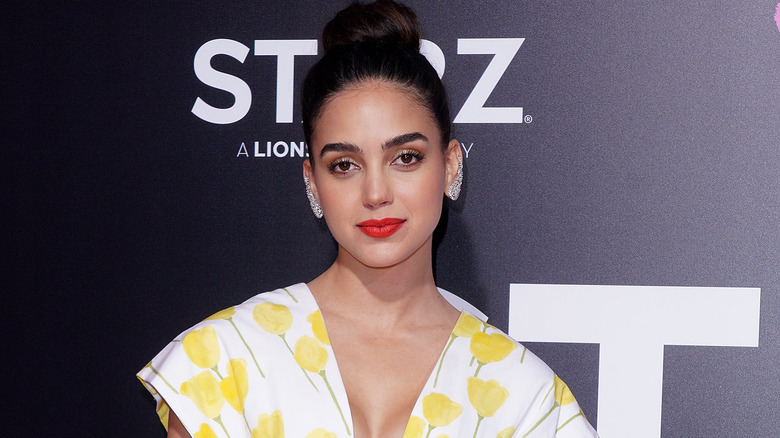 Although she's a relative newcomer to American movies, Melissa Barrera is worth an estimated $2 million, according to Wealthy Spy. And Barrera's impressive net worth isn't just due to her movies, since the actor signed a deal with Clinique in 2021.
As Cosmetics Business announced, Barrera became "Clinique's second-ever brand ambassador," alongside Emilia Clarke, in June 2021. "I am thrilled to be a new Global Ambassador for Clinique, an iconic brand the women in my family have loved for generations," she said in a statement, revealing that she was a "skin care lover" herself. "I am also deeply honored to be the first Latina representing the brand globally," the actor continued.
Barrera also spoke to Vogue about how she felt the campaign would be important for representation. "It makes me feel good that little Latinas are going to be able to see me and think that they can also be the face of a brand globally, I feel like that means a lot," she noted, adding that she had "always dreamed of having a campaign like this," since she "never saw anyone that looked like me, or that had a name that sounded like mine…" in a similar brand ambassador position.
For Barrera, all of her dreams have come true at the same time. "All the things that I'm living right now are the things that I've always wanted to be able to do," the actor mused, observing that her hard work seemed to be paying off.
Source: Read Full Article