Angry cyclist headbutts man in road rage incident after running red light, near collision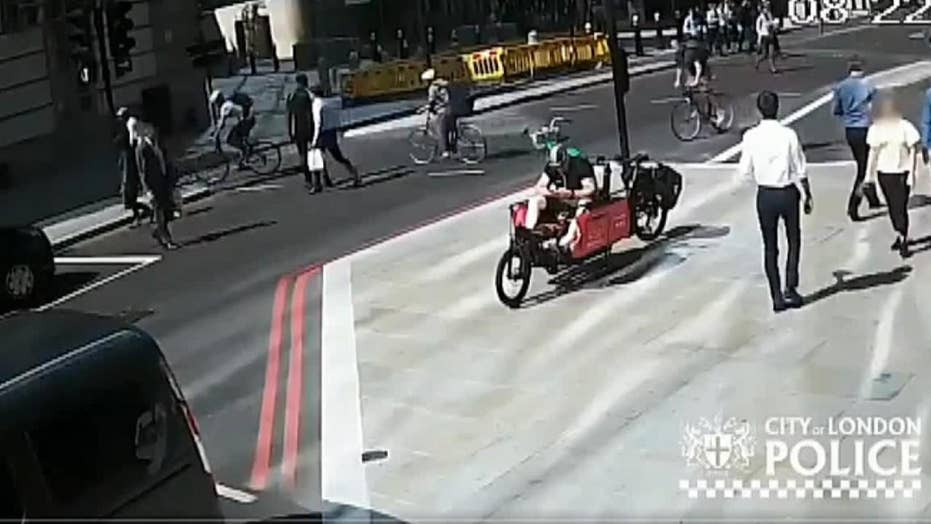 WATCH: Bicyclist headbutts man after collision
A London bicyclist gets into an altercation with a pedestrian after the pair collide. City of London police are now on the hunt for the cyclist.
Police in London are searching for a cyclist who headbutted a pedestrian after running a red light, and are asking anyone who might know the angry two-wheeled operator to contact the authorities.
Footage released from the Aug. 22 incident shows the cyclist almost colliding with the man as he crossed a street in London.
The cyclist, who appears to be a white man in his 40s with short greying hair and wearing a blue backpack, steps off his bike and circles back toward the man in a suit. It appears as though the two men exchanged some heated words before the cyclist headbutted the victim, pushed him to the ground and rode away.
Onlookers rushed to help the 57-year-old man, who needed stitches for a cut above his eye. The victim, who has not been identified, also suffered some ligament damage to his arm from the fall, Sky News reported.
Police described the cyclist as 5 ft 10 inches tall and of medium build.
His "violent actions have left a member of the public with some nasty injuries," PC Fisk, from the City of London Police, said.
Source: Read Full Article