Desperate 911 call played in notorious California abuse case
Riverside, California: In a plea to a police dispatcher to "help my sisters", a 17-year-old girl in a childlike, quivering voice detailed years of abuse she and 12 siblings suffered in a squalid house where she said they were shackled to beds, choked and the stench was suffocating.
Louise Turpin, left, and her husband, David Turpin, right, appear for a preliminary hearing on Wednesday.
The 911 call was played in a California court on Wednesday, local time, during a hearing to determine if her mother and father should face trial on child abuse charges in a case that attracted worldwide attention following their arrests in January.
The girl is heard on the recording saying two younger sisters and a brother were chained to their beds and she couldn't take it any longer.
"They will wake up at night and they will start crying and they wanted me to call somebody," she said in a high-pitched voice. "I wanted to call y'all so y'all can help my sisters."
David and Louise Turpin have pleaded not guilty to torture, child abuse and other charges. They are being held on $US12 million ($16 Million) bail each. Louise Turpin dabbed her eyes with a tissue as the recording of her daughter was played.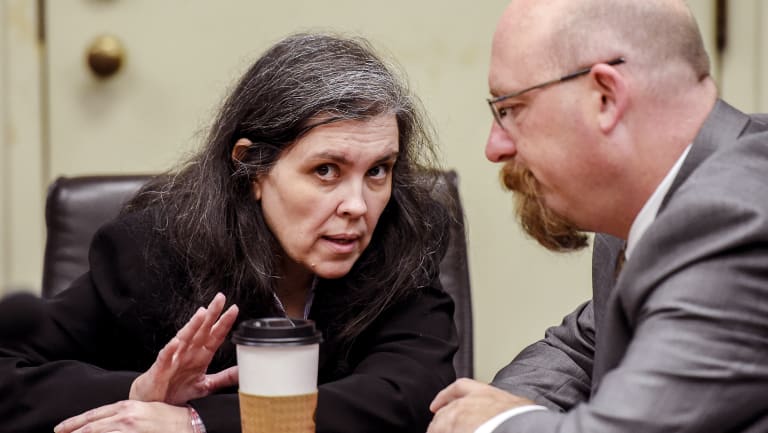 Louise Turpin, left, talks with her attorney Jeff Moore.
The 911 call in January marked a new start for the 13 Turpin offspring – ages 2 to 29 – who lived in such isolation that some didn't even understand the role of the police when they arrived at the house in Perris, 113 kilometres south-east of Los Angeles.
Two girls, 11 and 14, had been hastily released from their chains when police showed up, but a 22-year-old son remained shackled.
The young man said he and his siblings had been suspected of stealing food and being disrespectful, Detective Thomas Salisbury said. The man said he had been tied up with ropes at first and then, after learning to wriggle free, restrained with increasingly larger chains on and off over six years.
Children were deprived food and things other kids take for granted, such as toys and games, authorities said. They were allowed to do little except write in journals that may corroborate the horrific stories they told investigators.
David and Louise Turpin are pictured with their 13 children in April 2016 Photo: Facebook/David-Louise Turpin
Some suffered from severe malnutrition and muscle wasting, said investigator Patrick Morris. An 11-year-old girl who was shackled to a bed had arms the size of an infant, he said; a 12-year-old girl couldn't recite the alphabet.
The 17-year-old, who said she hadn't finished first grade, had difficulty pronouncing some words and spoke like a much younger child.
The girl planned her escape for two years and was terrified as she climbed out a window to freedom, Riverside County Sheriff's Deputy Manuel Campos testified.
"She couldn't even dial 911 because she was so scared that she was shaking," he said.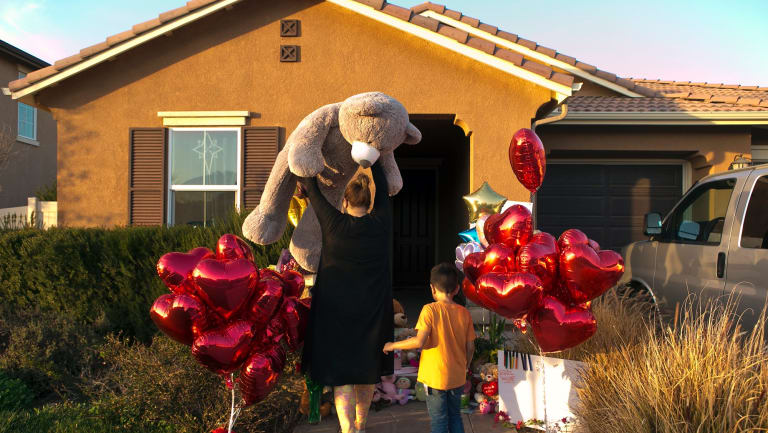 Neighbours drop off his large teddy bear as a gift for the children who lived at the Turpin home when the story first broke.
She didn't know the neighbourhood and had to read her address to the dispatcher off a piece of paper. The kids were rarely allowed outside, though they went out on Halloween and travelled as a family to Disneyland and Las Vegas, they said.
"I don't go out much so I don't know anything about the streets or anything," she said on the call and confirmed she was reading her address off a piece of paper with her mother's name on it.
She said she hadn't bathed in a year and Campos observed dirt caked on her skin and a stink from being unbathed.
"Sometimes I wake up and I can't breathe because of how dirty the house is," the girl told the woman dispatcher.
The girl referred to her parents as "mother" and "father" because she said it was "more like the Bible days," he said.
The girl said when she was 12 and her father pulled down her pants and put her on his clothed lap in a recliner chair in the TV room. She didn't like it and pushed away and pulled up her pants as she heard her mother coming upstairs.
"Her father told her she better not tell anybody what happened," Campos said.
The children spent most of their time locked in their rooms except for limited meals or using the bathroom.
If they didn't obey strict rules, they were slapped in the face or had their hair pulled, the girl told Campos.
About two years ago, the mother found out the girl had been watching a Justin Bieber video, and started choking her and asked, "do you want to die?" Campos said.
The girl said she didn't want to die, but she feared she was about to as the choking continued.
"Yes you do, yes you do, you do, you want to die," the mother said, according to Campos. "You want to die and go to hell."
The family moved several times, including a stint in Texas, where the girl said they were left on their own for about four years, though her mother bought them food.
The hearing is scheduled to resume on Thursday.
AP
Source: Read Full Article