For the first time, Trump says Cohen represented him in 'crazy' Stormy Daniels case
Washington: US President Donald Trump acknowledged on Thursday for the first time that his longtime lawyer and fixer Michael Cohen represented him in efforts to silence Stormy Daniels, the adult film actress who has alleged a sexual encounter with Trump more than a decade ago.
Trump earlier this month denied any knowledge of the $US130,000 payment to Daniels that was arranged by Cohen and is subject of a federal investigation, telling reporters: "I don't know" about the payment or where Cohen got the money. The White House repeatedly has insisted that Daniels' allegations that she had a sexual encounter with Trump in 2006 were false.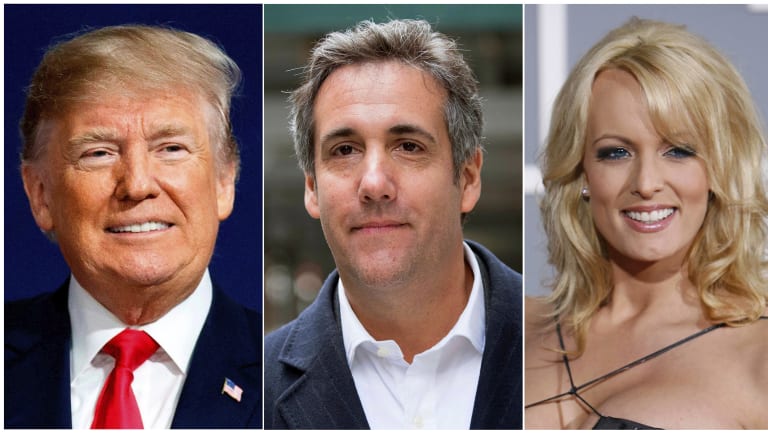 Donald Trump, attorney Michael Cohen and adult film actress Stormy Daniels.
But in an interview with Fox News on Thursday morning local time, Trump appeared to reveal that he had knowledge of Cohen's payment to Daniels.
"Michael represents me, like with this crazy Stormy Daniels deal, he represented me," Trump said. "And from what I've seen, he did absolutely nothing wrong. There were no campaign funds going into this."
Daniels' attorney, Michael Avenatti, weighed in a few minutes later on MSNBC, saying that Trump had made a "hugely damaging admission."
Trump's comments came during a wide-ranging telephone interview with the hosts of Fox & Friends, the pro-Trump morning show that the President regularly watches and praises.
Cohen is under criminal investigation by the FBI and the US attorney for the Southern District of New York. Earlier this month, FBI agents raided Cohen's home, office and a hotel room where he had been staying and seized records relating to numerous issues, including Cohen's work on Trump's behalf to negotiate the settlement with Daniels.
Michael represents me, like with this crazy Stormy Daniels deal, he represented me.
On Wednesday, Cohen told a federal judge that he will invoke his Fifth Amendment right not to incriminate himself in a lawsuit brought by Daniels. Asked on Fox for his reaction to Cohen's plea, Trump said: "He's a good person."
Trump went on to attempt to distance himself from Cohen, in keeping with the President's tendency to claim he has little to do with associates once they get into trouble. Cohen has handled Trump's most sensitive legal and personal affairs for more than a decade, but the president told the Fox hosts that he is more of a businessman than a lawyer.
"This doesn't have to do with me," Trump said. "Michael is a businessman. He's got a business. He also practices law. I would say, probably, the big thing is his business. I have nothing to do with his business."
Trump described Cohen as one of many members of his legal network.
"I have so many attorneys you wouldn't believe," Trump said.
And asked how much of his legal work Cohen is responsible for, Trump said: "As a percentage of my overall legal work, a tiny, tiny fraction."
Trump 'may change his mind' on Justice Department
In the same interview, Trump also said that the hands-off approach he has taken to the US Justice Department given the probe into possible collusion between his campaign and Russia could change, comments that could re-ignite concerns he might move to impede the investigation.
Trump accused Comey of leaking classified information, a charge the ex-FBI boss denies.
"Because of the fact that they have this witch hunt going on with people in the Justice Department that shouldn't be there, they have a witch hunt against the President of the United States going on, I've taken the position – and I don't have to take this position and maybe I'll change – that I will not be involved with the Justice Department," Trump said in an interview with Fox News Channel.
Trump also railed at former FBI director James Comey for what he said were illegal leaks of classified information, and suggested the Justice Department should be pursuing charges against him. Comey has said he never leaked any classified information.
"I am very disappointed in my Justice Department," Trump said. "I may change my mind at some point, because what's going on is a disgrace. It's an absolute disgrace."
Trump has frequently criticised Attorney General Jeff Sessions for his decision to recuse himself from matters relating to the Russia probe, and has blasted both Special Counsel Robert Mueller, who is leading the investigation, and Deputy Attorney General Rod Rosenstein, who oversees it.
Many Democrats have expressed concern that Trump may try to remove either Rosenstein or Mueller.
Trump has denied there was any collusion between his campaign and Russia – and he did so again on Thursday – and Russia has denied interfering in the US election, as US intelligence agencies have charged.
Washington Post, Reuters
Source: Read Full Article